App
Try out our new iPhone application!
Manga Poll

Manga is the Japanese equivalent of comics
with a unique style and following. Join the revolution! Read some manga today!

Coded in ConTEXT

Join #baka-updates @irc.irchighway.net

RSS Feed


| | | |
| --- | --- | --- |
| | Reviews | |
Yokohama Kaidashi Kikou
by G. Zeus on February 25th, 2008, 1:36pm

---
Rating - 9.8 / 10.0

User rating of this review - 5 out of 5
Story/Plot - 5 out of 5
Characters - 5 out of 5
Drawing Style - 4.5 out of 5
Enjoyment - 5 out of 5
Overall - 5 out of 5

Click here for series information

"This gentle calm and quiet is the twilight of an era.
I will probably watch the passing of this twilight age."
- Hatsuseno Alpha

Plot/Story
The stories featured in YKK are mostly light and melancholy. Readers who are used to action, sex, fanservice, violence, and/or intense drama would either be A) disappointed, or B) surprised that stories without the said elements could possibly exist and still be enjoyable.

Yokohama Kaidashi Kikou is characterized by mono no aware, a Japanese concept that describes beauty as an awareness of the transience of all things and a gentle sadness at their passing. Entertaining old customers in a coffee shop, riding through desolate roads on a scooter, reminiscing while watching the sun set; none of these are close to being earth-shattering and yet the author somehow presents ordinary scenes in such a way that they evoke overwhelming feelings of nostalgia. Being reminded that today will be tomorrowís yesterday, one cannot help but appreciate the present for its fleeting existence.


"Alpha may think that there is nothing special about herself.
I'm certain that those who meet here realize otherwise."
- anonymous customer

Characters
Despite its sci-fi premise, the natural depiction of the characters makes YKK one of the more realistic titles in the slice of life genre. Although the author chose to do away with exaggerated anime/manga stereotypes (lecherous old men, bubbly and saccharine girls, idealism-spouting youngsters, and the like), Ashinano managed to create an entire cast of characters which are relatively modest yet still appealing. They might not stand out too much but that only makes them more endearing to some readers because they seem more real that way.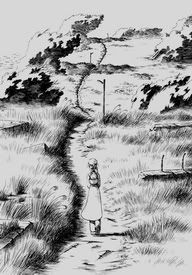 Drawing Style
Ashinanoís character designs are simple yet charming. The faces of the characters are very expressive, effectively bringing out the charactersí moods and personalities. As one goes through the volumes, itís also quite interesting to see how Ashinanoís style had improved through the years (the series ran for 12 years, after all).

What really makes his art stand out, however, is his awesome ability illustrate the setting in fine detail. Gusts of wind sweep across vast fields of grass, the lights of a submerged city continue to glow beneath the ocean waves, roads and towns once bustling with life now stand derelict and abandoned; the scenes often invoke feelings of nostalgia as if the writer and the readers had been there themselves. Later on in the series, Ashinano starts using more and more of these images to enforce or sometimes even replace the dialogue to deliver his message to the audience.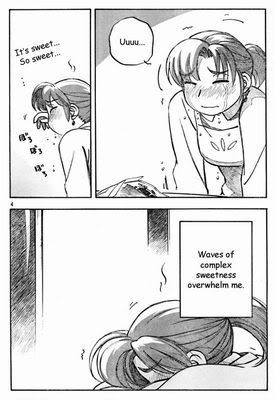 Enjoyment
If you can take delight in life's little pleasures, if you wish to believe that all will be well in the future, if listening to Louis Armstrong's What A Wonderful World (without thinking of irony) brings a smile to your face, then you would probably enjoy this masterpiece.


Overall
Well, it looks like itís all downhill from this point on for anime/manga because I donít think Iíll ever find anything close to being as good as this series. Sure, Iíll probably stumble over a few other well-written stories out there, but I really doubt it if they would be as emotional and as thought provoking as Yokohama Kaidashi Kikou.
---
Back to Reviews
User Comments
You must login to comment for this review! Register an account.
The upshot of my experience of this manga

by cecropiamoth on January 9th, 2012, 8:56am
Rating: 5

---

Thanks for this excellent review. I was so moved by the manga that I never could find words that would describe its charms nearly as well as you have.

You said "Well, it looks like itís all downhill from this point on for anime/manga because I donít think Iíll ever find anything close to being as good as this series. "

That's exactly what I've though ever since I read it several months ago.

Nice review.

by Zoro on November 13th, 2011, 2:17am
Rating: 5

---

I enjoyed your review quite a bit. Including images is a nice way to illustrate some of the story's advantages. Quotes are a nice plus too.

I'm probably gonna start reading this series soon, I just wanted to see how others found it. Your Overall paragraph is a nice way at expressing what you thought of this manga competitively as well as personally.

A very well thought-out and detailed review

by calstine on January 19th, 2010, 8:59am
Rating: 5

---

It's rare to find reviews that are written so neatly, with time and effort. This is one of those delightful exceptions.
However, I think maybe you should have been a little more unbiased. But, since YKK is such a charming, moving and thought-provoking manga (I think the only slice-of-life / drama / psychological manga I've liked more than this is Mushishi), I think you can fairly say you couldn't help writing a rave review.

Amazing review.

by NightSwan on June 1st, 2008, 1:44pm
Rating: 5

---

Your review is really well done, I liked how you described the art, and everything else to the matter of fact.
I'm surprised though, that nobody has responsed yet...

I'll be reading this now. Thanks for your amazing review, and I hope to see more of your reviews.
You must login to comment for this review! Register an account.
Manga Search
MANGA Fu
News
What's New!
Series Stats
Forums
Releases
Scanlators
Series Info
Mangaka
Publishers
Reviews
Genres
Categories
FAQ
Members
Baka-Updates
MEMBERS
Sign Up
TEAM-BU
Admin CP
About Us