Manga Poll
Manga
is the Japanese equivalent of comics
with a unique style and following. Join the revolution! Read some manga today!
Join #baka-updates @irc.irchighway.net

RSS Feed


La Dolce Vita di Adelaide
Login to add items to your list, keep track of your progress, and rate series!
Description
17 years after her own reincarnation, Adelaide hears that a dimensional traveler has suddenly arrived at the imperial palace. Just the jolt of excitement my boring life needed, she thought!
Attending the debutant ball to meet this new Susanne, Adelaide ends up making a deal with the handsome duke Felix: become his "fake" fiancée so he can keep the gold-digging Susanne away from him! As Felix warms to his companion, can Adelaide win this battle for his heart?
Original Webtoon:
KakaoPage
,
Lezhin
Official Translations:
English
,
French
,
Thai
,
Indonesian
,
Russian
,
Japanese
•German:
Delitoon
,
Al...
More...
Type
Manhwa
Related Series
Associated Names
Adelaide
Adelaide's la dolce vita
Adelaide's Sweet Life
Adellaideuui la dolche vita
Adélaïde
La dulce vida de Adelaida
La vie douce de Adélaïde
The Sweet Life of Adelaide
Аделаида
Солодке життя Аделаїди
آدلايد
حياه آدلايد الحلوة
ยุ่งนักรักของอาเดลไลด์
アデライド
阿黛尔的冷面公爵
아델라이드
아델라이드의 라 돌체 비타

Groups Scanlating
Latest Release(s)
Status
in Country of Origin
85 Chapters + Prologue (Complete)

S1: 34 Chapters (1~34)
S2: 16 Chapters (35~50)
S3: 35 Chapters (51~85)
Completely Scanlated?
Yes
Anime Start/End Chapter
N/A
User Reviews
N/A
Forum
User Rating
Average: 7.5
/ 10.0
(199 votes)
Bayesian Average:
7.34
/ 10.0
Last Updated
September 7th 2023, 2:36am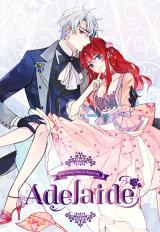 Genre
Categories
Category Recommendations
Recommendations
Author(s)
Artist(s)
Year
2017
Original Publisher
Serialized In (magazine)
Licensed (in English)
Yes
English Publisher
Activity Stats (vs. other series)
Weekly
Pos #
688

(+45)
Monthly
Pos #
1140

(+171)
3 Month
Pos #
1475

(+579)
6 Month
Pos #
2280

(+116)
Year
Pos #
2309

(-299)
List Stats
On
503
reading lists
On
153
wish lists
On
571
completed lists
On
32
unfinished lists
On
257
custom lists
Note: You must be logged in to update information on this page.



I love stories with strong and smart women (and men) and also the world this story was set in.
It didn't quite go the way I thought it would but in the end it was good.
There were very few things that annoyed me, if any at all.
The one thing that annoyed me is that
Spoiler (mouse over to view)
Susan was supposed to be kicked out after the confirmation and the church would take her in instead and this never happened, but that's not the real problem, the problem is that it was never explained why. I mean the whole story and shtick is about kicking her out, so to just gloss over that is annoying.
The ending was also stretched and pulled a bit, I mean all that was really needed is
Spoiler (mouse over to view)
for the Duke to show the world how much he loves her, there was no need for them to also take a break from each other, it felt forced even if it made sense.
This manga would have gotten a 8 if it wasn't for this.
I gave it a shot because it's only 85 chapters, but I spent the entirety skimming through the story. I ended up dropping at chapter 30 after reading the reviews that even people who liked it in the beginning found it bad after chapter 60. It feels like this story was written for preteens.
The ML is not commanding, blushes and bumbles like a school girl over the smallest of things (which contradicts the trauma from being sexually harassed by his step mother), and is not strategic. He hardly seems fit for the title of Duke nor does he act like he's in 20's.
The FL is immature, an elitist (sticks her nose up at dishes served at inns and puts down the other Korean lady for not having a title), and her basic simple plans leave much to be desired even though everyone applauds her like it's iron clad. She also doesn't act her age (she should at least be in her 30's if you combine her current age with her age from her previous life). Also, I don't understand why she keeps pushing the ML about making their relationship real and not an act so early on. By only chapter 23,
Spoiler (mouse over to view)
she insists on having him kiss her and that they go on a date to celebrate, when they should be spending that time figuring up what the other Korean girl is up to and planning
And, even when she's forcing him, you never get the sense that she has more feelings for him beyond physical attraction
The story is not well planned out and the characters personalities (even side characters like the King) leave much to be desired
...
Last updated on October 18th, 2022, 1:20pm
I actually enjoyed the premise of the story from the get-go, and found the art and dialogue to be good enough. It's not the most unique or ingenious series as a whole out there, but it is a passable and enjoying enough read—until you reach chapter 60+.
Adele is supposed to be smart and confident. I appreciate that her intelligence and competence aren't as blatant as the FL in Doctor Elise, and she's entertaining enough with her spunk and zest. Also, I may have some biases because I love the red hair and blue eyes combo.
Anyway, everything falls to sh*t when she
Spoiler (mouse over to view)
demands a confession from the Duke around chapter 60.
While I do understand her insecurity, it was poorly set up. In the earlier chapters,
Spoiler (mouse over to view)
there was little indication that she would want to rush things as she seemed to accept and understand the Duke's feelings (or where it is heading towards) when he made a proper proposal.
And then there was the trigger for
Spoiler (mouse over to view)
rushing the confession: the Duke showed kindness to a maid.
Adele is supposed to be smart and competent, it was
Spoiler (mouse over to view)
her plan for the Duke to show kindness to the maid. However she puts all the blame on him, and despite claiming to want a conversation with the Duke regarding their feelings, she doesn't let him speak even once as she highhandedly goes on a guilt-tripping tirade to lead him into confession to her.
The whole thing is just plainly off-putting. Especially since the Duke and Adele seem to have quite an open relationship when it comes to being able to converse about their feelings and their current arrangements. The only other time Adele keeps something from the Duke is of
Spoiler (mouse over to view)
her intentionally getting in dangerous situations (which is another stupid trope these stories seem to like).
All in all, it's really disappointing that I've come to enjoy the story, reaching this far into it, only for it to take an abrupt nosedive into unpleasantness.
...
Last updated on September 8th, 2022, 11:55pm
Story - 7.5
Art - 7
Character - 7.5
This is a perfect example of a complete opposite of the "show don't tell" rule. Well unless the author intentionally did so for the sake of parody. And as a reader, it was like I'm reading chapter 1 while someone was foretelling what's gonna happen in chapter 2. The story itself was a freaking. open. book.
Story. It was left hanging in my opinion,
Spoiler (mouse over to view)
especially the thing about the saint.
We did not get any side stories (did we? Or are we even gonna have it?) so it's plausible to think that this is axed.
Spoiler (mouse over to view)
Eh- was Susan's character intended to be a laughing stock right from the start to show that all antagonists who seem special would always end up destroyed?
Squint a little and you'd think that Susan was Cinderella.
Character. It's too obvious, as evident in some of the reviews here.
Spoiler (mouse over to view)
Adelle, my girl, you don't force someone to tell you that he loves you. If he does, he does. If he doesn't, well, try harder. I don't know about her but I'm sure as hell don't want to hear a scripted "I love you". I seriously liked Adelle's wit up until this moment. What triggered it all was an obsessed maid's delusional statement. And Felix's smile which was (indirectly) part of their plan. Man, if you're gonna trick someone into thinking you're being kind to them, you have to at least show them, y'know like, a smile?
And those villains. They remind me of the antagonists in a classic Filipino action comedy films.
Art. It was not appealing to me in the first few chapters but it gradually became better in the latter ones. I appreciate it tho since drawing takes a lot of time and effort.
So should you read this? Well definitely, if you're into subtle hints of parody. This will give you a good laugh, but on romantic side, err, probably not.
...
Last updated on March 4th, 2022, 7:09pm
I've read 10 chapters. So far Adelaide has:
- inwardly insulted or commented on people's appearances,
- outwardly insulted the food at an inn, and
- generally done nothing but order dresses and cakes.

She comes across as rude and shallow. I do not expect a perfect lead. I like flawed leads. My problem here is that the author appears to be trying to pass this girl off as smart, kind, and "not like other girls." Perhaps there will be character growth but I don't think I have the patience for that. I have read a lot of entertaining reincarnation/isekai stories lately so maybe I have too many expectations.

Also, the plot isn't enough to hold me. Dropping this unless I magically change my mind.

... Last updated on August 15th, 2021, 8:06pm
I loved it for the first 60 or so chapters, the female leading cast (apart from susan) were all witty, independent and strong women, able to protect themselves. They arent there to decorate the story or to look pretty, and at times female characters outshine the dudes in the series, rescue and take care of themselves.
And then... adelaide goes from being a likeable character, to getting the opposite of character development in the latter part of the series.
SLIGHT SPOILER ALERT! just click with ur mouse on the box to continue reading
Spoiler (mouse over to view)
I dont hate adele for trying to force felix to admit he loves her (it's like a... im not mad, just disappointed moment for me, like EXTREMELY disappointed), nontheless, what she did was extremely immature. love cannot be rushed, sometimes one person is ready to say how they feel much earlier than the other. you dont know what someones been through before they tell you, so rushing them out of their comfort zone before they're ready to show you the vulnerable parts of themselves is a kind of scummy thing to do.

everyone has different fears, and are at different parts in their lives when it comes to overcoming them. as i like to say, you might be reading the same book, but you're just on different pages. wait for your partner to catch up. you cant rush a healthy relationship.

i'm not saying you have to wait on your partner always, if you cannot wait for them to grow past their trauma or even just take the first step, then you guys just arent a match. it's okay for that to happen, but you should never force them to open up to you.

it just makes me so sad that she just wants something to make others jealous for a proposal. a proposal is a promise between you and the person you love. my girlfriend could propose with me with a goddamn lollipop ring for all i care as long as we care for each other. because i dont need something to be unbelievably special in the eyes of others, i just need something thats special in my heart yk. so it makes me sad when she wants something just to make other girls envy her, rather than a heartfelt proposal, like the one he's literally already given her :(

when people say "show your love through actions, not words" they dont mean material actions, they mean like literally travelling from the capital to see you because they're worried sick after you left without saying a single word. they mean protecting you, they mean spending time with you. they mean the kind of stuff he's already clearly shown
i mean seriously, what is it with manhwa's and having healthy communication in the beginning then yeeting it out the window??
not @ me editing this 4782478 times, i just have so much to say bcs things like this feel very important to me lol
...
Last updated on June 29th, 2021, 12:30pm
First 60ish chapters were pretty good but then the "romance" had me giving it that squinty judging face. I actually stopped reading it for about a year and then finally decided to re-read and power through it to the end.
The last 20ish chapters introduce a dramatic twist and setup to create what I can only call a cheesy "Hallmark" ending. I normally dont mind those but it wasnt very well executed and it ended up making me dislike the female lead.
Spoiler (mouse over to view)
Adele feels insecure and wants the Duke to do a big dramatic proposal so everyone will stop questioning the relationship and she wont have to deal with another Susan someday. Which okay, that's fair. Her feelings of insecurity and of being unsafe are very reasonable. The strategy of using a big show of PDA to combat the rumors and rivals has some holes but its not without merit.

BUT Adele coming up with this scheme completely on her own? Not communicating this with the Duke? A man she KNOWS struggles with verbally expressing himself due to past trauma. (Like the few times she does talk to him, she just cuts him off and talks over him when he struggles to find his voice.) Not to mention, she enacts her plan right when he's super busy...catching the people that tried to MURDER them! Like god damn, when exactly does he have time to sort through this emotional mess?

Like, I get it. The author wants to do that dramatic chase and confess style ending but it didnt really translate well. Instead, Adele looked bitchy and the Duke looked like a mistreated puppy.
I did like the first 60ish chapters though. Maybe the heros caught the villains a little too easy but I'm happy with that. I wanted to read something more complicated then a 20 chapter story but less complicated then a 200 chapter story, you know? Also, I really appericiate that the heros considered
Spoiler (mouse over to view)
murdering their enemies at multiple points.
I find it super annoying when that option is ignored.
Spoiler (mouse over to view)
They tried to murder you! You don't have to let them live to try again!
I like this less and less the more the story plods along so thank God it's over. There are many attempts at conflicts but the stakes are never high enough as to give us the need to root for the protagonists or make us wait in anticipation for the next chapter. Everything is resolved easily because plot armour I guess, and also because the antagonists are as dumb as they come. Seriously disappointing. All the characters are flat and I'm indifferent to all of them. And what saddens me the most is how the romance doesn't work at all, for me, with the FL's insecurity and the dude's I-am-afraid-to-fall-in-love nonsense that is so last century. I mean, if you read romance and the romance is meh, what's the point? Also, if I hear one more time about silver turning black when coming in contact with poison, I'm going to riot.

... Last updated on September 3rd, 2020, 1:38am
Started out with a good premise. FMC is strong and spunky. She is very cunning and sly like a fox. It's very entertaining at first but I slightly got bored about 3/4s in. The villain is really stupid, tho and that the FMC is always one step ahead just didn't make this manga as interesting. No sense of suspense because whatever the MCs think is what the villain usually does and bungles it.
True, the mc is quite weak. The fmc got him wrapped around her finger. It seems that Isekai mcs are always naive and ignorant *sigh*. There were sweet couple moments. But the fml seems spoiled in end and inconsistent with what she's supposed to be.
Anyway, I felt uncomfortable towards the end around 70+ chapters and didn't finish it because of this:
Spoiler (mouse over to view)
It was uncomfortable seeing thr fmc so insecure of the mc's affections. She started blaming him of being handsome and charismatic. She said it was troublesome if another woman were to "fall" for his charms. I was like, what? I mean yeah girl it's okay to be jealous but it feels like you don't trust him. It was stressed in the earlier parts of the manga that the "cold and distant" duke does not easily show his affections. When he "smiled" at that maid, it was even on orders of Adelaide. I was like where did this insecurity come from. I also didn't like she was "turning" her friends against the duke with the "This is how he treated me.. Isn't he a complete fool?". And them ganging up on him.

Anyway around 70+ she left the duke's estate so that the duke will come begging for her. When he confessed, she wouldn't take him back because she wanted him to propose to her in a grand fashion that everyone will be doubtless of his affections for her. But wait, wasn't she portrayed first as someone who doesn't care about the opinion of others? What's this nonsense? I couldn't continue after that. I don't know if she redeemed herself at the end. I'll never know.
...
Last updated on August 23rd, 2020, 10:00am
It wasn't deep or profound, the villains were just stupid & the logic of the story was somewhat faulty at times, but it was loads of fun all because of the MC. The girl has a very interesting personality which makes it very to read about her!