Manga Poll
Manga
is the Japanese equivalent of comics
with a unique style and following. Join the revolution! Read some manga today!
Join #baka-updates @irc.irchighway.net

RSS Feed


Dice (YUN Hyunseok)
Login to add items to your list, keep track of your progress, and rate series!
Description
From LINE Webtoon:
Whether it's appearance, grades, or social life, Dongtae's at the bottom of the barrel. When popular transfer student Taebin gives him an opportunity to change all of that, Dongtae heads down a path to make things right. This is the world of DICE, where a single roll can change your fate.
-
From Dice Scans:
What if you can restart your life with a different setting just like a game? Dong Tae always get bullied by his classmates, but Tae Bin, sits right next to him, is handsome and popular at school; and now, Tae Bin suggests Dong Tae to play a little game.
Official MVs:
The Sta...
More...
Type
Manhwa
Related Series
N/A
Associated Names
Dice - The Cube that Changes Everything
DICE-骰子
DICE: The Cube that Changes Everything
Кости
نرد: المكعب الذي يغير كل شيء
다이스 (DICE)

Groups Scanlating
Latest Release(s)
Status
in Country of Origin
386 Chapters + Prologue + 3 Bonus + Epilogue + Afterword (Complete)

S1: 62 Chapters (1~62)
S2: 58 Chapters (63~120)
S3: 80 Chapters + Review (121~200)
S4: 186 Chapters (201~386)
Completely Scanlated?
Yes
Anime Start/End Chapter
N/A
User Reviews
Forum
User Rating
Average: 7.7
/ 10.0
(497 votes)
Bayesian Average:
7.62
/ 10.0
Last Updated
March 23rd 2023, 10:57am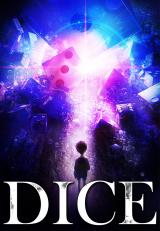 Genre
Categories
Category Recommendations
Recommendations
Author(s)
Artist(s)
Year
2013
Original Publisher
Serialized In (magazine)
Licensed (in English)
Yes
English Publisher
Activity Stats (vs. other series)
Weekly
Pos #
778

(-25)
Monthly
Pos #
1418

(+172)
3 Month
Pos #
2227

(+620)
6 Month
Pos #
3380

(+281)
Year
Pos #
4393

(+226)
List Stats
On
2240
reading lists
On
673
wish lists
On
180
completed lists
On
193
unfinished lists
On
473
custom lists
Note: You must be logged in to update information on this page.



It goes downhill from Season 4, and even Season 3 was meh. When you see the top comments complaining about the storyline and pace, then it's pretty bad.
I agree with everything the comments before me say. Lemme try to come up with new points...
The art isn't something that I'm a huge fan of. It's nice, yes -- in fact, it's VERY nice -- just look at the background and how much work that takes! But it's this type of 3D digital kind of art (similar to Orange Marmalade, another series I disliked...) that is unreal that makes it off-putting. And towards the end, because of how draggy the story was getting, I was just skimming over the story and not appreciating the art. :/ Sorry to the author and assistants.
The character development is also there, but it becomes tiresome to keep track of as they all go back-and-forth and change their minds constantly. At that point, it's character inconsistency and you get whiplash trying to keep up with their incessant monologues and dialogues. In the end, I liked *none* of the characters.
One thing I had a problem with, which is probably an unpopular opinion.
Spoiler (mouse over to view)
I really didn't like how Dongtae and Mio were "explicitly implied" to have had sex. Considering that romance isn't the main point and "doing it" wasn't quite a significant plot point (and if it was, then it wasn't emphasized enough), it was just unnecessary and that left a bad taste.
The ending... is a disappointment.
Spoiler (mouse over to view)
That crazy pink-haired girl kills people, yet she gets a happy ending. What's up with that?
And the invincible Muyoung who is so full of hate just ... gets put to sleep? The accumulation of hatred was so easily pacified? Why did his backstory even matter...?
Same with X, who got taken care of just like that. His ending was ambiguous and I can't tell what really happened to him, which is a disappointment.
And weirdly, he was born within the 20th century (the bulldozer was invented in 1904, and it was pictured in his birth village), yet he and Muyoung kept going on about how "old" they were. In reality, they probably can't even match up to the oldest person alive LOL. I honestly felt like this was a letdown and even a plot hole.
Hyun Choi was such an interesting character, yet he ended up spineless and useless in the end. What a shame, because he had so much potential.
The backstory for Eunjoo came WAY too late, that it wasn't even important by the time it was revealed.
That swimmer guy isn't even important, but he gets an "ending" too. Why?!
Would've rather we see the levitation girl come back, but no, she just disappeared after the hospital fight scene.

Dongtae wants to fulfill everybody's wish, but he only fulfills the wishes of the people in his immediate circle. LOL...
Also, he became ridiculously whiney when he went back to having 0 dice in Season 3. That arc started off fine, but it dragged on too long and his annoying personality became increasingly unbearable.
I have complaints, but I DID enjoy the series. It's a pity it ended the way it did, but it's a series that the author put hard work and effort into.
I seriously loved episode 380 -- love how real it is. It was a really nice touch to the webtoon.
...
Last updated on December 30th, 2021, 6:07am
Undeniably good art, professionally well done. The chapters built up hype until a certain arc. Then things spiral from there. The story didn't have to drag out as long as it did especially considering the ending we got. Not that it was a bad lesson but it wasn't worth it with as many chapters as it had. Just added more drama then necessary.
This is definitely a good read for a 13 year old youth but nothing more than that.
I can't call the story complete trash because that would be lying. It's a good thing the author discussed his mental issues or else I would have been more upset.
See there's a difference between a fan who reads an already finished comic and that fans that waited almost every chapter to be underwhelmed. But like I said it's not trash it's that the author could have work harder and improved the story if they could because the potential is there.
Since it's complete now it doesn't seem that big a deal anymore. Maybe if the author was more mentally well things could have been different but it was probably hard for him to keep dragging it out in his condition.

P. S. If your looking for romance this isn't it despite how it's tagged the story doesn't do much good with that and should have been a subplot instead. It seems necessary for the story but you slowly learn that's not the case. I don't know if the author wasn't trying to anger fans but it is what it is.

... Last updated on October 24th, 2021, 7:50pm
I'm still at the beginning but the story is developing pretty much logical for me just a little annoying bith the mc personality and side characters
DICE is a great manhwa, its entertaining and the action in nicely done. although, i hate to say it myself but i'll have to drop this webtoon. i'm sorry. on season 4, it started out well but it became kinda repetitive not gonna lie. i dropped this webtoon on episode 294. i just couldn't stand it anymore. i'm practically just reading it for the ending, the series got too long. it felt like as if it was endless. it became boring for me an it was no longer entertaining. my review of DICE is pretty negative an all but it doesn't mean i hate it! i recommend it for people who like drama, action, and a bit of romance. it shows how the world really is, it shows how greedy we are for money and looks. it shows the real world we live in. i also like that they put music on certain chapters, it's a nice and a cute touch :]

... Last updated on August 24th, 2020, 1:58am
this webtoon started decently, but somewhere around chapter 124 i started getting really bored of the story. i saw there are more than 300 chapters and decided i had to drop the series. i skipped ahead to chapter 290 or something to see if anything's really changed and it seems like it's the same old thing. i'm just trynna see how it ends and move on because the actual reading is a damn drag😩
As the title says this is just a really biased opinion mixed with some venting on this series from what I've read up to chapter 150.
I am not attacking anybody specifically like I said this is just an opinion mixed with a little vent.
Please read at your own discretion :x

It was a very interesting read and it had a good concept but you will quickly realize the plot-holes that will sneak-up on the story and culminate into the bull... climax (up to chapter 150) that was a certain character starting to farp Dice skills over and over AND OVER AGAIN all thanks to her true dice ability... Plot-Armor-tts!
All I can say is it was utterly disappointing when it became clear that the actually somewhat sound power system rules where some1 can only use dice skills in accordance and proportion to the amount of dice one has, had been utterly spit on because then you have an S-PULL of not one... not 2 BUT 3 ABILITIES AT ONCE being used WITHOUT cost/restrictions... REALLY? (Well that made perfect sense...)

If the author wants to pull a freakin Deus-ex-Machina for impact sake maybe consider a few things
#1 build up;
#2 having it make sense as to why it happened and not for the sake of "sock value";
#3 proper context to justify what's about to happen and not simply going with "oh you have the potential to b very best, therefore you are"!

In short... I am not trying to stop anyone from reading this, all I am implying is that if you are like me and you like the stories you read to make sense and be coherent, than please be prepared for some disappointment after you reach a certain point with this series.
If you're expecting a really coherent and really well thought out and executed story, simply because the premise was good and really interesting, this series is most likely not for you.
On the other hand if you're just after some light reading to pass the time and you don't mind unplugging your brain to the discrepancies that will keep on popping from time to time, then by all means, have a nice read 🙂

Like some1 said before... the potential for a good series is there but it's so poorly executed that it ends up feeling lackluster.
Instead of making the fight scenes and the "sock/dramatic/surprised" moments to be as impactful and visually appealing as one can, maybe focus more on the plot behind the dice system as a whole, char development and oh I know... how about sticking to the damned rules of the power system that HAD BEEN set previously from the series start? Instead of tossing them to the side the moment you want to make a character stick out as the show's new "Gilgamesh" so to speak!
Anyway I am giving this show a 5 simply because of the potential it has.

... Last updated on September 29th, 2019, 6:43pm
The basic premise of the story is interesting but gets squandered by the poor execution. Cardboard thin characters are seldom acceptable but you can get away with it if the action or spectacle is distracting enough. Sadly that's not the case here and so the attempt at drama falls flat.
I picked this up solely on the cover without reading the summary. I expected some boring but pretty story and was drawn in with the first emotionally gripping prologue chapter! It is amazing the amount of development, depth and plot twists Yun Hyunseok has captured.
Points: Comparison on today's materialistic/shallow society (over exaggerated) versus what is moral/ethic. Well established characters and back stories providing a full and developed cast with some character development. Great action scenes, fun comedic moments and sweet (minor) romance. Decent emotions and a very nice play on psychological warfare.
Drawbacks: The over exaggeration can a make it hard to connect with due to it being highly skewed to looks and power and greed over everything else. Only a handful have personalities that shine through the 'improved' looks. Some arcs drag a little, especially with filler fight scenes or pointless fun - though these can sometimes help to better connect with characters. Relatively slow character development as focus is on leveling up, X mystery and back stories. (But that's a personal preference of loving development stories).
Characters (there are many)
Dongtae - main protagonist.
Spoiler (mouse over to view)
He starts off as a bullied kid and, with the help of the dice, becomes a powerful hero who holds onto his belief that dice are a tool that can be used to better the world. He aims to defeat X without playing by the rules X has set for the game.
X - main antagonist.
Spoiler (mouse over to view)
Game master of his cruel game that plays on people's darker desires to overcome weaknesses and compete against others. He is a lonely personality with child behaviors aiming to have friends to play with forever.
Taebin - secondary protagonist (?)
Spoiler (mouse over to view)
Original dice user Dongtae encounters. He escaped the fallout of X's last game and is against the spread of dice as he knows it will lead to another bloodbath. May prove to be more foe than friend with the secret he carries inside.
Eunju - secondary protagonist (?)
Spoiler (mouse over to view)
She is the pure, upright character that both male protagonists like. Determined not to be drawn into X's game, she sees the dice as the cause of evil. Unlike Dongtae, she aims to erase the existence of dice altogether. This often leads to conflict with others who have benefited from the dice by escaping lives of bullying, helplessness, and inadequacies. She is perhaps the hardest to connect with as she fails to empathize with others and focuses solely on her own desire for everyone to accept themselves as they are - something she actually struggles with herself due to past rejection and not being recognized for her hard work. Due to recent developments she has pitted herself against Dongtae and is moving more towards an anti-hero role.
Mio - secondary protagonist.
Spoiler (mouse over to view)
She has a strong crush on Dongtae and provides a light aspect to an otherwise dark plot. She is the most level headed of the protagonist group but also serves as more prop than key player. She helps often enough to be a secondary character rather than background but as of yet hasn't stood out much. Hints of her back story and recent power displays could mean more is to come of her development.
Mooyoung - secondary antagonist.
Spoiler (mouse over to view)
Hints that he may be one of the true original dicers, he aims to gain power to try defeating X. He has tried multiple times and failed. To succeed, he plays an anti-hero role and will do anything to reach his goal, including killing friends. His link to Taebin is more than just past connections and may greatly change the playing field of the current gladiatorial game set up.
Che-Hyun - minor character, a personal favorite.
Spoiler (mouse over to view)
While we know little of him, he seems like a fun and clumsy sidekick. I'm curious as to what his ability is - my guess is clairvoyance.
Inconsistencies:
Adults
Spoiler (mouse over to view)
Other than the one who joined the game and went crazy, what are all the others doing?? I mean, kids are suddenly and rapidly changing appearance (major changes overnight), abilities and skills. Violence, attendance issues and such are suddenly on the rise. They're all on their phones and playing with some 'dice'. Is a blocked phone really the only deterrent needed to keep them oblivious??
Stealth
Spoiler (mouse over to view)
During the first arc, we had one character make a big deal about turning off phones and going to a secluded park to avoid CCTVs and other electronic/communication/recording devices so X can't eavesdrop. Yet after that we have our main heroes constantly talking about how to defeat X right in the open knowing he is eavesdropping. If he has the power to change the world...why would you not master a little stealth and strategy?
Favorite scene:
Overnight stay & brain power
Spoiler (mouse over to view)
After Mio and Dongtae start officially dating, she asks to spend the night (indefinitely) and Dongtae's hormones go on overdrive thinking she means more than just a sleep over. We see him losing rationality and being extremely flustered. Great, light-hearted fun. After he starts getting a little too anxious and bold, Mio succinctly puts him in his place and he's left to sleep in his own bed - alone.
Overall - I highly recommend this manhwa. It has a lot going on and is very interesting with it's concept and execution. The characters are fun and their interactions drive the story with dice powers adding incentives and twists. Give the prologue a shot - I doubt most of you will regret it.
...
Last updated on June 17th, 2016, 11:18pm
Those of you who is calling out on ajaykumaryadav are pathetic. Review's exist for people expressing their opinion. So if he/she didn't like that, then it's their opinion. Calling out on someone who doesn't like stuff that you don't like makes you pathetic. So fuck off and let other people express their opinion.
Now as for the webcomic,
Spoiler (mouse over to view)
I loved it. I admit I hated the protagonist at first, but he is starting be more mature now. But the girl is very biased. God, she doesn't like deicers, while ignoring that before dice, people were getting bullied and she didn't do anything about it before. Now all the sudden that people had dice now, she is becoming self righteous.
...
Last updated on January 8th, 2016, 7:43am
I admit to dropping this one, halfway through I just couldn't stand it anymore...To me it just wasn't fun to read it, it was extremely depressing /constantly/ that it felt like a drag to read it. It never got any better and I just found myself getting more and more bored until I just stopped reading altogether. Yes, this story has an unique idea, however that does not mean it is not boring. And then there is a strong idea of how you need to have good looks, smart, athletic etc. to be liked by others, and the importance of popularity. Which is stupid really, because you don't need to be perfect and popular to have friends. So this wasn't really for me, too much drama to the point of depressing and boring....