Manga Poll
Manga
is the Japanese equivalent of comics
with a unique style and following. Join the revolution! Read some manga today!
Join #baka-updates @irc.irchighway.net

RSS Feed


Given
Login to add items to your list, keep track of your progress, and rate series!
Description
From SuBLime:
Ritsuka Uenoyama is bored with it all - with school, with his basketball club, and even with his one true passion: playing guitar. That is until the day he finds his favorite hidden napping spot occupied by a strange boy cradling a broken-stringed guitar. At first, Uenoyama is nonplussed by Mafuyu Sato and his slightly odd behavior, but when, on a whim, he asks Mafuyu to sing, the power of that song pierces him to the core.
Official Translations:
English
,
French
,
German
,
Polish
,
Portuguese
Spanish:
Mexico
,
Spain
Type
Manga
Related Series
N/A
Associated Names
GIVEN被贈與的未來
Дарованный
ぎう゛ん
ギヴン
吉缘
기븐

Groups Scanlating
Latest Release(s)
Status
in Country of Origin
9 Volumes (Complete)
Completely Scanlated?
Yes
Anime Start/End Chapter
Starts at Vol 1, Chap 1 (TV) / Vol 4, Chap 17 (Movie)
Ends at Vol 3, Chap 16 (TV) Vol 5, Chap 28 (Movie)
User Reviews
N/A
Forum
User Rating
Average: 8.6
/ 10.0
(248 votes)
Bayesian Average:
8.35
/ 10.0
Last Updated
October 16th 2023, 3:38am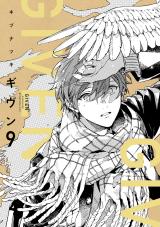 Genre
Categories
Category Recommendations
Recommendations
N/A
Author(s)
Artist(s)
Year
2013
Original Publisher
Serialized In (magazine)
Licensed (in English)
Yes
English Publisher
Activity Stats (vs. other series)
Weekly
Pos #
468

(+59)
Monthly
Pos #
1103

(+192)
3 Month
Pos #
1529

(+170)
6 Month
Pos #
1709

(+94)
Year
Pos #
1392

(-234)
List Stats
On
1238
reading lists
On
487
wish lists
On
169
completed lists
On
35
unfinished lists
On
374
custom lists
Note: You must be logged in to update information on this page.



Given manga ended and Uenoyama got nothing at the end 🤣 he wasn't even in kizu's radar for writing let it be known that she hated him so much that everybody in that manga got an arc and the spotlight except him because she didn't want him to overshadow her favorite character yuki yoshida she knew everyone would start to dislike him if Uenoyama was shown more but she didn't want that and let him be a stepping stone for everyone until the end and Mafuyama should've have broken up at least until Mafuyu decided he was ready to forget about his abusive ex dead boyfriend, Kizu didn't want to let yuki go because the last arc could've been more about mafuyu's trauma and Uenoyama career's life choices instead of making it again about the dead boyfriend, the manga had so much potential because it had great topics to chose about, like music, first love, coming of age, grief, depression and healing but instead to explore that Kizu decided it was good to use the main character as a therapist and stepping stone, making him fix everyone and be the shadow of an abusive man, because she realized that the fans don't care about Uenoyama, she truly hated him until the very end just like the fandom. I really wish I could snatch him from this ugly story😐 and now they are doing a movie about a side character instead of him lmaoo like it couldn't be more obvious how none cares about his character at all.
I was gonna drop this story to be honest but there was one last chapter to go and I finished it but it was very lackluster the main couple didn't even feel like a couple…didn't feel like there was much chemistry I know music came first but eeeh just not my thing
Honestly I'm starting to believe it when others say the author hates Uenoyama. Nothing was properly resolved nor did he get his own arc, all the side characters got a better arc than the actual main character.

The last chapter just proved Uenoyama was a only a rebound and a Yuki 2.0, the ending was horrible and so disappointing (may I say very rushed too). Uenoyama looks like he will never get out of yuki shadow.

Uenoyama was done so dirty, how can this all still circle back and still make yuki more important in Uenoyama own moment.
The author made Mafuyu say the exact same lines yuki told Mafuyu at beach (where Uenoyama and Mafuyu are currently at) as the ending lines....like 😀
Please stop. Author trying make fans forget about her lack in writing for Uenoyama character by trying make fans lose their shit in happiness that Uenoyama not gonna be a virgin anymore but in reality just made most fans have a sour taste instead.
Maybe she wanted to show a parallel of one of Mafuyu last happy moments with yuki but this time with Uenoyama but it was not executed nicely at all.

Not only that but I feel like Mafuyu didn't even seem to try as much as Uenoyama did in their relationship either.

Anyways overall it's not a bad story. I just wish there was more depths for Uenoyama and him not being pushed aside like always.

Edit: sorry gonna had more to my 'rant'
I feel like the author started to regret writing yuki death half way in the story seeing how she constantly made him take the moment away from Uenoyama whenever he had one.
Honestly the ending lines definitely felt like an insult and degraded him. I also feel like their relationship will be more about makeup sex than communication as they still have this push and pull after so many chapters without any resolution.

I saw a tweet I agree with that kinda sum Uenoyama character; "a character that had potential but stayed just a potential till the end."

... Last updated on March 31st, 2023, 1:16am
I really love this story, each couple is just perfect❤️ but I truly, deeply hate Yuki and Ugetsu, gosh, they were/are such manipulators and egoists... I hope Ugetsu won't piss me off again😒
And ending...yes...I'm disappointed...it seems very rushed, like the author forgot what this story was about...not enough panels of each couple...yeah...I expected something more

... Last updated on May 15th, 2023, 11:45pm
Overrated. The plot makes completely no scene and mafuyu's voice is awful

... Last updated on April 22nd, 2022, 2:14am
I only watched the anime & movie… just starting the manga…
Overall, I can say that I really liked this, but I have some issues with Mafuyu's past relationship…
1st, the reason and method of Yuki's death wasn't clear enough. In the first scene, it seemed like he was hanging midair, so I assumed it was suicide by hanging, but later they said he "drank too much alcohol@, so alcohol poisoning?!
In the end, I just made the hypothesis that he got drunk & killed himself. In that case, he must've had a pretty serious case of depression… despite his young age & while being in this supposedly "ideal" relationship with his so called "soulmate"…
Here's my other question: why was Mafuyu the first one to find him?!?
They were in the middle of a fight, & being a student, I assume that Yuki lived with his family, so the most likely reason that Mafuyu found him first is probably that Yuki actually called him over…
Now this is my problem.
If Yuki really called his lover to find his dead body, even while drunk, it couldn't possibly have been a healthy relationship, but the author romanticizes this relationship to a ridiculous degree!
I might be over sensitive because one of my best friends' boyfriend actually did something like this recently. Calling/texting your lover over after taking pills… you wouldn't do that to someone you care about… the feeling of helplessness, the guilt they feel about not having helped & the overall hollowness that remains with them… I've watched this from up close and I really don't think there's anything to romanticize about a relationship that dealt this much damage to one side's psyche…

Again, I may be a bit defensive because this is a recent experience that my friend is still struggling with, so a bit of bias is inevitable, however, I do believe that if we get past this extreme romanticization and accept it as a plot device, everything else is quite beautifully expressed, so I definitely do recommend this~

& I'm gonna post another comment after I finish reading the manga~
I always love Gusari works esp oiwa and kurobas dj, when I read her original character manga I was excited. The music is brought to life in the anime, so... I enjoy the anime more. But sensei way of telling stories are what makes it beautiful. And I love her art too.

... Last updated on February 25th, 2021, 3:34am
Seriously. I watched the anime first, then read the manga because I knew it went way past the anime's story. Well... I liked it, it's not like I was disappointed. But the manga didn't have half as much feeling as the anime.
In any case, this series is almost perfect. There are indeed a few things that could've made it better, but it's so properly thought out, so put together, that I can't give it any less than a 10. I'm obsessed with it like I haven't been obsessed with anything for a long time. The characters' growth throughout the series and interpersonal relationships are extraordinary, so are their friendships, and even the side characters. I started off not liking Uenoyama's sister, and by the end of the manga, I completely understood where she was coming from. And the songs in the anime are absolutely perfect and fit the manga immensely.

So here's the things I think could use improvement:
- I still don't understand what exactly happened between Yuki and Mafuyu. We can guess all we want, but it seems like we'll never be told straight up, it'll just be hinted at. There also seems to be some confusion regarding how he died. From my understanding, it was from drinking too much, but I've seen people saying he hung himself. Who knows for sure?
- Same with Akihiko and Ugetsu. I still don't understand what happened with their relationship, why they ended it or why it was so painful. I think it would've been a beautiful angle to take on that I don't think I've ever seen in BL before, how a relationship comes to an end because they want different things despite their feelings still being mutual. I understand Japanese people are very...ethereal, somehow. A lot is implicit, but sometimes it's a bit too much and we need more to be able to fully grasp the concepts.
- Similarly, I don't get how or when Akihiko fell in love with Haruki. He seemed to be hung up on Ugetsu, and then suddenly in love with Haruki, with no explanation given whatsoever. Because of that, I was dissatisfied with the way their issues were resolved. It's like there was this great expectation of when they were going to be together, and then it didn't deliver, they just got together all too quickly, they didn't ease into it, Akihiko didn't develop his feelings slowly, nothing. They just suddenly weren't together, there wasn't even a hint of it, and then they were.
- The "yaoi" part of things. I think maybe Kizu Natsuki is trying to show sex scenes only between 18+ character, because she has no problem including that in the story line with the older couples' relationships, but when it comes to Mafuyu and Uenoyama...we got only two kisses, I'm extremely disappointed. In fact, there is basically no romance whatsoever, other than a few very chaste scenes here and there. While it's refreshing to see a manga that doesn't focus so heavily on sex instead of the relationship itself, they are so detached from each other that it seems like they are just friends, still. I mean, at one point Mafuyu doesn't even HANG OUT with Uenoyama, choosing to spend his free time with Akihiko instead.
- The timing of it all. I love how long Haruki is in love with Akihiko before anything starts to happen between them at all, or how much time passes with Ugetsu and Akihiko not being able to figure out their relationship, or how long it takes for Akihiko and Haruki to finally get together. I love when manga choose to showcase the passage of time because it's a lot more realistic this way, things don't generally happen overnight in real life - if you're into someone, it may be months before anything happens. With that being said, Mafuyu met Uenoyama WAAAAAAAAAAAAAY too soon after Yuki died, it was absurd! There was no way he could get over him so quickly, it would've taken a least a couple of years. I think it was done this was because they wouldn't be in high school anymore if too much time passed, and that was important for the story. Furthermore, Mafuyu and Yuki couldn't have gotten together any younger than that (they were already very young when they had sex), so there was no way around it. But it still seemed rushed, and so did Mafuyu and Uenoyama's relationship altogether. They'd only known each other a couple of months before they started dating, and that felt very unrealistic to me. I think Mafuyu should've carried a lot more guilt before he was able to move on, this process should've taken months.

Now, some of the amazingly good highlights:
- My favorite character, of course! Hiiragi. He's just...I cant, I wanna squeeze him! I loved him since the first time he showed up, and I didn't even know he was eventually going to form the third couple of the manga! I'm sooo happy, but I do hope we get to see more of them - I think it will happen, since the manga's still on going.
- The metaphors. There are the obvious ones, which are pointed out - love being like music, heart strings and such. But I don't think people who don't speak Japanese notice the other ones, and it's such a shame, because it's so well constructed. All the members of "the seasons" have kanji in their names for the seasons, and they explain that, but it doesn't stop there. Yuki means snow, and Fuyu means winter. Mafuyu was winter, Yuki was his snow. But Ritsuka (Uenoyama Ritsuka) means summer. So he melts away all of the coldness inside of Mafuyu's heart. It's a very poetic choice of names.

As for the art, it is indeed beautiful, and even characters who aren't my type look cool and gorgeous. My only problem with it is that sometimes they look so similar that I have a hard time telling the characters apart.

I can't get enough of this series, be it the manga or anime!
I love this manga so much but I can't read it without almost crying because Yuki really was Mafuyu's soulmate and it's so heartbreaking🙁 it's still really nice to see a story that talks about moving on like that at such a young age but wow.
And even though Mafuyu says he loves Ue now and Ue is also experiencing his first love idk, I just feel like Mafuyu can't actually get over such a deep love that quickly(hasn't it been less than a year? And it was only around 6 months when he met Ue? Compared to the 10ish years with Yuki). Their story is so so so so so soooooo deep compared to the other couples in the manga, and I can't read it without thinking about YUKI AND WISHING HE WERE ALIVE UGH. not fair
But hey, it then became thoughtful character development.
Also, superb art.