Manga Poll
Manga
is the Japanese equivalent of comics
with a unique style and following. Join the revolution! Read some manga today!
Join #baka-updates @irc.irchighway.net

RSS Feed


Ingrid, the White Deer
Login to add items to your list, keep track of your progress, and rate series!
Description
The beautiful daughter of the Farnese family is caught up in a whirlwind romance with a notorious royal playboy -- it's the scandal of the century! When the title of "Elvynee Deer" is awarded to the pure and lovely Ingrid Farnese, all of high society expects her to marry into foreign royalty. Cursed in love with a history of broken engagements, Ingrid is determined to stay put at home in Valentine Kingdom. To take control of her own future she'll make the king's illegitimate son, libertine and womanizer Regan Espencer, propose to her. But the problem is, Regan is the only man in the c...
More...
Type
Manhwa
Related Series
N/A
Associated Names
Ingrid, el ciervo blanco!
Ingrid, the White Deer: L'escapade risquée d'une jolie biche
Nàng Hươu Trắng Ingrid
White Deer Ingrid!
White Deer!
เลดี้อิงกริด
白鹿少女英嘉莉德
白鹿英格丽德
흰 사슴 잉그리드

Groups Scanlating
Latest Release(s)
Status
in Country of Origin
83 Chapters (Complete)

S1: 45 Chapters (1~45)
S2: 38 Chapters (45~83)
Completely Scanlated?
Yes
Anime Start/End Chapter
N/A
User Reviews
N/A
Forum
User Rating
Average: 6.3
/ 10.0
(97 votes)
Bayesian Average:
6.3
/ 10.0
Last Updated
May 22nd 2023, 1:14pm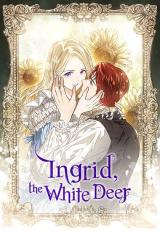 Genre
Categories
Category Recommendations
Recommendations
N/A
Author(s)
Artist(s)
Year
2020
Original Publisher
Serialized In (magazine)
Licensed (in English)
Yes
English Publisher
Activity Stats (vs. other series)
Weekly
Pos #
817

(+29)
Monthly
Pos #
1594

(+66)
3 Month
Pos #
2718

(+289)
6 Month
Pos #
3229

(+896)
Year
Pos #
5301

(-319)
List Stats
Note: You must be logged in to update information on this page.



You're only going to like this manhwa if "I can fix him with my love" is your power fanatsy.
Everyone is absolutely despicable. And not in a 'It's Always Sunny in Philadelphia' likeable assholes way. There are enough likeable, well written, complicated assholes in media. Who give a good insight of how mental health struggles and addiction look like. And how to offer come those struggles.
Non of that are in this storie.
And I'm concerned people in reviews think that way.
So warning for below:
Review contains mentions of physical, sexual and mental abuse. Alcolism and drug abuse.
Spoiler (mouse over to view)
The ML is straight up emotional abusive to everyone around him and doesn't mind to just physically assault people (and pianos). The author tried to give him a more sympathetic back ground story far too late in the story, but discovered that you don't have to flesh plotlines out, if you just give the character a character switch.

Which brings me on how he falls "in love" with the FL, which is not love for most of the story, but infatuation.
He hates her guts in the beginning (which is actually justified) but has sex with her a few times and suddenly he says he's in love, while never giving a real reason why he has fallen in love with her (he doesn't even give the cliché 'I love her because she's nice to me' line). He can give more reasons why he thinks baby trapping her is a good idea (which is rape), than reasons he loves her.
He knows nothing about her, which he recognises himself and results in big conflicts.
He also does nothing too learn anything about her. Everyone else around him has to spoon feed him information. The closest attempt he made to get to know her was giving her a new piano. After he broke hers during a jalousy tantrum, at a party that he was hosting, purely to out the FL's ex as being a rapist and revealing his victim got pregnant (and therefore shame the FL for loving a rapist), without any regard how this information would get the victim kicked out by her family (luckily she got saved by her boyfriend, before the ML could reveal the whole truth).
But don't worry guys, he wants to change because he became infatuated with the FL. Not because he realised he's drugs and alcohism also destroying the other people in his life or his own. He doesn't change his behaviour towards others unless it makes him look good in the FL's eyes.

Which brings me to the FL. Is she any better? No.
In the beginning, the FL manipulates the ML in marrying her. But instead of becoming a well written, complicated character who you love for being manipulative, she became a blank slade. She has a default "medium nice" setting. And in an attempt the show character "growth", the author makes her sometimes say something assertive and then she changes back to her default state and does nothing.
The author also give no reason why she's so popular, beyond her being pretty. She's not as nice as the people around her claim nor do we see her do anything for them. She prostitutes her maid out, without the maid having any choice, to fuck her husband, because he made a cruel joke that he wanted that. Mind you, in this stage she still thinks he's having affairs. She had no reason to be certain he wouldn't do it.
We also don't get to learn anything about her, beyond that she likes to play the piano, read books, used to love her ex and her wanting a child (still doesn't excuses the baby trap attampt).

Oh and don't get me started on the pedophilia of multiple adult guys falling for a 16 year old.
Or the implied racist stereo types of an Arabic codes country.
And there's more, but I think this is an impression enough.
The writter maybe tried to write a story about overcoming addiction and finding love.
And while the destructive part of addiction is somewhat accurate, the healing part looks nothing like it is in real life and is pure power fantasy for people who hope to fix others in there lives.
There's nothing wrong with liking a power fantasy, but don't confuse it with good representation of mental health.
...
Last updated on August 2nd, 2023, 1:30pm
There are a lot of negative reviews for this one, and it does start out messy and annoying. But I enjoyed the realistic portrayal of the ML's mental health and addiction issues—yes, his actions is easily written off as immaturity and lack of development, but that is the most realistic portrayal of someone with his problems I've seen/read on a webtoon. He is depressed and has next to zero self-esteem due to his birth status which led him to have addiction issues. It's really frustrating to see him take one step forward, three steps back but I really appreciate the realism of it.

ML starts off as the most horrible trash of a human being, but he gradually betters himself. The entire story is told in his perspective and quite frankly, the only purpose Ingrid ever has on the story is to be driving entity to his will and reason to be a better man in the end.

The FL also comes of as detestable in the beginning, but we learn more about her as the story goes on. She has her own lapses, but she tries her best to be a dutiful partner to the ML. She seems almost perfect that she comes off as bland, but that could be due to the ML just putting her on so high of a pedestal.

In any case, this isn't the story for you if you don't have the patience or faith to read about the healing process of a character with baggage, or if you can't stand a relative slow burn character development.
Thought this thing would be typical based on the synopsis but I really liked the execution.
Actually, when you do think about it...FL was kinda crappy that she technically ruined someone's life, even tho he the ML had a promiscuous lifestyle. That was probably the downside I see from her.
Sure, ML is indeed trashy in the first season---he has flaws, but he did have a good redeemable arc, especially on the last few chapters (altho it does look rushed). I was glad at this aspect. There are times he really needs to get slapped with his behavior.
I like how it's probably one of the few works that I've read with mostly MALE POV for a female-demographic.
This is probably the only story with this setting that involves drugs, and how ML's lifestyle greatly affects him and the story.
I like the character developments. I'm silently rooting for the other side characters. lol

Binged it for four hours.
Pros:
- really great portrayal of characters and character development! Yes the ML is utter trash with serious drug and alcohol addiction problems, and yes the FL was deeply flawed by manipulating the circumstances to get her forced marriage, but it was so satisfying to see a manhwa in this kind of setting where for once the characters are portrayed like real, super-flawed individuals. Although it felt frustrating as I read thru the drama, I was also completely hooked to keep reading and see how their awful relationship and trashy characters slowly progressed and they each got better! Like, their progress was so slow and hit so many bumps. But, when I get to the end, I looked back at where they both started from and I was really happy that they had both come this far.
- this is a truly unique piece of work far as pseudo-European manhwas typically go. It's quite a refreshing read really if you've gotten bored of cliches and bland characters that came off an assembly line and was looking something more realistic with believable characters and societal constraints
- the manhwa gave a lot of spotlight to the problem of addiction, which was a pleasant surprise. It's rare to find a romance manhwa or manga that treats this subject so seriously. Addiction played a pivotal in the couple's relationship and the ML's character growth through the entire story and was taken quite seriously by the author, which I really like. It was a big plus for me that
Spoiler (mouse over to view)
the ML didn't just become drug free overnight (which I've seen in a lot of other works), and instead the story talked a lot about his struggles to come off of it. He made repeat attempts to quit and failed and went in cycles. Then even went so far as to seek out an actual counselor, and it took a great deal of character development and life-changing events for him to finally have the resolve to completely quit
- the art, I wouldn't say it was gorgeous but the drawing quality overall was great. The artist was pretty good about illustrating the characters' facial expressions which really helped with the storytelling and tension between characters
Cons:
- this is definitely not for everyone. The ML really does start out as complete trash and some might call both him and FL quite toxic to each other. Those behavior were inexcusable but for me they were all part of what made this read and characters feel so realistic
I had to put this on my list for a long time because of bad reviews. I didn't know this is such a good story.
I know this is a story with themes suitable for adults but man this story was just so bad. None of the characters are likable, the "character development" was non-existent, it was literally shit for god sake. The writing and plot was all over the place. Not once did this story improve in anyway
A redemption story of a trash wealthy guy. The wife is like an angel who had to deal with a devil. It questions you why she is still stuck with a guy such as him for? Love can be blind and this did shown us that. What we got in the 2nd half was a pretty good redemption arc from the husband. Stockholm Syndrome? Probably or probably not. Remind you she did not marry him for love, Infact she used her influence and forced him to marry her so she doesn't have to leave the empire wherever she was living. Ofcourse she fell in love with him in the later part of the story. It's very hard to say what was going on her mind because the author never given us much of her pov on the whole marriage. Although the title and genre makes it seem like it is a story of the female lead, it actually was about him.

... Last updated on February 15th, 2022, 8:18pm
Sorry, not sorry. Is the ML trash? Probably, but I feel like everyone is ignoring the fact that the FL basically badgered this man to be with her and used her family's influence and her societal stance to do so. I only made it to Ch. 11 cuz I absolutely HATE the FL. She is not charming, cute, nor nice. She's selfish and manipulative. Based on what I'm reading, people are hating on the ML for being an awful person, but I'm on his side. If you're FORCED into doing something you don't want to, then I give you full reign to be an awful person to your abuser. And let's call it like it is, the FL is trash. The absolute audacity of the B to ask the ML if "he's ok" and act like she cares about him, yet he's the horrible person for rebuffing her? Nah, no thanks.

... Last updated on January 30th, 2022, 8:01pm
I don't understand why everyone is hating on the story! It's all about development of the characters. Of course the ML is garbage, but the author was trying to create a semi-realistic look of what dealing with realistic problems could look like. I personally really enjoyed the entire story all the way through and would've preferred a couple more chapters for the ending as I felt it ended too quickly. If you're looking for a fluff romance, then you can't expect it from this one. This manhwa takes you on a rollercoaster.
Regan is one of my favourite characters ever. He starts off a complete shit, but he becomes a guy I can't help but root for. He tries so hard to be better and it doesn't always work out. But I love him and hate him for that. Ingrid starts off sympathetic but after awhile she turns out to be kinda bad. Her family don't help. Only thing holding this back from a 10 is Ingrid's family, they're so annoying.