Manga Poll
Manga
is the Japanese equivalent of comics
with a unique style and following. Join the revolution! Read some manga today!
Join #baka-updates @irc.irchighway.net

RSS Feed


Choco Strawberry Vanilla
Login to add items to your list, keep track of your progress, and rate series!
Description
From
Yaoi Is Life
:
Hiroi always shared what he liked, things and people alike, with his childhood friend Take. Take always returned Hiroi's affections. Mine, who because of his deep love for Hiroi, accepts both of them. The relationship of these three classmates was in a good balance, but because of a subtle change in their feelings, this balance slowly gets unhinged...?!
Type
Manga
Related Series
Associated Names
Chocolate Strawberry Vanilla
Strawberry no Yuuutsu
チョコストロベリー バニラ
巧克力草莓香草
草莓的忧郁
초코 스트로베리 바닐라

Groups Scanlating
Latest Release(s)
Status
in Country of Origin
1 Volume (Complete)
Completely Scanlated?
Yes
Anime Start/End Chapter
N/A
User Reviews
N/A
Forum
User Rating
Average: 7.9
/ 10.0
(443 votes)
Bayesian Average:
7.8
/ 10.0
Last Updated
May 10th 2023, 10:46am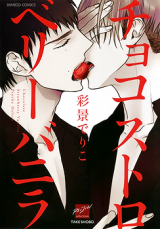 Genre
Categories
Category Recommendations
Recommendations
Author(s)
Artist(s)
Year
2011
Original Publisher
Serialized In (magazine)
Licensed (in English)
No
English Publisher
N/A
Activity Stats (vs. other series)
Weekly
Pos #
497

(+247)
Monthly
Pos #
1238

(+458)
3 Month
Pos #
2605

(+471)
6 Month
Pos #
3132

(+1039)
Year
Pos #
5525

(+193)
List Stats
On
343
reading lists
On
201
wish lists
On
1367
completed lists
On
13
unfinished lists
On
401
custom lists
Note: You must be logged in to update information on this page.



None of the 3 are sane, but we don't really have background on why they're like that. They're frustrating to watch even if some character growth is shown.
It's also an unbalanced polyam (?) sexual relationship with 2 tops and 1 bottom, and there's a lot of non con.
The whole thing is quite frustrating even within the psychological BL genre.
Minegishi is kinda just a fleshjack for the two to use at their will. Take has anger issues. Hiroi is girlbossing so hard. I'm so frustrated with how messed up each and every one of these individuals are but I was so entranced by the plot and naturally the rough smut scenes. They really put Mine through the wringer but it was way too hot.
Spoiler (mouse over to view)
I wasn't too pleased with Take saying "Mine is pushing my d*ck out, I need to force my way in", but it's kinda in line with the content going on here...
The jealousy got on my nerves a bit with Take at first, but then Hiroi got more possessive at the end and I was extra upset by that. There is an elegant mess to all of this though, yeah we have rape and just people doing awful things, but it's just enough trainwreck to be upset about it while not feeling like it's just torture for the sake of torture.
I don't understand the people who are giving this a rate of "1" or "2" just because the story doesn't align with their set of principles and their real lifestyle preferences. Like can't you read the categories tags? If you want a fluffy sweet story go ahead and read those why are you here complaining?!!

Now about the story, LOVED IT! I just love any story that is unexpected and interesting, something that gets me lost in thoughts trying to figure out the characters feelings. This manga is easily in my top 10 reads and I will certainly read it again because honestly, one read is not enough to grasp everything going on in this story.

The twisted "love" of Hiroi for Take (I don't even think love is the right word here), I would like to know more about the basis of that and why it came to develop, The crooked "love" of Take for Hiroi, and his newly developed aggressive and obsessive "love" for Mine and how it grew and was scaled based on how much Mine loves Hiroi (or maybe it's not because of that and he hasn't figured it out yet??) Aaaah this is what I mean, I love this, it's very interesting, the feelings of these three in this story is something new, only few mangas covers such complex feelings and relationships. I don't understand how "Psychological" is not one of the listed genres here.

I like to think of the ending as an open one, cause there is NO WAY that this is the conclusion of these three's feelings, obsess and aggression mixed with love does not just simply settle, there would be surely interesting development in the future of their relationship, I hope there will be a squeal covering that (aside from the doujinshi series related to this which I am reading next)

As a conclusion, if you like interesting complex stories that makes you lost in thoughts and feelings, I highly recommend this one, it's amazing. But if you just want to read what makes you comfortable and what you're used to in real life, then avoid it and go read a cute comedy romance story instead.

... Last updated on November 21st, 2020, 11:38am
Why do y'all complain about this manga's ending here when it's clearly stated that the story continues in various self-published books by the author in the
Psychedelics
series, in fact there's a new one published just last yeah lmao. This manga isn't the actual ending to the story so quit whining about how much you hate the "ending" just because y'all clowns don't know how to read.
Because it's a masterpiece, but the ending is horrible. So it's the biggest yaoi disappointment of my life, and I've been waiting for years for The Summit, LSD and others to end.
I started reading this thinking it was a love-triangle, only to realize it's meant to be a poly amorous relationships. I have nothing against them, though it's not my cup of tea so I wouldn't have read it if I'd realized before that it was going to end this way.
However, the problem is that it isn't. It tries to be a poly amorous relationship, but it's not. While I understand the concept that not everybody in these types of relationships has to feel the same way about each other, I think once there's pain involved and a lot of one-sided feelings, it's not healthy.
And this is exactly the case - and I did read the DJ. However PSYCHE Delico tried to explain it there, if that's what she wanted to portray, then she didn't do a good job.
Hiroi doesn't love Mine. He may like him, think he is cute, but who he actually loves is Take. He doesn't just treasure him, he actually loves him, to the point he couldn't bear to have a relationship and not include him. He was also in so much denial about his own feelings, that he had to find a way to include Take in his relationships so that he could have some kind of sexual interaction with him without risking their BFF relationship or finding out whether or not Take has feelings for him too.
Mine is the only one who's a bit more fluid. He claims he loves Hiroi, but I don't actually believe it either. It's more like a first love, the type of scenario where a character gets attached to another because they're the first person to have ever been nice to them. But it's too shallow, too fragile. It could go away at any time. His body tells the truth that he hasn't realized himself yet, which is that he's in love with Take. It's just the way it is. Their sexual chemistry is much higher, he likes it rough, he feels actual pleasure with him. Though, once again, PSYCHE Delico tries to justify it as him separating a sexual from an emotional relationship, that's not what has been portrayed.
And then there's Take, which is the most difficult to read about. He's completely and painfully in love with Mine, while not having any feelings for Hiroi whatsoever. He treasures him as a friend, yes, but... Mine is the first person he's ever felt something for. And the angst is crushing. That chapter with the biting, what was that? Desperately wanting to leave his mark, so that Hiroi couldn't have him all for himself.

This manga started out as a very original idea, one I had not seen before. But it should have stopped at one point and conformed to the yaoi world, instead of aiming for more - because that's when things didn't go well.
Reading the comments, it's clear that everyone wants Hiroi cut out of the equation. He even allures to that himself, making snarky remarks about how Take and Mine have started to kiss, or constantly pointing out that Mine is more into sex with Take than with him. It's very upsetting to have this scenario set up, but no closure.
And then there's something personal to me. I love ukes that are seme-like, have a bad personalty, are cold and rebellious. That's Mine, he's perfect, as well as the hottest one of them.
Take, on the other had, started out a bit of a wallflower, but when his pervy sided showed...wow. Also the kind of seme I like, and the repressed feelings just add to it.
But Hiroi? Boring. Gross. Looks like an uke, with a feminine appearance and smaller body, the bubbly-to-an-annoying-degree-but-also-makes-acid-comments type... just get rid of him, please.

Oh, and don't bother reading the sequel, it's more of the same and no closure.
In fact, I didn't read the other stories, the ones non-related to CSV, and that's the first time I've ever done that. With that being said, I don't think I'll read anything from this mangaka ever again because it crushed me to have it end like this.
I wouldn't recommend it just so you don't end up so unhappy with the ending like me (and basically the whole comment section).

PS: The art is gorgeous, but I don't like the hairs on the legs

... Last updated on February 25th, 2020, 8:26pm
For those who kind of liked the story and the plot but didn't like the "rape" and "forcing" stuff, I suggest to read the extra stories from "Psychedelics" that Psyche Delico drew. Mise, Hiroi and Take are back but the relationship is a lot more sane. It's about the three of them building a threesome relationship and the THREE of them LIKING it (ok, there is some tension between Mine and Take but it's cute and nice). no rape.
I kind of like to have a cute seme (Hiroi) and a not so cute (cat like) uke (Mine). And I like the fact that the uke really seem to enjoy the games they are doing. Well, as I said, there is a tension between Take and Mine but it evolves into something really nice and cute (in my opinion).

Hope this comment can help some readers.
don't know why people here keep voting against "rape" tag. rape is a rape. if you like to read about rape, whether victim doesn't like it or is falling into some kind of stockholm syndrome-ish "love", is completely other thing. these tags are for people who didn't read manga yet. some of them has triggers, you know. some of them just don't like wasting time on read they found unpleasant. let them be warned, for f*ck's sake, not everyone into hard stuff. if seme is short, you don't vote against it. if someone forced into sex, physically or emotionally(debt, manipulation, blackmail), it's rape. why insist it isn't?
I just can't. I did finish reading this and I won't deny that this is reallyyy sexy in many ways, I hated the fact that the uke was treated like a sex toy. And I hated the uke for accepting both the seme wholeheartedly. And what I really hated the most was that how this manga doesn't havr any resolve AT ALL. Or if it does, then things were just the same. I honestly thought that the situation was gonna change, but it didn't. And I don't like how the main seme forced the uke to have double penetration and disrespected the choice of the uke. In the end, the was just a crybaby who was sulking bc the uke refused to see the seme. Like wtf is the wrong with this manga and this is reallyyyyy twisted in many ways it really bothered me (more than those incest ones) And I am honeesssstly confused as to why a lot of people loved this (or so the rating says)

If you enjoy sex and twisted settings, then this is for you.
If you enjoy gentle seme and cute/respectable ukes, don't bother reading this.
Though two thing that I can say for sure is:
1) I did not find this repulsive.
2) I would recommend others to read this.
My main problem with this is that
Spoiler (mouse over to view)
Mine is treated like an object. To me it just seems that he is a sex toy which Hiroi uses and then shares with Take. I find Take more sensible and sensitive, even more so since Take is able to hit all the good spot of Mine while Hiroi isn't. If this was all this was I would have given this a 1. Butt half way through we then see Mine take a stand for himself and shake Take and Hiroi out of their stupor, respectively. Thus agency is taken away from Hiroi and Take and centered on Mine; he is no longer a sex-object. But the end all three have some sort of agency and are not merely reactive. I don't know what to make of this
Re-reading this at least two more times, and making notes will definitely help clear things up hat's why for now I will withhold rating this.
Edit: I have finally finished reading this two more times, and now I can say without a shadow of doubt this is in fact a master piece.
P.S. The art is very deceptive e.g.
Spoiler (mouse over to view)
when Hiroi needs to be cute and loving he is usually drawn small and curved, but when they are having sex his face and body figure becomes angular.
. It was this last bit that pushed me to give this a ten.
...
Last updated on January 8th, 2017, 9:01am
mine is essentially raped throughout the story and he isn't even in the "polyamorous" relationship because he wants to. it's like he has no self-respect and is only with hiroi + take because it's the only way he'll have hiroi.... just..... what?

take is also highly disturbing. he goes against mine's outcries of repeated and highly vocalized "no"s and just shoves his dick into the guy. honestly, what the fuck?

hiroi.... how does he compare food to a person...?? i get that you have these cool snacks that taste really good and want friends to try them, but he treats his partners like they're supposed to just let it happen. then, when his partners grow feelings for take he gets upset?? uh.... hello, you were the one that insisted on that in the first place??

i don't understand the ratings, and my 2 is only for the art, which wasn't too horrible to look at.