Manga Poll
Manga
is the Japanese equivalent of comics
with a unique style and following. Join the revolution! Read some manga today!
Join #baka-updates @irc.irchighway.net

RSS Feed


Beastars
Login to add items to your list, keep track of your progress, and rate series!
Description
In a world populated by anthropomorphic animals, herbivores and carnivores coexist with each other. For the adolescences of the Cherryton Academy, school life is filled with hope, romance, distrust, and uneasiness.
The main character is Legoshi the wolf, a member of the drama club. Despite his menacing appearance, he has a very gentle heart. Throughout most of his life, he has always been an object of fear and hatred by other animals, and he's been quite accustomed to that lifestyle. But soon, he finds himself becoming more involved with his fellow classmates who have their own share of inse...
More...
Type
Manga
Related Series
Associated Names
Biisutaazu
Выдающиеся звери
بيستارز
บีสตาร์
ビースターズ

Groups Scanlating
Latest Release(s)
Status
in Country of Origin
22 Volumes (Complete)
Completely Scanlated?
Yes
Anime Start/End Chapter
Starts at Vol 1, Chap 1
Ends at Vol 12, Chap 99 (S2)
User Reviews
N/A
Forum
User Rating
Average: 8.2
/ 10.0
(353 votes)
Bayesian Average:
8.06
/ 10.0
Last Updated
September 19th 2022, 4:40pm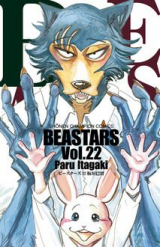 Genre
Categories
Category Recommendations
Recommendations
Author(s)
Artist(s)
Year
2016
Original Publisher
Serialized In (magazine)
Licensed (in English)
Yes
English Publisher
Viz
(20 Volumes - Ongoing)
Activity Stats (vs. other series)
Weekly
Pos #
729

(+205)
Monthly
Pos #
1490

(+133)
3 Month
Pos #
2267

(+156)
6 Month
Pos #
2468

(+234)
Year
Pos #
2758

(-1083)
List Stats
On
1029
reading lists
On
442
wish lists
On
535
completed lists
On
42
unfinished lists
On
273
custom lists
Note: You must be logged in to update information on this page.



about 1 year ago
over 2 years ago
I started it not knowing anything about it other than people saying it was good. It started out like something that would seem silly but got dark and badass fast. I loved the themes and all the things the characters dealt with. I loved everything about this manga
Beastars is fascinating. As is a large swath of the commentary on it (primarily because it illustrates just how retarded most people on this site are). There is a large amount of levity here. While a lot of fucked up stuff is hinted at and the story tries to deal in darker themes, it never really goes full throttle with it. I also think Beastars is PROFOUNDLY unserious. I find it almost hilarious to even imagine the creator of Beastars is unaware of how little sense certain aspects of her story make. The "real history" being a prime example of this, called out in universe by Mr. Wolf. But the whale is real y'all. In Beastars absurdity is where a lot of it's character and pleasure comes from. If you spend too much time thinking about possible associations between the world of Beastars and our own, you are going to be sorely deprived. The creator of Beastars is fantastic at sub-narratives, character interaction and broad aesthetics. They are not so fantastic at prevailing narratives and themes. Even I can not totally look past the obvious truncation of this story. Haru, The Black Market, "The Beastar" and hybrids were all to central to the core of this story and some of it's most interesting components that they deserved a far better send off than not even a whimper of a curtain call before the ink ran off the page.

But that's isn't the sort of criticism I seem generally leveled at Beastars. It's more in the intellectual vein of deadoptimist, who I quote:

"Real life zoological connections also fail. Omnivores are a non-entity, for example. Hyenas are called canines in the beginning. Hippos are carnivores now (they are opportunistic carnivores irl, but c'mon). Sizes make no sense, with birds and reptiles as big as mammals, an adult red deer smaller than a wolf, yet mice being correctly tiny.""

His overall review is actually pretty good, and heads and shoulders above most on this site for it's writing. HOWEVER, I just feel like you maybe should have dropped Beastars out of the gate if you think it's a failing that the relative sizes of it's character do not map onto IRL animals very well. Even worse is their comment about omnivores... Omnivores are a non-entity because they have no relevance to the core thematic drive of the plot. "Carnivore" and "Herbivore", despite their IRL definition, do not mean the same in Beastars. They are labels for those that CAN predate, and those that cannot. All "good carnivores" and by extension "good citizens" of Beastars world are as close to herbivores as possible because eating meat is illegal. An "omnivore" is just a "carnivore" in the world of Beastars. It basically means the same thing.

I'm pointing this criticism out because it's a coherent example of the attitude you shouldn't be coming into Beastars with. You can't look at the world on display and use a lot of the illogical charm on display to tear it apart. Did you find it cute when all the canines went and played fetch at the mall? Well you shouldn't because in a world lacking humans and their relationship with dogs, how the hell would the characteristics that make that scene cute have ever come to exist!? Decide what hill you want to die on. A story can be barely coherent, yet be carried on it's aesthetics. Your favourite story will inevitably have it's flaws (in the same way your favourite non-fiction work does), you just don't notice because your so enamored with it that you'll cover for it like an abused spouse.

HOWEVER... Beastars as it continues onward, sprawling outside of Cherryton, begins to lose a hold of the tight and compelling structure that made it's beginning so great. The facade that it isn't serious about trying to tackle it's heavier themes is dropped and it simply degenerates into a teasing fest. I still really enjoy a lot of the characters and their interwoven stories, but there isn't any doubt that a lot of the "potential" of Beastars is prematurely dissipated.

And that brings me to, what was the purpose of Melon? He is after all the character that most typifies the issues with Beastars. The story is in a constant push and pull as to whether he is really sympathetic or not. He's tied into The Black Market, but he is a very poor character to represent the dark pleasures that the Black Market is meant to represent. After all, he hates eating. What is his struggle against Legoshi meant to represent? Melon in all his shlocky, evil glory, is completely misaligned with the core thematic drives of Beastars. His backstory contains great elements (as most of Beastars characters do), but when it comes to paying that off Beastars fails. Or it's cut short at the very least.

Beastars never bored me. Even though it's last leg is messy and lacks any compelling finality, it easily buys good will from me based on the tendrils of luminescent character it's grown throughout the story. So I recommend for those with a 1:1 of empathising and systematising, or possibly even a schizo-loaded profile 😉 Those of you of a sperg variety may find the pure emotional dialectic on display to be a little too human.
Started awesome, with complex character building, but after the first arc it lost any rhyme or reason and became dumb, dull and lost all it built up in the beginning. It fell for the shonen curse, or the weekly curse? So sad too see a good thing go to waste. Maybe the author will become more mature for her next work
Welp, where to start, absolutely LOVED the start, the dynamic between herbivores and carnivores, the societal issues and characters. About the first arc, it's absolutely great, i give it 8, maybe even 9 out of 10 due to how eerie and generally menacing the antagonist was and the general world building.

Now the less fun part, aka the rest of the manga. I will be blunt, its just bad. It has few good moments but many more bad ones where characters act like their brains were damaged in industrial accidents so they just have to do dumb stuff. The quality just dips, the characters stop being enjoyable and the world building doesnt matter anymore since the story suddenly revolves only around the black market until its just beating a dead horse.

This all is finally ended by absolutely horrible ending where Legosi loses all his remaining 2 brain cells and generally the side stories mangaka opened lead nowhere or just dont make sense in terms of character actions.

This of course is only my personal opinion, you might enjoy it, but I still regret reading past ending of first arc, as the serie went from solid 8/10 to 5/10 for me.
At the beginning i was really interested in it: the story seemed promising and different form nowadays manga, it touch some really interesting and deep aspects of life and differences between culture/behaviors and it was really promising but the subject, in my opinion have only been treated lightly, i hoped it would have been a bit more deep and interesting. Unfortunatly it wasn't a really good manga, thinking about it i can only rate it as fine not much more... Maybe there will be a sequel? The end has been too rushed and everything has been left to itself, it is not that good.
Beastars started great. It gave an intriguing mystery as the main premise, then wrapped it with awesome world-bulding of Beast World Teens. The character was badass, but still within "High School Life" theme... at first. Then...
Spoiler (mouse over to view)
it went to being the leader of underground organization, and single-handedly fight them, and became a secret agent of some high shit
. It may seem a great idea to put a bizarre plot into this uniquely world setting... but apparently, sometimes it's just great to follow the normal plot.
Oh well... kinda disappointed... really disappointed. Hopefully the author manage to do something awesome again in the next work
What an interesting concept! But the execution...yikes. It's basically a teen drama a la Vampire Diaries or Riverdale (also technically a comic!) but with animals. Obviously the interplay of these animals that have different power dynamics of us humans are at play and those nuisances are key but also these characters are reallyyyy melodramatic. They feel like they're constantly maturing but never actually maturing. I guess that is what teens be like but it never felt that deep.

Ironically the series is best when it isn't that deep. The best chapters are when we get to peer into the lives of random beasts living their lives in their society and what that means to them.
The characters in this manga are quite interesting, or rather, the world itself is. All the animals getting along with one another and all the hardships and difficulties when you live in a world where ALL animals(not bugs though) are actually fully sapient yet still slaves to their animal instincts. There are no humans here(at least not yet as of chapter 125) and there are no cattle. Yet carnivores are still carnivores and have big issues without meat in their diet, but it's also illegal to eat other animals, this leads to how it's very easy for them to fall to their own desires and prey on herbivores. There are also various other issues(by the way, although eating meat is seen as taboo it's still done and police is doing nothing about getting carnivores to stop eating meat as long as they don't kill people for it, there's a black market that provides meat from stuff like hospitals and funeral homes, it's pretty much needed to keep their instincts in check as they otherwise suffer from something that looks like severe abstinence issues if they have ever tasted meat before and it's easier to lose control if you hold yourself back too much) present due to differences in physiques and instincts.

It all makes for a pretty fascinating story and I like it most of the time, it's a decent read and feels refreshing. But make no mistake, this is truly only a shounen story even if you'd expect it'd be seinen with all the drama and deaths. It's a story about the gray wolf mc's struggles in life and growing up, all the issues and how he gradually falls in love with a rabbit. However, he's hardly anything but a mere shounen protagonist in the end and it's very obvious when you see his naive outlook on life, his comments and what everyone around him is doing. This could be explained that it's due to youth, but the author makes the world work in a shounen-ish way, which is infuriating at times.

It's generally not a big issue and I found myself enjoying the story a lot, but it's incredibly cringeworthy when it happens. The worst parts are the stuff about training and battles. The author loves logic-defying bullshit powerups and weird reasons for powering up, just like the stuff you'd find in a typical shounen manga. We're talking about love and friendship and unbelievable circumstances. They literally gain powers from emotions, by using the emotions inside them they bring out great power. What I mean by this is that they utilize the feeling of, say, hatred or wanting to protect something and for some reason they can suddenly fight way better... Pfft.

Well, that's not the worst of it(despite how I despise that the mc gets stronger because of this crap). The worst parts are actually the matter of strength and power-ups from external sources. Like, he trained to become strong without the need for eating meat, but then he ate a bug and somehow he goes into an hallucination and later on used the "power" of the bug in a kind of weird way, not that he fired a beam or anything but it was clearly a supernatural thing going on. Then it was mentioned how the calcium from ONE moth larvae, that he ate to prove something to himself, somehow made all the bones in his body much harder than they should've been. Then he ate meat for the first time and suddenly he powered up and seemed to even increase in muscle mass. Despite having many bones in his body broken, it seems as if they all healed or something because they, and the other injuries, didn't affect him at all anymore... Seriously? Come on. That's just stupid. There's also this bear who stopped taking some muscle-mass reducing pills and in a single day or a few weeks, he increased substantially in size and power. Sorry to say this, but muscle mass isn't something that'll just increase like that no matter what animal you are. There was also the retarded event where he meditated to not be affected by being near meat and being able to handle his feral side and then, for some reason, he lost ALL the bite strength he had, not even being able to bite through an apple despite having over 300kg of bite strength before. However, it magically powered up his arms, as if the muscles had moved there or something. Made me truly feel how stupid this manga is when it comes to power and fighting. Seriously.

Another huge flaw is that it's very difficult to get immersed or feel anything for the characters. They are just way too hard to relate to and none of them are particularly likable. Fascinating and interesting, perhaps, but not likable. I haven't been able to feel a single emotion for the characters which really ruins the manga a lot. I don't care about if they die or whatever happens to them. I'm not rooting for anyone. I couldn't give less of a fuck if the mc gets mauled and almost killed. I also don't care about their motivations. They just don't feel real to me. It feels like they exist only to play out their little role, as if it's a drama at the theater. You don't get attached to them while following their little adventure/life story. It doesn't really matter in the end. While being interesting and unusual, it truly fails at being an engaging manga.
This series is very unique and quite surprising. I started reading it because it won the Manga Taishou (pretty much anything that's nominated for the Taishou is worth checking out).

From the get go, it let's you know that this is not your average high school drama?the series begins with the final moments of Tem, the alpaca, in which he identifies his killer as a classmate and expresses his regret "there was so much more I wanted to do" before being eaten alive. That's literally the first 3 pages. Disney's Zootopia this isn't.

It has an eclectic tone that jumps from normal high school comedy & romance to dark action/thriller to mystery to slice of life. Despite having read over 70 chapters, I still don't feel like I can anticipate the story's turns. The lead character Legosi is a constant surprise, swinging from a gentle goofball to a hardened fighter. He's very serious, a character trait that brings out comedy in his interactions with his friends, passion with his crush, and terror with his enemies. It's fantastic to watch him evolve as the series progresses.

The other characters are similarly complex: the rabbit Haru is a self-possessed woman who will not be stepped on. Louis the deer seems like an obvious uber-mensch who has deep struggles with his dark past. There are very few clear cut heroes and villains; even the purest characters often act in beastly ways.

The art is highly detailed despite it's surreal nature. I can never quite get past all the animals (including birds and hooved animals) having human like hands and feet. It can be a little daunting to parse the complex art at times, but it's never uninteresting so the increased effort is worth it. Violence often slips into unexpected places, creating shocking transitions from light high school content to explicit gore.

The major themes of the series are instinct vs. intellect, nature vs. nurture, death/the value of life, and coming of age. The setting seems at odds with the content, but it's interesting to see how all of these dark ruminations play out in the unfamiliar space of a high school drama club.
I was recommended to read this during the arc with the lions, so that actually had me put off writing about it for a while. While I liked that arc for the most part, I saw a lot of people disliking it and couldn't blame them. I wanted to see how the series would look once all the chaos had settled down. Barring that arc, I believe most would agree this is a very good, dark and slow moving series with some incredibly stand-out characters. Don't be put off by any aspects of the series that you consider questionable: this manga is definitely worth a read.
Full review:
https://terrenceswiff.wordpress.com/2017/08/29/beastars/