App
Manga Poll
Manga
is the Japanese equivalent of comics
with a unique style and following. Join the revolution! Read some manga today!
Join #baka-updates @irc.irchighway.net

RSS Feed


Today, for the first time in my life, I...
...had a hot stone massage And with a friend in a double room
________________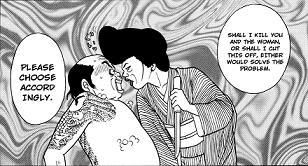 Member
1:02 am, Nov 11 2011
Posts: 703
did something that would make me called a lolicon in manga.

At the deep end of the pool my friends and I go to we usually dive under and go across the pool all the way in one go. My cheap goggles had broken a long time ago and I never got new ones. This time when we did it all the kids in the deep end were clearing the deep end to get ready for the tarzan rope thingy. When I was near the end I realized I went a bit to the side, to where the exit stairs were. I tried to quickly surface there, and using the proper procedure, hand first, my hand grabbed some little girl who was getting out of the pool. It was so weird.

Except it wasn't today. I remembered it today.

________________
"I'll shut your mouth~~~~~ with mine~~~"

二息歩行
i missed the 8pm and 9pm showing of vampire dairies and secret circle so now I have to watch it at 11 and 12 pm.
________________
Quote
But if it makes you happy to win on the internet, have at it.
Screams from the haters, got a nice ring to it. I guess every superhero need her theme music...

Saw a girl (my suite mate) get rolled out on a stretcher (with like eight cops) to be taken to the hospital. She was so drunk that she couldn't even crawl. Oh yeah, and she's eighteen.
Crazy town!
________________
Quote from LawX
You are like the dense main character in a shoujo manga.
Quote from Crenshinibon
And you will murder someone one day, pika. If you're my daughter.
I'm in a hungover state before I've even gone to sleep and woken up again.

lolwut?


MegaProcrastinator
Member
4:25 am, Nov 12 2011
Posts: 71
Took a screenshot of my computer at 11:11:11 on 11/11/11. And this will probably be the only time in my life that I will have the honor of doing so.

________________
"Well done. Here come the test results: "You are a horrible person." That's what it says. We weren't even testing for that." -GLaDOS, Portal 2
Member

5:38 am, Nov 12 2011
Posts: 26



Shaved. All over. Felt wonderful.
Had a bagel with nutella.
I don't even like bagels, I just really wanted to eat that for some reason.
________________
Meh...
Member
4:50 pm, Nov 23 2011
Posts: 937
...got friend-zoned.

________________
There are times when you will miss what you never had. I wonder how you will find what you so desperately need.
lklkk
Member
4:49 am, Nov 24 2011
Posts: 229
Free Like A Bird
Member
5:41 am, Nov 24 2011
Posts: 196
Today, for the first time in my life, I saw this!
________________
I Love You
Quote from darkKurei
bleached my hair red xD
I was under the impression that bleaching hair made it kind of yellow white o.O
Right. I ate thai soup. It was okay but a little bland
Free Like A Bird
Member
7:36 pm, Dec 3 2011
Posts: 196
I feel so lonely & sad, I can't sleep
________________
I Love You
Member
8:59 pm, Dec 3 2011
Posts: 797
made a facebook event!

Thank you Facebook for making organising my hometown social life when I'm at uni so much easier...

________________
世界のどこかに 必ず
キミの居場所が ある筈
Member
9:00 pm, Dec 3 2011
Posts: 49
...slept for 14 hours straight...