App
Manga Poll
Manga
is the Japanese equivalent of comics
with a unique style and following. Join the revolution! Read some manga today!
Join #baka-updates @irc.irchighway.net

RSS Feed


What should you really be doing now instead of MU?
Member
2:24 am, Nov 3 2011
Posts: 94
Member
2:40 am, Nov 3 2011
Posts: 161
working on 5 days worth of math homework due tomorrow...


Member
4:12 pm, Nov 3 2011
Posts: 82
Writing economics essay

________________
"you must prove more patient than a caterpillar, more willing to survive than a cockroach, and more stubborn than a leech - or you will definitely fail" - Counselor Rodriguez, the Star of Wisdom
Member
5:24 pm, Nov 3 2011
Posts: 157
studyin for the mids ........



nom
Member
6:24 pm, Nov 6 2011
Posts: 1631
I should be packing my stuff since I'll be moving in 2 weeks! ;_;


Member
6:48 pm, Nov 8 2011
Posts: 12
I should read Plato and write a complete report on it. It's due the day after tomorrow... But nah I won't do it. I mean I also
have to
re-read my whole manga list, don't I?
Member
6:51 pm, Nov 8 2011
Posts: 339
Studying for my test that's later today and packing to go home for Reading Break
Member
7:29 pm, Nov 8 2011
Posts: 79
studying for a mock resit for tomorrow
it may only be a mock but it's going to determine if i'm allowed to resit an exam or not... but i must procrastinate
________________
llol lol I am the queen of procrastination!! I'm suppose to be mopping the floor and here I am!!! Some times my sister wonder how I get school work done because I wait until the last minute to do my research papers and study and I always pass!! lol
________________
Quote
But if it makes you happy to win on the internet, have at it.
Screams from the haters, got a nice ring to it. I guess every superhero need her theme music...

Member
2:18 am, Nov 13 2011
Posts: 182
I really should be doing my college apps (essays, mainly) right now, but I keep getting distracted. *cough* Samurai Champloo marathon *cough*


________________
Whether we fall by ambition, blood, or lust,
Like diamonds, we are cut with our own dust.
A Person
Member
2:25 am, Nov 13 2011
Posts: 2117
Homework. D:
________________
Quote
Does the walker choose the path, or the path the walker?
Lurking
Member
3:51 am, Nov 13 2011
Posts: 276
I should be studying for an anatomy test, writing a nursing assignment, and e-mailing a few teachers concerning my College English exit exam. But, I'm lazy. My lazyness needs to go away soon, or I'll never survive getting a Bachelor's degree. >.>


I should really go to bed. It's almost one and I have classes tomorrow >.>
________________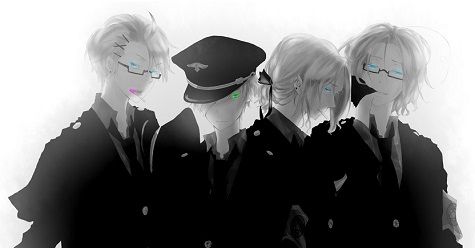 Member
5:45 am, Nov 13 2011
Posts: 11
AP History Homework...


Member
5:49 am, Nov 13 2011
Posts: 5
Work on two finals and study for my other finals.

________________
"Sometimes you get lost trying to find your own path in life."