I need to throw some of my mother's things and make more room for my precious books. >.>
So for those of you who do collect books, what's your reason? What makes you decide to "keep/buy" one for the bookshelf?
Because I love books.
And I'm weird in a way that I must
own
them so I hold them, flip through them and just look at them.
I admit to have bought some less than interesting books on impulse, but there aren't many...
Needless to say, it costs me big buck to get all those books.
Especially since I buy many in Hebrew (I live in Israel, so they're the most common, but also the most expensive).
Books in Russian cost less, even the hardcovers (!).
It's rather hard to find decent English books (which cost less than Hebrew ones, too) in the city I live, so I have to travel further out.
If you ask why don't I just subscribe to a library... Well, I used to.
But I must
have
them. <.<
>.>
________________
Hrodulf and Bjornolfr, you will not be forgotten.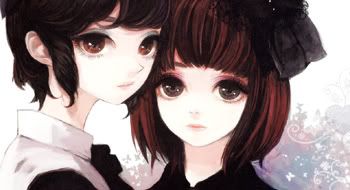 And if the world were black and white,
you would be my rainbow in shades of grey.
Click 'n Play!
If I had a fantasy self, it'd be a tentacle monster.