App
Manga Poll
Manga
is the Japanese equivalent of comics
with a unique style and following. Join the revolution! Read some manga today!
Join #baka-updates @irc.irchighway.net

RSS Feed


Your favourite manga genres?
Member
9:27 pm, Aug 26 2010
Posts: 19
My favorite genre is shoujo, action, romance, martial arts, seinen and a little tragedy in it is also good
all hail schneizel
Member
7:04 pm, Aug 27 2010
Posts: 196
I don't have any favorite genres (unless you count yaoi). I'll read almost anything if the story sounds interesting.


Member
1:52 pm, Oct 3 2010
Posts: 197
I love Romantic Comedy's with a Harem and Ecchiness.

And I really enjoy Shounen.

________________
You're not alone.
We are partners.
If you are a witch,
Then I'll become a warlock.

- Lelouch Lamperouge (Code Geass)
Member
2:01 pm, Oct 3 2010
Posts: 152
I don't really like Shojo or Josei... but between Seinen and Shonen i can't really pick a favourite...

Considering all the other genres I like a lot, and my preferences change a lot with my mood and other stuff. There are some genres that I just don't read no matter what: Yaoi, Mecha and Gender Bender.


>:D
Member
2:05 pm, Oct 3 2010
Posts: 1422
I don't have any favorite genres. If it sounds interesting I read it. But I do have some genres I avoid (cough*yaoi*cough)
________________
human
Member
7:45 am, Oct 4 2010
Posts: 262
I usually don't mix these genres together though:
Shounen, psychological, BL, yaoi, action, adventure, fantasy, comedy and school life

________________
Simply another normal human being...
Lone Wanderer
Member
10:13 am, Oct 4 2010
Posts: 2096
Psychological , Fantasy / Supernatural , Mystery , Horror , Sci-fi , Action / Adventure , Historical , Slice-of-life.
Not in order of preference.
Actually, I read anything other hentai, shota/lolicon, yaoi, yuri, adult, ecchi and smut. But to keep me in, manga under genres such as romance, shounen-ai, shoujo-ai, gender-bender, school-life, sports and mecha have to be either very interesting, funny or sweet.
I read all four of the main demographics; shoujo, shounen, josei and seinen.
Edit
-
Forgot to say that there's one thing I usually look for in a story - and that is the
absence
of romance; straight or otherwise. I usually exclude all 'romantic' genres from my searches. Of course, I will read something with romance, BL or GL if it includes one of my favourite genres along with it...but I generally prefer the lack of a love story to hinder the plot. Once 'love' comes into the equation, 'predictability' usually follows, imo.
Last edited by calstine at 3:28 pm, Oct 4
________________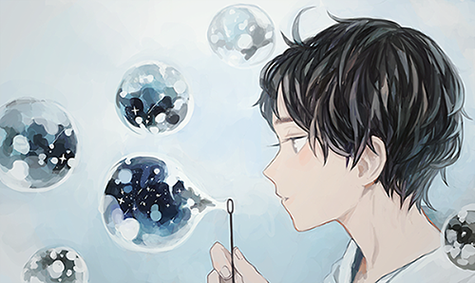 Member
11:23 am, Oct 4 2010
Posts: 85
sports/action+romance+comedy with no drama
like rival,kenichi,fantasista
________________
best shonen manga couples :
shinichi X ran
natsu X erza
ippo X kumi
naruto X gaara
hmm~
Member
11:57 am, Oct 4 2010
Posts: 987
My favorite: Seinen, Psychological, Horror, Slice of Life, Mystery.
Can't get near Shoujo, Yaoi *shudder*

________________
its cold down here fam ~
Member
12:26 pm, Oct 4 2010
Posts: 167
My favorite are.....Action, School life, Harem , Ecchi and gender bender is the most fav!
Oh ...also Comedy!
jail bait
Member
12:33 pm, Oct 4 2010
Posts: 1444
fantasy! definitely..
and a close second is romance of course!~!
________________
oh please do click this!
The sweeter the apple, the higher the branch. The quieter the fart, the nastier the smell.
GUESS WHO??
Member
12:34 pm, Oct 4 2010
Posts: 264
Favorite hmmm
Shôjo-ai, Slice of life, Comedy
I favor Josei (when the art is good, and there isn't the shônen-ai factor) and Seinen over Shônen et Shôjo
________________
Member

1:07 pm, Oct 4 2010
Posts: 19



Seinen, slice of life manga with romantic subplot.

Actually i like all genres, except lolicon.

________________
Don't be so humble, you're not that great. - Golda Meir
Member
1:10 pm, Oct 4 2010
Posts: 19
Romantic comedy is the way to go, though sometimes I like my romance with pysch and drama.