Manga Poll
Manga
is the Japanese equivalent of comics
with a unique style and following. Join the revolution! Read some manga today!
Join #baka-updates @irc.irchighway.net

RSS Feed


Aku no Hana
Login to add items to your list, keep track of your progress, and rate series!
Description
From Vertical:
The story opens as middle school student Takao Kasuga receives an F on a math test. But he doesn't even seem to notice because he's too engrossed in surreptitiously reading Beaudelaire's The Flowers of Evil. And the day goes downhill from there. In a moment of weakness, he finds and takes home the gym clothes belonging to sweet, pretty Nanako Saeki on whom he has a major crush. Unfortunately for Takao, there's a witness to the theft: Nakamura, who has a huge chip on her shoulder and a sadistic streak.
As the saga unfolds, we see Takao struggling to decide whether to confess or ...
More...
Type
Manga
Related Series
N/A
Associated Names
Aku no Hana: Kembang Jahanam
As Flores do Mal
Bunga-Bunga dari Kejahatan
Bông Hoa Ác Ma
Die Blumen des Bösen
Kötülük Çiçekleri
Las Flores Del Mal
Les Fleurs du mal (OSHIMI Shuzo)
The Flowers of Evil (OSHIMI Shuzo)
Цветы зла (Осими Сюдзо)
زهور الشر
گُلهای شرارت
รักโรคจิต
恶之华
惡の華
惡之華
악의 꽃 (오시미 슈조)

Groups Scanlating
Latest Release(s)
Status
in Country of Origin
11 Volumes (Complete)
Completely Scanlated?
Yes
Anime Start/End Chapter
Starts at Vol 1, Chap 1
Ends at Vol 4, Chap 20
User Reviews
N/A
Forum
User Rating
Average: 8
/ 10.0
(1022 votes)
Bayesian Average:
7.96
/ 10.0
Last Updated
March 1st 2023, 10:23am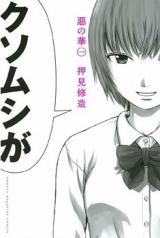 Genre
Categories
Category Recommendations
Recommendations
Author(s)
Artist(s)
Year
2009
Original Publisher
Serialized In (magazine)
Licensed (in English)
Yes
English Publisher
Activity Stats (vs. other series)
Weekly
Pos #
661

(+67)
Monthly
Pos #
1235

(+105)
3 Month
Pos #
1546

(+86)
6 Month
Pos #
1691

(-191)
Year
Pos #
1493

(-276)
List Stats
On
1805
reading lists
On
1287
wish lists
On
2145
completed lists
On
126
unfinished lists
On
513
custom lists
Note: You must be logged in to update information on this page.



over 3 years ago
over 8 years ago
over 8 years ago
over 9 years ago
A lot of reviews of this manga, to me at least, missed the point. this story is not a case of masochism or the mmc being a wimp. He acted on impulse as a kid going through puberty (which i feel a lot of people missed) the stuff that goes through your head during that time makes you constantly question your actions especially those considered "impure". With that being said he was caught doing something most would look down on but the fmc gave him a chance and a way out. Admit who you truly are and escape this boring town with me. Even the fmc at the end of the day was still a girl herself going through puberty and that mixed with her relationship or lack there of with her parents probably turned her the way she was. But to the whole even she is still a girl too thing. When the mmc and the muse had sex the muse said the fmc was shaking when she hugged the muse. Meaning the fmc probably also had real feelings for the mmc even though on the surface it is supposed to look like they are just both perverts escaping a boring town. you have the fmc who saw her mom up and leave and more than likely her father held some resentment to her for that as he saw his ex wife in his daughter somewhat and that was her catalyst. the mmc was getting caught acting on impulse in smelling his crushes clothes. More than likely had he not heard a noise like someone coming in the room he would have put the clothes back but he ended up in a bad situation and almost worse outcome. a lot of people also didnt like the time skip but i thought it was more important to the story than people realize. what would be the point in picking up right where it leaves off when he moves. it reflects more on the story that some time has actually passed and he is still struggling with what happened not only him but his parents who are the cusp of divorce because of it. then he meets the new li. shes his breakthrough back to "normality" and had there not been a time skip but he still met her it would have been worse for the story imo as it would make no sense for him to move on that quick. time heals all wounds and that was the point of the time skip for some of them they moved on quicker for others they hadnt yet like for instance the muses friend she broke down at the restaurant with the mmc and in the epilogue when she finally runs into the muse at what seems to be a decent time going by it looks as though she can finally move on. does it suck the mmc and fmc dont end up together? yes and no i like tokiwa as she somewhat mirrored the real mmc in that she felt like she had to be fake to fit in and didnt want to share her love of books because her friends and bf might look down on her for it, yes i know that trope is dumb asf but still,. i think if the mmc and fmc ended up together it would do more harm then good as they might have been happy but everyone around them would still hurt. he needed to move on from her and let her heal in her own way as he did also accomplish his mission in saving her from that town for some they may not have noticed it but the fmc moms said since she moved in with her the fmc had calmed down to me meaning she was healing and moving on from the town she was from. she even eventually was able to what looked like make up with her dad. its a bit bitter sweet if you wanted the fmc and mmc to get together but life isnt like that sometimes even if they are of the opposite sex you just need someone special to save you from certain circumstances and nothing more and thats what this story was. and on a final note again this was not some story of a wimp mc who couldnt stand up for himself like really ask yourself this youre 13-14 going through puberty and some random girl catches you stealing a girls used gym clothes and smelling them then blackmails you what are you going to do, and if you say you know a way out of that other than admitting to what you did or violence youre wrong. 13-14 year olds dont have resources like that. so open your mind up and maybe reread this story from a new perspective not the on of the 20 something year old you are now,
The beginning sucks, main character is a wimp and masochist. He is a pussy and can't decides who he wants to be with, and by the time he does decide, he goes for the domestic abuser. Like bruh, you were dating the other lady who was ur muse, and then break up because u can't imagine her pure image to be destroyed. Like bruh, people shouldn't be put up a such a high pedestal. He didn't even know her and once he did get to know her, he was in denial because what he knows goes against his idea of her and her purity and shit. Overall the beginning sucks ass

Chapter 44 and 45, I was about to slap my head with his confession, but then I reread chapter 44 and felt that his confession was actually appropriate, he seen her hide herself and true interest from others and has no one to share her interest with. Overall this is good

... Last updated on October 2nd, 2022, 12:47pm
Plot: 7/10

For a high school drama, Aku no Hana opens with a crazy setting and pervert characters. It explores the theme of troubled youth and lost in society. The first part was briliantly written. It excited you and has you turned the pages. Then comes the second part and the downhill. I suppose the author wants the latter part as the redemption and maturation for the main characters. However, he executed poorly. We readers are led to believe the Tokiwa girl help our hero turn to the right path: become a responsible adult. It is not convincingly at all. I see the protagonist changed Tokiwa but not the way around. She wrote some stories but it was thanks to him that she dares to be herself. And then we met crazy girl Sawa again. But this time she is blank and unemotional. And then some weird shit happened and suddenly they all forget the dark past and move on😕 I guess the author tries to be ambiguous for reader's interpretation.

TLDR; This manga has an interesting theme and really tries to convey that theme. But the execution is not that good.

Art: 7.5/10

It's easy to dismiss the art, but Aku no Hana isn't your typical cute high school art. While it's far from complicated and detailed artstyle, the mangaka captures the sense of suspense and characters' dark mind really well through bleak background and focus shot on characters. Another high point is how the art is quite consistent throughout the series and how it shows characters change and mature.

Characters: 7/10

The cast is small and centered around Kasuga, Sawa and Saeki in part 1 and we have Tokiwa in part 2. But Tokiwa is pretty bland in comparison so I'll leave her out of discussion. Sawa started as the problematic and outcast girl. The way she acted bluntly and violently made you forget her vulnerability. I felt the most for her throughout and wish someone can really reach her. Kasuga tried but he only made her worse. In the end, she just magically got better? Saeki appeared to be annoying for the first few chapters due to her just like a typical star students. As we learned about her, we feel her pain and how she wish to change. In the end, it seems she accepts her society expectation. Her ending is probably the saddest. Now Kasuga is the only one who really changes for the better. He accepts himself as a 'perverted' person while tries to maintain his social expectation and become a responsible individual.

Enjoyment: 7.5/10

Love it or hate it, Aku no Hana is still an exciting read. I have conflcted feeling for it. But I appreciate how thought provoking it is among other 999 other high school dramas.

Overall: 7.2/10
Other than psychological, this is not my go to genre, so it is not appealing to me due to it's genre. This series was addicting, fun, anguishing, and heart wrenching at times. It has mentally unstable characters and is realistic to how children, people with disorders, and parents would act. It really got me emotionally involved. For that, I would recommend it to anyone who loves psychological drama.
I really enjoy this manga until chapter 33. It was a really interesting journey. Perversion is rarely brought up in any media, so it's really good to see Aku no Hana exists and takes perversion as one of theme explored. But after time skip, I lost interest in this manga.

New characters introduced and a new story begin.
No, it took all what I felt about the manga after I got immersed out and left me empty. This is why I dislike a long time skip.
Dropped

... Last updated on June 15th, 2018, 12:14pm
So I read it for like 3 days and at the beginning I really hated the main dude 'cause he's a wimp and a pervert.Then I kinda like how he saw through that new girl but kinda hate how it all happen.
The ending(chap 56) on the other hand is amazing and I really like it,if your here for ROMANCE then there is actual romance that actually progress.The last chapter is more like a extra chapter for me.
I enjoyed it really it can stir up feelings but don't be discouraged cause it's good.
About the ending
Spoiler (mouse over to view)
That ch. 56 all of it happened so fast because it was a dream or his wish at least and somehow I can actually see that happening considering the things that had happened.The last chapter was the start of the story but on Nakamura Sawa's perpective it showed how she saw the world and how Kasuga was the only one she could recognized.
It was alright. Honestly, compared to other manga about coming of age, this one is a little twisted. As mentioned before in a previous comment, this manga indeed felt sick. The only saving grace I can think of is the ending, I guess... Whatever, back to reading fluffy stuff for me.
So far - since I haven't even reached the middle of the story - what is certain is... that these kids (they are children, what is, it is) are ... hmmm... how should I politely express myself?... kids are tragically unwise.
The story itself is kinda stuck in a cubicle, of course, since that's the kind of the story it is - you can simply follow it. I find it hilarious, although there is that "how sad" thought lurking in the background
Spoiler (mouse over to view)
whenever our (anti)hero Takao gets all freaked out by our (anti)heroine Nakamura's threats and simply obeys her because he himself seems reasonable and could be aware she's lacking on that part. But mangaka Oshimi shows him always complying in the spur of the moment, through the ambient in the panels. Thus we could deduce Takao is "a chicken", with weaknesses he himself is aware of, yet doesn't face them. And Nakamura is one lonely, acting on instinct, bullying teen girl... Just what...? How could I not laugh at such situations since they are so damn silly and tragic? I wonder how boys who read this relate to it...
P.S. I could be saying what we all thought at some point... Well, I hope you know what I mean.
P.P.S.
Spoiler (mouse over to view)
As the story progresses, the more you might realise how simple it is yet yearning for some profoundness. It could actually be just a story of a troublesome growing up, really troublesome and messed up one, yet so close to an average one. And could also be what we all face in life, an allegory for that quest of profoundness and emotions we encounter on it... Sadly, what we should consider is that some never make it, get stuck somewhere, most of us, just... some get knocked out sooner. Luckily, this character barely made it. Bwahaha. With the twist. Okay, really, he had it in himself from the start but got carried away because of the one that couldn't and as that character himself said, everything is clear, why and how. Anyway... well, Japanese life has always been tragic to me, even if it was meant to be happy, but there's always something lurking around, right? ;) Luckily, we accept it and live with it if we're up to challenge.
...
Last updated on January 14th, 2016, 12:29pm
Found this by accident, it really hard to explain but this manga is really unique and addicting, Probably because of the story always move to the path I never expected, and don't forget that last extra chapter.

Beware of other comment they blatantly putting spoiler without using spoiler tag, so make sure you close this tab and read the manga without reading other comment.

... Last updated on April 3rd, 2015, 7:34am
First of all take note that this is a coming of age genre, so it's about the protagonist growth. Personally what happens here is all because a boy starts to read a too much advanced book(Aku no Hana) for his age, it's a somewhat realistically portrait, so if you are young and easily impressionable you should stay away from this manga just like the protagonist should from his book...
It's a good addictive read that is for sure, you won't ever guess where this all going until you reach the last volumes and you won't even notice how fast you will read this. Still I already read a similar manga way better than this, like "Onani Master Kurosawa".
The art is so-so, I think it could be better drawn, people really like the art but that is not even what is important here, I think the anime screwed with their heads regarding that...
Keep in mind that almost the entire story is subjective, so you will reach your own conclusions.
You won't have your typical shounen protagonist, but instead a real wimp one that is really "lost". Just like many people that don't know what their places in society are, this MC doesn't know either and the book he reads mixed with the fateful encounter with his female counter-part catalysts a meltdown in all the characters relationships leading to catastrophic events.
This manga explores the "demons within" the black flower is the metaphor for that, just like in real life everybody has them, some fight against them, some live with them and others are controlled by them.
If this review somehow sparked your curiosity, then that means you'll probably like this manga a lot so you should take a shot.
Just stay away from the anime, it's eye cancer and it doesn't adapted all of the story, waste of time watching bad anime that leads to a cliffhanger that is certain.

... Last updated on December 20th, 2014, 2:43pm