Manga Poll
Manga
is the Japanese equivalent of comics
with a unique style and following. Join the revolution! Read some manga today!
Join #baka-updates @irc.irchighway.net

RSS Feed


Tower of God
Login to add items to your list, keep track of your progress, and rate series!
Description
Bam, who was alone all his life has entered the tower to chase after his only friend, Rachel, but how will he survive without having any special strength or power?
"What do you desire? Money and wealth? Honor and pride? Authority and power? Revenge? Or something that transcends them all? Whatever you desire—it's here."
Original Webtoon:
Naver Webtoon
,
Naver Series
Official Translation:
English
,
Spanish
,
T.Chinese
,
French
,
Indonesian
,
S.Chinese
,
Thai
,
Japanese
Type
Manhwa
Related Series
N/A
Associated Names
Kami no Tou
Sin-ui Tab
Sinui Tap
Tanrı Kulesi
TOG
Torre de Deus
Torre de Dios
Torre de Déu
Башня Бога
برج الإله
ทาวเวอร์ออฟก๊อด หอคอยเทพเจ้า
神之塔
신의 탑

Groups Scanlating
Latest Release(s)
Status
in Country of Origin
568 Chapters (Ongoing)
8 Volumes (Ongoing)

S1: 78 Chapters + Prologue
S2: 337 Chapters + Prologue
S3: 151 Chapters (Ongoing)
Completely Scanlated?
No
Anime Start/End Chapter
Starts at S1, Chap 0 (S1)
Ends at S1, Chap 78 (S1)
User Reviews
N/A
Forum
User Rating
Average: 8.7
/ 10.0
(2303 votes)
Bayesian Average:
8.67
/ 10.0
Last Updated
May 27th 2023, 5:30pm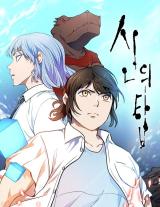 Genre
Categories
Category Recommendations
Recommendations
Author(s)
Artist(s)
Year
2010
Original Publisher
Serialized In (magazine)
Licensed (in English)
Yes
English Publisher
Activity Stats (vs. other series)
Weekly
Pos #
312

(+45)
Monthly
Pos #
352

(-17)
3 Month
Pos #
257

(-25)
6 Month
Pos #
230

(+183)
Year
Pos #
353

(-149)
List Stats
On
7522
reading lists
On
1559
wish lists
On
166
completed lists
On
292
unfinished lists
On
903
custom lists
Note: You must be logged in to update information on this page.



over 7 years ago
over 7 years ago
over 9 years ago
over 9 years ago
over 9 years ago
This comment has not yet been moderated. It may contain spoilers or foul language.


Been following this for over a decade now. Looking back now, I admit some arcs weren't that good. But the quality does improve over time, and as a whole TOG stands at the peak of it's genre. The worldbuilding and character development are unmatched, aside from One Piece.
Truly a piece of art, one of the best storyline, art, characters, character development, pacing, power system and truly exceptional world building, tower of god is the platinum standard for ongoing shounen manwhas out there, however it is not without flaws, complicated games, prolonged storylines, but overall, well thought of, and superbly executed
It's your typical overpowered MC that is stupid and has a naive personality, worse than Naruto, and even worse than Neverland MC.
Every arc consist of the female lead screwing over MC and his teammates over and over again, and he just do nothing about her just because of his feeling, and all she get is just a warning lol. The author probably saves her for the last just like Naruto, for the sake of stupid plot.

... Last updated on May 7th, 2022, 4:26am
There are good side caracthers, but the main story is so bad that I can't read this anymore.
Ignore the usual mob of 15yos and their juvenile, pseudo-intellectual essays on why this "really isn't that good" and "was good then got bad". This is the evolution of shounen, both defining and deconstructing the genre. There's no real way to describe how surreal of a dream Tower of God is. It's One Piece on ketamine. I could go on about at extreme length about its elements and themes but that's not why you're here, you're either here to have someone tell you what to think or to tell you that this is something really big and really beautiful. Tower of God is extremely big, extremely beautiful and extremely fucking exciting. Dive in.
This was just amazing at first. Really top notch. The art was not so polished, but the character design was brilliant. The plot was clever and gripping. But lately - it's just sort of flabby and directionless. New character after new character after new character introduced, and while they are drawn better, a lot of them look (sorry) unbelievably stupid. The characters you cared about get no screen time. They just bring in new ones and do nothing with them.

It's like listening to a five year old tell a story: "and then the princess met a unicorn. And then she met another unicorn that was pink. And a mermaid. The mermaid had blue hair. And then they went to the castle. And they met a dragon. A red dragon. And a robot…."

And the world of the story also used to be defined by rules - that was the whole point. It didn't follow the physics of our world, but it had space and time and hard and fast rules about what characters could and could not do. So it mattered if those rules were broken. Now it's a world where magic can do anything and everything all of the time or maybe sometimes - so who cares? People can float. They can teleport. There are parallel worlds and pocket universes - it's all just whatever it is today. So there are no stakes.

Update: H56 actually nailed it. This IS One Piece on ketamine. In a bad way. I used to love One Piece, and in the latest arcs, I have not had a CLUE what's happening. There are literally 100s of new characters. Unless you are an obsessed fan with ten hours a week to spare editing the wiki and making flash cards to study, you only care about a few main character arcs. But with both One Piece and ToG lately, it's like you need a goddamn PhD in whatever webtoon to keep up. You know what that says to me? The author doesn't know what to do with his main character anymore. He doesn't know how to finish the story. He's run dry on the endless cycle of MC power ups. So he's just adding new characters and new characters and new characters and new characters. It's the problem with so much manga. When the story is over, flush and wipe and be on your way. Don't spam fifteen dozen new side characters and hope one of them is interesting. You know why I loved Shin Angyō Onshi so much? The author had the balls to do an amazing ending. As opposed to so many others where it just gets stupider for decades until you give up.

... Last updated on November 23rd, 2021, 7:07am
Thanks!
I'll keep it brief because there are already plenty of long reviews- the beginning of the comic was GREAT. The mind games, struggling to move forward no matter what, different personalities interacting with each other in fun ways… I LOVED the comic, the combination of action, guts and deceit is something I just simply can't get enough of

it… did get worse tho. A lot worse

as of chapter 72, season 3 the author seems to have forgotten the basic rules of storytelling. Mainly- they explain emotions instead of showing them through character actions or expressions… The villains explain their moves instead of just letting their opponent figure it out on their own. The battles are full of meaningless chatter
it messes up the pace SO MUCH
If I were to rate the comic previously, I'd easily give it a 10/10. Rn- 6/10 max.
The author needs a good editor…

... Last updated on November 1st, 2021, 3:25am
Rating is around near the end of Season 2 (280 chapters in), it would have been a 7/10. But Fuck Rachel.

Now I'm gonna add this a disclaimer and say these are all my opinion, you are free to disagree so we will all just be free to disagree. I'm writing this on my own, not speaking on behalf of anyone.

Art: 10/10 (Season 1 is not any means great but it does get better in Season 2. Likewise the world seems very more interesting visually after Season 1. Character designs are kinda hit or miss but nothing that is off-putting imo. Plus points atleast for keeping the visual interest and development of time through casts changing their clothes. And also, you get a considerably diverse enough set to differentiate each)

Characters: 6/10 (Too many and no big character developments. If you want a more character-driven story with growth, this may not be for you. I would say some are interesting even if many of them seem like walking tropes. Would've been nice to have more interactions and emotional growth of the characters)

Writing: 4/10 (it relies on a lot of foreshadowing then dragging on for so long you forget why you should care about now. Too many questions. Not much answered. Suffers from too much sometimes. Dialogues are not interesting, character interactions are same-y/awkward. You get only 1 out of 5 interesting dialogues/interactions post season 1. Has confusing moments) A lot of exposition due to worldbuilding. I do not know what is the purpose of a lot of things at this point.

Khun Aguero Agnes- 10/10. This is my only regret in putting down this comic for a while til it gets completed. I have some problems with how he is handled at times but he's consistently what makes this comic enjoyable for me. He needs better character development outside of being with Bam tho 🙁

----------------------------------------------------------------------------- ----------------------------------------------------------------------------- --

I like:

-The art: the art gets better. They have nice details, the backgrounds give a feeling of vastness and interest past season 2. The areas in the 20th floor giving us a nice view that there is some resemblance of living outside tests and the test places are nice. The tower looks pretty empty for the 1st season so it wasn't as interesting. Almost everyone looks sick in season 2.

If anything, the author really improved the worldbuilding aspects in the second season. Since it's a fantasy story, it makes for an immersive read. And in my opinion, it is one of the interesting things in the whole webcomic because we don't know much about the Tower. There are some lore bits in the author's blogs that are nice finds as well.

-Imo, the morally gray characters or atleast the morality. While it's still the subject of heated debate, it's still a fairly refreshing take on most stories since the MC and the character's aren't inherently evil or good. So it's not something sugarcoated for the most part and there are consequences for the actions for most part.

I'd explore more about our MC Bam later on but sadly from this point onwards, i dont have much to give him..

The series also gets a plus point to me atleast for not sexualising the female characters so I'm gonna give the author that. It's not something unique but credit is where credit is due.

What I don't like:

-The pacing. God the pacing. There are a lot of subplots, some enjoyable, some not, some absolutely unnecessary. Not necessarily bad because it gives some breath between chapters but there are lots of times that'll make you think "What was it all for?".

I think the author does indeed planned it out due to some foreshadowing elements but see this: the readers don't get to see
the plot about the main two (Bam and Rachel) move for the most part. It took more or less 150 chapters for them to meet u. Just as we thought the MC will leave her alone, the girl baits him yet again to chase her because she knows his past. If you were to cut out a lot of the chapters in season 2 and combine those, you'll get a very short compilation. We do not get info about Bam's origins until 200 chapters in after season 1. And now we're on the 3rd season, still no interactions between the two so I'm not waiting another season just for a few panels of MC being naive and Rachel doing crazy shit again so Bam would go after her

I think for the most part, it's enjoyable to see other characters since it's about tower climbing. However, the results of these long-awaited interactions of the main two are well, disappointing.

-Characters. They are a hit or miss. As much as I do like a lot of them and understand why they climb the tower, once you get a villain that has the same tragic backstory as every other else, it doesn't have the same effect.

Unfortunately, if you ever do like a character that is not Bam or Rachel, you would be disappointed about the treatment of the others in the later story as individual characters of their own. A whole lots.

My pet peeve would be characters that get hyped up a lot then turned into comic relief.(like Boro or Rak) The character's don't have very meaningful interactions save for a very few. And my biggest gripe is when characterization is sacrificed for plot reasons for smart characters like Karaka and Khun. Or when the characters just act as fodders to make some of the member's care for their death and thus need to avenge them.

And another thing that's more of disappointment rather than criticism is the lack of conflict between characters? Even if some characters do say things and such to MC, it doesn't really push through and there are times where someone might think the characters should have conflict (NHS station, Khun/others and Bam regarding Rachel, Bam's choices) but nothing much really changed. Aside from FUG.

The MC is yet another hit or miss. Oh boy. This is where the bag of worms come in. I do not absolutely recommend reading this work if you can't handle naive MCs. Our MC is understandably compared to that of a child as he's literally raised in a cave by the girl. I won't say he's too deep, I think he's almost inhuman.

He grows a bit in Season 2 but it's mostly wanting to save his friends because he's afraid of being alone. The problem I have with him is his moral compass which just changes...just cause' .It could be interesting concept but can make or break to certain readers. Like I said, he is a bit of a child so he is still exploring some concepts. He is still not the sharpest tool in the shed unfortunately and continuously refuses to learn from his mistakes.

-It is repetitive.
2nd season is just...full of this. Hostage here, hostage there, FUG here, FUG there. So if you are not fan of the MC being hellbent on saving every time a teammate is held hostage (plus points if it's a character who has no impact much in the story), this would be hard to read through. Power-ups one after another. I think it also suffers a bit of plot convenience/devices. Again, not entirely bad, just makes one go "Oh x item has this use for this very exact situation. What better way to showcase it than to use it exactly in that situation without telling the reader's beforehand about what it can do." And powerful characters showing up at the nick of time to save Bam.

-No much threats and Confusing at times. And lots of plot armor cause hey it's plot.

----------------------------------------------------------------------------- --------------------------------------------------------------------------

IMO, It's a series better read as a whole after it's finished because the pacing is slow for the plot part. I wouldn't call it action. I'm not sure about the main genre but it does feel like shounen for the most part.

Just don't expect too much action in Season 1 and the fights imo are not comparable to stuff like One Piece, Naruto, where there are battles as there's more energy blasts exchanges. The dialogue is again nothing particular for a lot of part. It can get repetitive (look at hostage situation, MC attitude) with some few twists, some nice, some not, some meh.

I'm dropping it for a bit then pick it up maybe years later when it's finally done and maybe I'll reedit this. Overall, it's not something I would personally suggest if you're not into worldbuilding and not too fleshed out characters. My suggestion however, is to give atleast season 1 and some of Season 2's arcs a try first to see if you like it or nah. You may enjoy lots of things better than mme/

... Last updated on July 3rd, 2021, 11:14am