Manga Poll
Manga
is the Japanese equivalent of comics
with a unique style and following. Join the revolution! Read some manga today!
Join #baka-updates @irc.irchighway.net

RSS Feed


Midnight Secretary
Login to add items to your list, keep track of your progress, and rate series!
Description
From Viz:
Mad Men meets Vampire Diaries in this scandalous office romance.

Kaya Satozuka prides herself on being an excellent secretary and a consummate professional, so she doesn't even bat an eye when she's reassigned to the office of her company's difficult director, Kyohei Touma. He's as prickly—and hot—as rumors paint him, but Kaya is unfazed…until she discovers that he's a vampire!!
Type
Manga
Related Series
N/A
Associated Names
MIDNIGHT SECRETARY มิดไนท์ เซคริเทอรี่
Thư ký ma cà rồng
سكرتيرة منتصف الليل
ミッドナイト・セクレタリ
午夜 · 秘書
午夜.秘書 / 暗夜的吸血情人

Groups Scanlating
Latest Release(s)
Status
in Country of Origin
7 Volumes (Complete)
Completely Scanlated?
Yes
Anime Start/End Chapter
N/A
User Reviews
N/A
Forum
User Rating
Average: 8.1
/ 10.0
(1806 votes)
Bayesian Average:
8.07
/ 10.0
Last Updated
May 2nd 2023, 3:38pm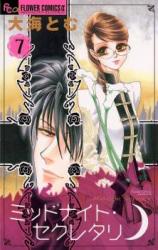 Genre
Categories
Category Recommendations
Recommendations
Author(s)
Artist(s)
Year
2006
Original Publisher
Serialized In (magazine)
Licensed (in English)
Yes
English Publisher
Viz
(7 Volumes - complete)
Activity Stats (vs. other series)
Weekly
Pos #
713

(+14)
Monthly
Pos #
1084

(+491)
3 Month
Pos #
2428

(+462)
6 Month
Pos #
2934

(+606)
Year
Pos #
3784

(-879)
List Stats
On
1599
reading lists
On
726
wish lists
On
4904
completed lists
On
278
unfinished lists
On
603
custom lists
Note: You must be logged in to update information on this page.



10/10 one of the best paranormal smut mangas
The series is about this girl who becomes the new secretary of this hot CEO guy. Now this guy is special because he is a bloody manchild. Acting like a kid on many occasions. But its ok cuz he's hot, a vampire, and rich. Also yeah he's a vampire in this story. Because the author was too busy to think up of actual ideas she just took one from the free idea book.

So yeah he's as cliche as things can get. He's a vampire, he's got mommy issues, he's rich, he's *conventionally* hot, he's very hypocritical but it's alright because he's good looking.

Essentially is a push and pull relationship. Alongside being more than friends and less than lovers thing. The female lead finds out he's a vampire and then as his secretary says she'll give her blood. Also the female character is a fucking wall. She doesn't really react except during sex which honestly not all that fun and I'm saying this as a guy. Like for real, this series kinda blows. Albeit no blowing was involved.

So majority of this series is about the Vampire doing this thing where he's trying to beat himself over and trying to explain to himself that he isn't actually in love with her. It's just her blood that he likes. The female lead is like he doesn't want her and is only with her because her blood tastes really good. This goes on for way too fucking long. A lot of this shit can be dealt with if the MMC just grew the fuck up and acted his age. But you know the edge vampire bad boy seems to be a very popular trait.

There is also a lot of bullshittery in this series. A little too much tbh. No foreshadowing, nothing pre planned things just happen without any understanding. What about when you can't drink the secretary's blood anymore? Oh well I'll just use this incredibly convenient alternate blood source instead.

There is also some twists in this series. Which is baffling to me because I think the author forgets that you aren't actually supposed to see the twist coming. Thats why its called a twist.

There is some really really bad family drama going as well. The family drama between the male lead and his mom was ok actually. Dare i say decent. But when the female leads mom was involved that was kinda shit.

I've read some of the other reviews. Some do mention abusive.. Honestly if there was actual abusive maybe this would've actually been an interesting series. A girl with a legitimate bad guy instead of a guy who hasn't grown up from when he was 14.

There is also this issue with the female lead letting the male lead sleep with other women and try not to get jealous. This really falls into the way way too fucking long part i said about this series earlier.

The good parts were. the family drama, art was nice. There were boobs even though the sex was pretty weak. And i like boobs. Drama plus boobs = 3/10 1 for each boob

... Last updated on May 20th, 2021, 7:20am
Let me begin by saying- I completely agree with @nonightshades
This is not infused with abuse, I repeat NOT ABUSIVE.

This review is a little late considering I read this over ten years ago. I recently decided to pick it up again and don't regret my decision.

Kaya Satozuka is not a stupid female lead, she has her priorities set and is a professional to boot. Kyohie Touma is also a hardworking boss and a...jerk.

He doesn't follow social standards of politeness and is very abrupt and in your face. There were some elements initially that are sooo unacceptable in today's corporate world. BUT got to remember this an adult romance, it's easy enough to overlook them.

I have read many other josei mangas where the guy is abusive/a rapist etc and none of that happens here.
The romance and their conflicts are so on point, nothing is rushed, they both decide to accept their feelings gradually over time. It's transparent and explained well, giving reasons to their decisions on liking one another.

I found the backstory interesting too, I just wish they had elaborated as to why the vampire clan considers themselves so awfully mighty.

There was never a dull moment but I do have a complaint, (maybe to do with translation or the actual content); the number of times the word "secretary" was repeated, had they replaced it with employee/subordinate or something to break the monotony of her monologues, would've made it more eloquent.

ART- is by far the best quality of this manga, the setting/characters all had a unique aspect to them. None of them looked alike, and I don't mean just a change is hairstyle but individual features.

All in all a great read, I hope someday Ohmi sensei considers a sequel.

RECOMMENDED
I absolutely loved the plot! There was never a lack of excitement, and the drama was tense, but not infuriating. Everything flowed awesomely, but the ending was pretty disappointing. I could have been better with a time skip and all but overall it was pretty good
Let me just start off by saying that this whole "the leading male is abusive" thing is a huge exaggeration if not a flat-out lie. If you don't believe me, flip through the entire series. You will not find a single abusive encounter between Kaya and Kyohei; I stand by my word on that. Not once in this manga is the leading lady hit, cursed at, talked down to, raped, forced to take drugs or coerced into doing anything that she does not want to do. She chose to be with Kyohei. Yes,
"CHOSE"
being the operative word (right there in big bold letters). That is what adults do: make choices. Therefore, Kaya is not a victim of any kind. She sat there and deliberated on the pros and cons of taking this man as a lover (over the span of several chapters) and, despite knowing that it could come back to bite her in the ass at some point, still chose to be with him. She LITERALLY said she was prepared to deal with the fallout from the consequences of her actions, so what is all the hate even about?
Sure, the leading male is possessive and stand-offish. I'm not saying that he isn't. And no, he doesn't treat Kaya like a special snowflake, but here's the kicker, folks: of course he's going to treat her as "less than" in the beginning because
Spoiler (mouse over to view)
DUDE'S...NOT...EVEN...HUMAN PEOPLE! HE'S A FREAKING VAMPIRE THAT WAS RAISED TO VIEW HUMANS AS SOURCES OF FOOD AND PLEASURE AND ON OCCASION AS BABY FACTORIES. He was raised to look down on ALL humans. It's a pretty simple concept to understand (human woman prompts human feelings from a non-human being in the end), yet people seem to miss the point time and again, and I just don't understand it... And all those other good guys that Kaya had to choose from? Yeah...there was a grand total of one guy that expressed romantic interest in her aside from Kyohei--one. Also, yes, he fools around with lots of women but again, he's a vampire. Sensuality and feeding kind of goes hand-in-hand with their kind. Why is that still surprising to anyone at this point? O__o?? And did you see the types he went for? I can assure you that their virtues were long gone prior to their encounters with Kyohei. :/ He also stopped seeing other women waaaaay before Kaya even realized. She didn't even bring up the issue of fidelity; he decided to do so because he couldn't accept being with any other woman but her, opting to drink "fake" blood--that he hated but took like a champ--instead. I know! What a selfish bastard. Right?
Kyohei wasn't even raised with the same moral standards as others, so how do you expect him to act like prince charming? And for those who are saying the leading female is weak, do you know how many Japanese women can relate to this woman? Do you understand that generally, demeanor and moral values in Japan differ from those of Western countries? Many Japanese women are not out-spoken or assertive or demanding; not just the women, a lot of men do not behave that way either. Generally, they are very conscientious of their behavior and try not to stick out or be a bother to anyone. This manga was written from a completely Japanese point-of-view . Which brings me to my next point. I don't know how many times I've read interviews where manga/doujin artists say that they're either hesitant or flat-out do not want their works being translated in western countries for two main reasons (there are more, but...):
1)Because everything from nuances to important chunks of info get lost in translation
2)Because people won't be able to understand a story that's being told from a Japanese perspective. In other words, they'll miss the point...
And after reading all the reviews about the Kyohei being abusive--when he's actually nothing more than a spoiled brat--and Kaya being weak--when she's actually quite ballsy for making her bed and sleeping in it--well, I think I can actually see where those artists were coming from. And I agree with them. It's one thing to review a manga for its flaws, but it's another thing when you start bringing in all the misplaced social commentary. It's silly...
All that being said, I liked this series. The dark shading of the art really compliments the overall tone of the manga. Also, I think the pacing was great considering its volume span, and I appreciated the extra follow-up story about the female...I can't remember her name. That was a pretty good little bonus. What I liked most was the fact that Kaya didn't feel the need to "change" Kyohei and simply "accept" him instead. Kyohei isn't my type. He was selfish but not detestable and no where near the worst that I've seen thus far. Apparently, Kaya felt like he was worth fighting for though, so hats off to her on that one. There were many questions that this series left me with, which is why it gets a 7.5, so I was a little irked about that. I enjoyed this series overall though.
'Midnight Secretary' is not a generic love-love, romcom manga, and the conflict was legit (differences in culture and race, etc.), so I was actually pretty impressed. It did have plenty of romance clichés, and some of the romantic dialogue was a little corny, but I still liked this series overall. It wasn't just silliness everywhere I turned, which is percisely why I prefer Josei and Seinen.
...
Last updated on June 26th, 2018, 10:14am
I find the main male character extremely disgusting ...an abusive jerk that plays around with women but yet is extremely possessive of the main female character and the worst part she allows it to happen... she's obviously a masochist and he's a sadist... There are plenty of better men in the manga yet she has to pick this jerk. Makes no sense.
I really wasn't expecting much when I began this manga. I was surprised how addicted I got. I really liked the plot twists, including the final one, and the romance between the main characters.
Really was looking forward to a lot more of this series. There were a lot of unanswered questions that were going on about the lure of vampires. I read this after reading Vampire Knight, which was really depressing, I was looking for a "pick me up" that had a happy ending.
Some things I wanted to know
-how the baby looked
-plot twists
-how the company recovered
-what happens to the baby with the clan
-happily ever after? doesn't she grow old?

Kind of a cliche but had its own unique twist. First romantic scene = totally hot. Might be neat to get to know some of the other characters more and some plot twists.
There are some parts that start to get too wordy but just when it starts to get to the tiring part.. Some sultry, sexy, lustful parts start to jump right it. I loved it so much I almost wish I was her! Artistry very well defined.
(Spoiler has beginning to end)
Spoiler (mouse over to view)
it starts as a girl trying to make it in life with out being looked down on by others because of her babyface. She dresses Herself nerdy so not many people look her way. But she got so curious about her new boss that she found out something creepy. He is a vampire! And be also found out she's beautiful. They start having a sexual affair while he still kept his affairs with other woman for blood. They have to go through so much interferences from others. She is stupid for not caring about her woman self enough. But at the same time it is what makes it more hot and heavy. They end up happy so that's what counts.
...
Last updated on January 24th, 2015, 1:00pm
This is one of the mangas that you will be like, "if tbis happen in real life, I would totally hate it." But then you keep on reading it and then smile when it finished. This is somewhat like Twilight (more like 50 shades of gray but 8 havent read it so I cant make that comparison)... the story is good (alright for twilight) in the beginning and then there the guy became a jerk in the middle.. and so on... if I knew the chick in real life, I would tell her to get away from him n thought their love is a mess (the one that usially on the mauri show). But this manga just kept me coming (read and reread) and jeot on hoping everything will be fine for the both of them and that they wouod live happily ever after.. yadayada..