Manga Poll
Manga
is the Japanese equivalent of comics
with a unique style and following. Join the revolution! Read some manga today!
Join #baka-updates @irc.irchighway.net

RSS Feed


Dungeon ni Deai o Motomeru no wa Machigatte Iru Darou ka
Login to add items to your list, keep track of your progress, and rate series!
Description
Bell Cranel is just trying to find his way in the world. Of course, in his case, the "world" is an enormous dungeon filled with monsters below a city run by gods and goddesses with way too much time on their hands. He's got big dreams but not much more when a roll on the random encounter die brings him face-to-face with the girl of his dreams - but what's an amateur adventurer got to offer a brilliant swordswoman? And what if the lonely goddess who sponsors his solo adventuring gets jealous?
Type
Manga
Related Series
Associated Names
DanMachi
Dungeon ni Deai wo Motomeru no wa Machigatte Iru Darou ka
Dungeon ni Deai wo Motomeru no wa Machigatteiru Darou ka
Dungeon ni Deai wo Motomeru noha Machigatteiru Darouka
Est-ce un tort de chercher des rencontres romantiques dans un donjon?
Is It Wrong to Try to Pick Up Girls in a Dungeon?
Ist es ein Fehler in einem Dungeon ein Treffen zu wünschen?
Zindanda Kız Düşürmeye Çalışmak Yanlış Mı? (Turkish)
Zindanda qız tutmağa çalışmaq düz deyil? (Azerbaijani)
¿Está mal enamorarse en una mazmorra?
È forse sbagliato chiedere un incontro a un dungeon? (Italian)
É Errado Pegar Uma Garota Em Uma Masmorra? (Portuguese)
Дандзён ни дэаи о мотомэру но ва матигаттэиру даро
Разве плохо искать себе пару в подземелье?
آیا تلاش برای بلندکردن دختران در سیاهچال اشتباه است؟ (Persian)
دان ماتشي
هل من الخطأ التعرف على الفتيات في الدانجون؟
มันผิดรึไงถ้าใจอยากจะพบรักในดันเจี้ยน
ダンジョンに出会いを求めるのは間違っているだろうか
伏城求逑蓋有罔乎 (Classical)
在地下城寻求邂逅是否搞错了什么
在地下城尋求邂逅是否搞錯了什麼
在地牢里寻求邂逅难道有错吗
期待在地下城邂逅有错吗
던전에서 만남을 추구하면 안 되는 걸까

Groups Scanlating
Latest Release(s)
Status
in Country of Origin
17 Volumes (Cancelled)
Completely Scanlated?
No
Anime Start/End Chapter
Starts at Vol 1, Chap 1
User Reviews
N/A
Forum
User Rating
Average: 8.1
/ 10.0
(560 votes)
Bayesian Average:
8.02
/ 10.0
Last Updated
December 18th 2022, 5:06am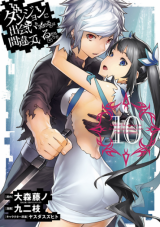 Genre
Categories
Category Recommendations
Recommendations
Author(s)
Artist(s)
Year
2013
Original Publisher
Serialized In (magazine)
Licensed (in English)
Yes
English Publisher
Activity Stats (vs. other series)
Weekly
Pos #
473

(+127)
Monthly
Pos #
1077

(+222)
3 Month
Pos #
1502

(+447)
6 Month
Pos #
1755

(+45)
Year
Pos #
1488

(+75)
List Stats
On
4583
reading lists
On
735
wish lists
On
289
completed lists
On
137
unfinished lists
On
493
custom lists
Note: You must be logged in to update information on this page.



This manga is a fun, light read, but also has a little bit of a slow start. The beginning introduces some basic concepts of the story and follows the main character, Bell, as he adventures in the story's dungeon looking for self improvement. The characterization, plot points and motivations all come a little bit later, which makes it lack an immediate hook that some manga enjoy the satisfaction of having, but nonetheless, if you can stick with it, the story becomes a semi fun action story, and the motivations for the main character's self improvement solidify. Also, the goddesses and other side characters are drawn really well, and the manga overall has a cute art style. If you want a quick, light read with cute, new school art, RPG game style progression and well drawn action scenes, you might enjoy this one.

UPDATE: Upon finishing this manga, I've taken it from a 7 to 6, because the ending (if you can really call it that) is abrupt and doesn't conclude things in the slightest.

... Last updated on October 22nd, 2020, 12:01am
Reading just the manga now. Tried to watch the anime, DanMachi S2, but each week the, "sucks rock quality", remains the same, I gave up at ep.5.
I haven't watched the anime or read the light novels, so I cannot speak to their quality. Regarding the manga, it says everything you need to know that it has two spinoffs which are both much better than the main series itself. What do I mean?

First, that it was popular enough to enjoy multiple spinoffs. Not that popular = good (the novel is the true source of popularity), but it means there was something there to excite people. Second, it tells you that the problem with this series stems from the protagonist. When I started reading I was hoping for a main character like a young Jiraiya who is actually trying to pick up girls in the dungeon. Probably he would be a bit of a pervert and would have many failings in love initially, but eventually he would mature both as a hero and as a man. Instead we get a generic sort of character with a pure heart who is initially very weak (cries and runs away a lot), but falls in love with a girl and has some major hacks which allow him to grow very rapidly because it's his desire to stand with her and along the way half a dozen additional girls fall in love with him. If you read a lot of manga you have seen this many times before.

Sword Oratoria focuses on the love interest Ais who is a bit aloof and a lot of fun. She has a very strong will, but unlike your typical strong female protagonist she has a lot of difficulty expressing herself. There's another spinoff about the character Ryuu which features a character who could easily be compared with Ais, but carries around a lot of personal baggage that makes her arguably even more interesting.

My verdict:
DanMachi - 6/10
Ais Spinoff (Sword Oratoria) - 8/10
Ryuu Spinoff - 8/10
The subject basically says it all. The art is well done, the story is familiar in a comfortable way but its more workmanlike than good, standard for a genre piece really. The setting itself is interesting, with a novel way to justify the introduction of "mechanics" reminiscent of crpg's. An enjoyable read that probably isnt going to change your world.

I will say though, considering how relatively light it is it strikes me as odd that a number of the comments cant seem to follow the basic story. Or perhaps they read a different manga? Perhaps the comment directly below best represents this. Not to take it apart sentence by sentence but all its main points seem to be about a different manga e.g. complaining that the protagonist is indecisive when his entire "thing" is that he derives his power from his drive, complaining about the "main antagonist" when the story doesnt have one, then complaining she will fall in love with the protagonist, when from literally her first appearance we know her only interest in the protagonist is because of her "love" for him, or my personal favourite, complaining about providing someone with a new weapon in the middle of battle AFTER their weapon breaks and they're left unarmed. Perhaps we would be better off reading the "more mature" Re:Monster which is wall to wall rape fantasy.
After reading 30 chapter of this manga, I can only say to don't have any expectations from it or its anime. It falls completely flat with very few redeeming features.
The main protagonist is your run-of-the-mill harem protagonist, with a very frustrating personality, the indecisive saintly type . In the very beginning he is saved by a girl and got a crush on her, for that he gained an overpower ability. And after that he got many girls to fall for him for no reason of all the cliche scenarios.
The main heroin/goddess is the "gambaru"/jealous type of character, very generic and stupidly portrayed.
Spoiler (mouse over to view)
(2 chapter to give a freaking dagger while being attacked? gosh and i read it in 3 min, if i had to read it monthly i would had quit this manga earlier).
The supposed main opposition is bad, to be even worse then a villain from a Disney movie. No reason behind it, badly portrayed, no reason to like or even try to understand her (and most likely from the flow of this manga she will fall for the main hero and he will "save her" saying some stupid thing after try to kill or kidnap someone, but that is just my speculation).
The pace of the manga is all over the place, in the fights they prolong it for no reason of end it in 2 panels. It has to many cliche dialog and scenes, none really well placed or played. They overstretch some part of the plot trying to many more meaningful but just I got just annoyed. Also they blow a whole chapter for fan service on a monthly manga?
Overall, in my opinion, this is in no way or form a seinen manga, it is a shonen one, with an immature protagonist that doesn't mature, no deep plot and doesn't have any mature theme.
If you want and RPGish manga try Re:Monster, it has a more seinen feeling to it.
Dungeon ni Deai o Motomeru no wa Machigatte Iru Darou ka
is clearly quite a mouthful to say, but if there's one thing that bothers me, it's that the title's somewhat of a lie. Our ultimate shota protagonist Bell-kun carries the very generic personality of "an innocent guy with a big heart," and as he has a crush on this one, very strong female adventurer, he's (as usual) unable to see eye-to-eye with all the other girls that've fallen for him, almost each and every one of them practically ready to carry his offspring at a moments notice. So basically, the series is following the usual bullcrap seen in a lot of harem manga. I don't have an issue with every harem series out there, but it's kinda annoying to see Bell, once again,
not even TRY to "pick up girls in the dungeon."
He always gets flustered + indecisive when the ladies make
their
advances on him, and even when he awakens to find himself alone with his crush (who saved his ass a second time), he runs off again out of shear embarrassment. So in terms of the series's (incredibly one-sided) romance, it gets somewhat annoying after a while.
The series offers some other elements as well, including action and fantasy world-building, yet not even those parts are very well defined. The action comes off as pretty minimal, with not a huge focus on the fight scenes presented. Maybe with one monster so far they prolonged the fight over a couple chapters, but most of the time, the fights are wrapped up as quickly as possible, with one-shot moves from our thief/rogue/assassin protagonist + adventurer/knight/paladin-thing heroine. I can understand that the artist (
probably
) has a stronger background in illustrating rom-com harem stories compared to action-based stories, so I don't "expect it" to have the artistic quality of fantasy series like
Berserk
and
Gate - Jietai Kare no Chi nite, Kaku Tatakeri
. However, when it comes to fighting being an incredibly important element to Dungeon's core story, it's kind of lacking in quality so say the least...
The fantasy world-building is directed at readers with a background in playing/knowing the different elements of fantasy RPGs. Characters essentially leveling up and having corresponding numbers to their various stats, using grimoires(?) to learn magic spells without having to really read them at all, potions for healing, etc. etc. The idea's not too bad, but the world-building is very slow, with all attention directed at Bell-kun interacting with the individual female characters.
Oh, and so far, there isn't much of a plot presented. Bell wants to become stronger, and so thanks to the magical powers of a middle school crush (no joke, his crush on a girl is enabling him to level up
so much faster than any other character
), we follow his journey to become strong enough to impress his crush. As he (barely) works hard to become much stronger, he never considers to try and "man up a bit" during this time, thus leading to his embarrassment and indecisiveness with the ladies at every turn. Not much else can be said for specific events throughout the story, as they either make Bell stronger or introduce another girl to his harem, and as
rennov
stated, they'll fall for him based off the simplest of triggers.
I would even bother to argue that Bell's
somewhat
selfish, as he understands that he's the only member to his Loli-Goddess's familia and can die in the dungeon, leaving her all alone without anyone else to rely on. I really thought that he'd try to recruit some other people, working their way up as a small and poor familia on their way to challenging other big shot familias. Maybe the Light Novel does a good job with that, but in this series, Bell never bothers to think about that, and always must focus on becoming stronger for the sake of his crush... If it's gotten annoying for you, how I constantly restate Bell's goal, you now may know how I feel with series beating me over the head with it...
I haven't read this one yet, so if you haven't gotten the chance to try it out either, hopefully we'd both be very content with what it has to offer in its dungeon-based fantasy world:
Dungeon Meshi
From what I heard, it's very funny, and creative for what it does with their characters' dungeon adventure(s).
...
Last updated on April 7th, 2015, 9:46am
Great manga for those who look for some adventure game type and destined hero who grows very very strong in certain instance and instantly as well then its good. I gave pretty high rating due to my weakness against game type manga.

But overall this is a very fast pace manga that skips the introduction and many backgrounds that go straight to power leveling of the main hero bcause of a girl. Funny and enjoyable to read but adept manga reader might have trouble with the story flow
When I see the comment written by AnimePrince I laughed so hard. He used sarcasm perfectly and hit the nail regarding the manga... maybe I can add a little for the review.

Art: like the others said, it's good
Character: This manga distinguish each character good enough. Each has its trait (and maybe later we will be told each character background story). Yet, the character interaction itself is shallow (for now), we can only relied on the "shounen" plot to see the MC brings other character together to create some issue... So, it's really nothing special.
Plot: this is what AnimePrince really hate about the manga (I guess). The plot is shallow (yeah thanks to his "mystical rare power"), and we are dumped with a harem which is created by simple triggers (bumping in the street and get a lunch, coincidentally have a suitable appearance preference, coincidentally become his administrator n care him so much, etc... etc...). I'm not against a harem, yet this is ridiculously simple... if this manga is only talking about leveling up and creating harem in the process, well, damn this manga...

Conclusion: for a LN adaptation, which usually gives a strong plot, I really expect more than this (That's why I'm a bit dissapointed). But, if this manga only wants to sell the art... I guess it's already succeed....
One of my friends requested that I read this, and my lord, this is one of the most stupid manga i have read in years.
We start off with a weak protaganist in the first chapter. That's fine and all, but "to everyones great surprise", apparently the main character has a RARE MYSTICAL POWER which makes him better than everyone else, gained from being a lovesick teenager. Something about him lusting over this girl so intensely suddenly gets a " get out of being weak free" card. Cool.

Now, even before he really starts to bloom and start surpassing everyone else around him, he already began gathering a large harem. I'm fairly sure approximately 5 girls have confessed their love for him by the 10th chapter, we we all know that the super powerful legendary warrior girl is totally going to fall for this little bundle of joy, so might as well include her.

Now to top it off, not only does he have a super rare ability to get really strong with little effort, he now has recieved a certain something made specifically to grow with him because having a weakness is unacceptable, our protag must have a legendary one of a kind certain something to cover that.

Overall, i highly reccomend this manga if you love uninspired characters, scenarios, and story. Or you just feel like oogling all of the female characters ample breasts, sans the token loli.

... Last updated on October 14th, 2014, 2:35am
And in just one volume too! The premise was cool and the characters were interesting. But man the combination of this being a monthly manga, the chapters being less than 20 pages long (with quite a few pages wasted on unecesarry dialogue filler) and the fact that one entire precious chapter was dedicated to a boring lovey-dovey speech in the middle of a fight for survival turned me off this series fast. The mangaka's already making so few pages for a monthly chapter release and s/he doesn't seem to know how to structure her scripts to effectively utilize the paltry pages s/he is giving to us. That is NOT how you get good readership numbers to ensure your manga continues to run.
I fear this is going to be one of those series that had promise but gets cancelled due to lack of readers.