Manga Poll
Manga
is the Japanese equivalent of comics
with a unique style and following. Join the revolution! Read some manga today!
Join #baka-updates @irc.irchighway.net

RSS Feed


Liar Game
Login to add items to your list, keep track of your progress, and rate series!
Description
The card reads as follows:
Congratulations! You are one of the 1 in 100,000 people who has been entered in the amazing LIAR GAME TOURNAMENT!

Along with the postcard there is 100 million yen in notes. That's the beginning of the Liar Game. When the game ends, in 30 days, you will have to return your 100 million. If your opponent steals them, he can keep them as a prize, and you will have a debt of 100 million...
Type
Manga
Related Series
Associated Names
Игра Лжецов
झूटो खेल
เกมหลอกคนลวง (Thai)
ライアーゲーム
라이어 게임

Groups Scanlating
Latest Release(s)
Status
in Country of Origin
19 Volumes (Complete)
Completely Scanlated?
Yes
Anime Start/End Chapter
N/A
User Reviews
N/A
Forum
User Rating
Average: 8.6
/ 10.0
(1493 votes)
Bayesian Average:
8.55
/ 10.0
Last Updated
August 16th 2023, 4:46am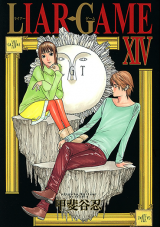 Genre
Categories
Category Recommendations
Recommendations
Author(s)
Artist(s)
Year
2005
Original Publisher
Serialized In (magazine)
Licensed (in English)
No
English Publisher
N/A
Activity Stats (vs. other series)
Weekly
Pos #
520

(+55)
Monthly
Pos #
1128

(+146)
3 Month
Pos #
1625

(+119)
6 Month
Pos #
1764

(+144)
Year
Pos #
2433

(+395)
List Stats
On
3711
reading lists
On
1802
wish lists
On
1706
completed lists
On
271
unfinished lists
On
694
custom lists
Note: You must be logged in to update information on this page.



over 8 years ago
over 9 years ago
over 10 years ago
over 10 years ago
over 10 years ago
There was never any development about the people running the Liar Game so the explanation was not going to be anything satisfactory, the story was just the matches themselves but those were entertaining enough.

Some moments it felt that rather than anticipating someone actions the actions where made just to give the smart characters an oportunity to look smart.

What bothered me a lot was the especulation that the Liar Game was to make money by giving debts to the players, even said by smart characters, because if they can't pay there is no money to get from them, they get loses by giving money to the few winners and spending on running the game. If they where going to use the losers as slaves or something else they could just kidnap someone, by deception or force, and be done with it.

... Last updated on October 3rd, 2023, 11:52am
Spoiler (mouse over to view)
It's rushed and open.
One of the most disappointing endings ever, making this manga go from a good read to a highly mediocre one.
The series runs for more than 200 chapters, but then it's all wrapped up in just a couple of chapters. If you can even call it "wrapped up", considering how abruptly and inconclusively it ends.
So, here's the thing with Liar Game.
Spoiler (mouse over to view)
The second half is straight up dog shit. It's a truly classic example of an author apparently improvising a narrative and chopping off an end to order, like a drunken butcher. The first few arcs are tremendous, speaking to an enormous conspiracy and promising incredible escalation. Our wimpy protagonist and her invincible sidekick have good chemistry, and bit by bit she hardens without compromising her principles. Game by game, the series steps it up, becoming ever more phenomenally tense, paranoid, complex, exciting and weird. It's a fantastic run while it lasts.

But it suddenly starts coasting. Then it stalls. I think it happens around the second Yokoya arc. In his first game - the clever little bastard, Yokoya, is a legendary presence, a terrifying enemy and manufacturer of truly frightening machinations. His Orwellian grip on his group and their secret rebellion against him are some of the most gripping, even slightly surreal, psychological drama manga I've read to date. When the cast's efforts to take him down finally pay off, it's a guaranteed breath of relief. Best of all, when he resentfully ruins the moment, our hero Nao - who seemed like such a crybaby - very politely argues him down and utterly demolishes his sore loser's pride, saving the day where the resident genius could not. It's a wonderful moment of character development for her to honestly, conclusively best such a powerful foe.

Then Yokoya turns into a joke. He pulls a Vegeta and keeps coming back, unconvincingly vowing I'll get you next time!! In the next arc he can barely rebuild a gang; he gets clowned around and literally bowled over and knocked on his ass. Why's he still here? He's not charismatic or smart enough to be Akiyama's rival anymore. When his mask is off, he's just an annoying little rich kid with several complexes. What an awful antagonist! And it really obviates Nao's success, if he's not really defeated - worse than that, if he's never going to be concretely defeated. There's no point to fighting him if he's just going to come back with new toys like Wile E Coyote.

From there on, if I recall correctly, things just go down the toilet. There's no advancement, just increasingly arcane and stupid rulesets that feel like "Takeshi's Castle" rejects. Akiyama and Nao, the most important characters in the plot, are allowed to go stale like unattended croissants. Then, to really pull the chain, Fukunaga, the bright star in the cast, gets unceremoniously written out entirely! Why would you do that to the most inventive and unpredictable character?!

Of course, like many others have said, the ending is trite and unexciting. "Everything is exactly what it looks like, the end." In fact it has the same "powerful men behind the government conspire to harden up the country" conceit as Kongou Banchou, a fighting comic for ten-year-olds, but Kongou Banchou made it artful and elegant and fun. The sad part is that even though the ending comes out of nowhere, I was begging for it to happen.

But I still recommend it, at least for the first couple arcs! You'll know quickly whether or not the series is for you. The things the series does right are absolutely stunning. Every rule is bent and exploited, every detail is important, and each arc has a ton of effort put into it. The character art uses formal realistic proportions and makes everyone easily distinguishable.
Not only is Liar Game gripping and likable, it's highly approachable. This is a comic of endless, wall to wall insanity and unforeseeable twists. I say, if you're a fan of "formal mindgames", like the stuff you see in
Death Note
and
Kaiji
, you really owe it to yourself to read this today.
Liar Game would have gotten 10 stars if not for its extremely rushed ending. But more on that later.

The main protagonists, Akiyama, a super genius who was recently released from prison, and Nao, a very naive and honest person, cross paths as Nao is forced to participate in the Liar Game. Sometimes Nao comes across as too naive, and makes me want to kick a wall, but she is still a genuine, kind and relatable heroine who struggles in the Liar Game since she can't, well, lie. Akiyama is exactly what he is -- a super genius, and one of my favourite heroes of all time! I love how his brain thinks and the way he overcomes each trial is impressive and out of the box. There are many arcs and 201 chapters (or so) so it will keep you busy for a while. I love longer manga so Liar Game fit my criteria perfectly.

The plot is great as well, with a villain-turned-friend and one of my favourite characters, Fukunaga, not quite on par with Akiyama's genius but so. Damn. FUNNY. Fukunaga's presence and snarky personality is hilarious. Yokoya is the primary villain, and just as smart as Akiyama, with the two competing head-to-head many times. The story tells you that losing ISN'T just losing; and that losing a round can be considered a win. It's complicate to explain, but the entire plot is pretty decent, and kept me on my toes.

That is, until THAT horrific ending.

I mean, what was that??! How rushed was it??! I would have loved to see the concept being explained in a clearer, more concise manner instead of random info dumping at the end, and the last few panels of the last chapter hinted at a continuation but it was the ending. What kind of ending was that? Despite how much I enjoyed the entire stoyr, the ending kind of tilted me off balance and made me scream for more, hence I knocked one star off.

However, the ending was unsatisfactory, but not unreadable. There WAS an ending, kind of acceptable, so it doesn't really leave you at a "no ending".

I highly recommend Liar Game for well, pretty much everyone who is looking for a story full of different challenges that are ultimately, a psychological battle of wits, endurance and sincerity.
ライアーゲーム OverviewCharacters
Kanzaki (the main character) is extremely naïve and empathetic, which may need some suspension of disbelief at least in the beginning, as the author is pretty consistent in her writing. Throughout the story, it becomes clear why she is the perfect main character for this story.
Akiyama (the second main character) allows the story to exist, he is extremely intelligent and is not beneath trickery to achieve his goal. The main pair work with each other organically throughout the story.
Fukunaga (early antagonist) is a great introductory antagonist to the liar game and her character progression is subtle and satisfying.
Yokoya (main antagonist) is an amazing antagonist as he is written to be as smart as Akiyama but he isn't held back by a moral compass. The best arcs in this manga include him.
Harimoto (main antagonist) another antagonist to match the likes of Akiyama and Yokoya. His methods and characterization create a good distinction between him and Yokoya. The arc he is introduced in, is the best arc in the manga. His characterization is ruined after his first arc
Spoiler (mouse over to view)
with the reveal of Kimura as the true strategist of the team. His progression thereafter is decent though.
The minor characters throughout the story are mostly weak and selfish with only a few standouts having only the former of these traits, like Akagi and Makizono. This is actually justified in-story and actually serves the narrative very effectively. The masked dealers of the Liar Game Tournament exposit the rules of each arc. They also act as commentators during the match and keep the characters on edge throughout the story with vague threats.
Plot & Pacing
The structuring of the story is rigid and predictable. Apart from the first and shortest arc, each arc starts with an infodump establishing the rules of said arc before the mind games ensue. This, however, is not a negative and even elevates the material when the main characters transition from being pawns into having a goal and choosing to continue the story.
Naturally, the structure slows down the pacing of the manga noticeably at the start of each arc. Some arcs also have multiple infodumps which also have the same effect. This is jarring in a few arcs. However, once the arc begins there is little to no exposition, allowing the author to progress the story interesting and dramatically for 2-4 volumes an arc!
Presentation
Liar Game is very wordy and cerebral as the focus is on the characters figuring out their situations, trying to deceive others characters to get ahead in the game (excluding Kanzaki), trying to figure out their opponents' next move and how to get themselves out of dire situations. When plans are formed or revealed the author usually includes real psychological principles or mathematics behind the characters plan. Which increase the believability of genius characters like Akiyama and Yokoya, as they don't just predict the future. Also, both these characters are not always right or fail to take into account all possible factors when forming a plan or form the right plan too late.
The author sometimes uses minor or antagonists as POV characters to switch up the perspective of the story for various reasons, this keeps often keeps the tension high regardless of the reason it was used for.
With the masked dealers in the Liar Game Tournament acting as commentators during the match the author essentially uses them as narrators without breaking the fourth wall. There are a few times however when the commentary is a bit too heavy-handed or didn't match the situation. This may somewhat be excused as they are characters and all have different personalities.
The way the themes are presented through the characters in this story are not subtle but are not really preachy either as Kanzaki actions and dialogue feels organic true to her character. Also, her character directly challenges other characters philosophy including Akiyama.
Art
The art is decent and suitable for the story and steadily improves throughout the series. The character designs of all of the minor characters are bland/understated which may be annoying at first but it is really in service of the narrative.
Additional Thoughts
Once I got into the story I often began to try to formulate plans alongside the characters, it's so engaging! The last few arcs have a noticeable dip in quality and the ending is rushed and convenient. The best arcs of the story alone make the story worth a read. I may do a review of this amazing manga.
It was fantastic.

My complaints

1) The author is unbearably preachy. He's absolutely 100% a communist.

2) Harimoto isn't a good character. I mindlessly skimmed that consolation game where you're supposed to care about his boring drama.

3) The island arc was the absolute best.

4) The ending is really bad. Finishes super abruptly. Nothing makes any sense. Very goofy.

... Last updated on May 9th, 2018, 5:15am
Liar game was especially interesting in the beginning, but as the games progressed each game was less engaging than the last. I found myself flipping through the final arc to finish the story
Spoiler (mouse over to view)
and reach an ending that felt subpar to the grand scale that was advertised in the beginning.
By the end, I simply no longer retained my initial excitement for this series.
...
Last updated on April 8th, 2017, 2:26pm
The ending was so cheesy oh my god
It wasn't a bad ending, it was just really cheesy. And the last game was rushed but it still closed things up pretty well. I read it so that I could read each of the rounds fully so whenever a round ended I waited a few months to start up again. Before I read the last 100 chapters I re-watched Death Note and honestly I like Liar Game more. There's the psychological thriller part of it and I feel like the cleverness kept up throughout the story. I think Liar Game develops its peripheral characters better than Death Note did and oh my god it develops its female characters so much better. I really appreciate that the main characters actually grew as the story progressed. But man, the ending is so corny.
Spoiler (mouse over to view)
I mean I guess we should have expected it since the story is about Nao tying to become friends with everyone which is a cheesy goal. I was actually fine with evil corp not actually being evil too... but the whole government conspiracy outside of the other country was so much. They dont want us to know that people can get along? Come on lmao. Kinda like what other people said... they tried to create this threatening environment where everything was scary or whatever but the actual theme of the story ended up being about rainbows puppies and sparkling friendship haha that's totally fine but once you go twilight sparkle you cant really turn back to evil forces striking back

...
Last updated on September 3rd, 2016, 2:04am
Well after skimming couple review I notice some don't like the ending, strange though I like it greatly it actually convey all the strangeness in the story like what author trying to convey. Of course some will disagree though. Either way it was great story with great ending. Definitely worth reading.

... Last updated on July 11th, 2015, 7:05am