Manga Poll
Manga
is the Japanese equivalent of comics
with a unique style and following. Join the revolution! Read some manga today!
Join #baka-updates @irc.irchighway.net

RSS Feed


The Abandoned Empress
Login to add items to your list, keep track of your progress, and rate series!
Description
As proud daughter of House Monique, Aristia was raised to become the next empress of the Castina Empire. But with the appearance of a mysterious new girl, everything has fallen apart: the Emperor has turned his back, and Aristia's miserable life as a lower queen is cut short by death. However a second chance to change her fate sees her reborn ‒to 7 years earlier! "Is this a dream or reality? Will my destiny repeat?"
Original Novel:
KakaoPage
,
Naver Series
,
English
Original Webtoon:
KakaoPage
,
Lezhin
Official Translations:
English
,
French
,
Indonesian
,
Thai
,
Vietnamese
•Print:
English
,
Ge...
More...
Type
Manhwa
Related Series
N/A
Associated Names
Aristia la Monique: Die gefallene Kaiserin
Hoàng Phi Bị Ruồng Bỏ
L'impératrice abandonnée
La emperatriz abandonada
Ratu yang Dibuang
Suterareta Kouhi
Terkedilmiş İmparatoriçe
Брошенная императрица
الإمبراطورة المهجورة
จักรพรรดินีที่ถูกลืม
捨てられた皇妃
被废弃的皇妃
버림 받은 황비

Groups Scanlating
Latest Release(s)
Status
in Country of Origin
9 Volumes (Complete)
145 Chapters + Prologue (Complete)

S1: 46 Chapters (1~46)
S2: 41 Chapters (47~87)
S3: 58 Chapters (88~145)
Completely Scanlated?
Yes
Anime Start/End Chapter
N/A
User Reviews
N/A
Forum
User Rating
Average: 6.1
/ 10.0
(231 votes)
Bayesian Average:
6.13
/ 10.0
Last Updated
March 7th 2023, 2:45pm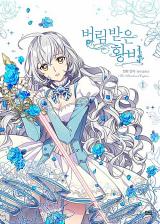 Genre
Categories
Category Recommendations
Recommendations
Author(s)
Artist(s)
Year
2017
Original Publisher
Serialized In (magazine)
Licensed (in English)
Yes
English Publisher
Activity Stats (vs. other series)
Weekly
Pos #
443

(+205)
Monthly
Pos #
1094

(+34)
3 Month
Pos #
1579

(+76)
6 Month
Pos #
1674

(+85)
Year
Pos #
1951

(-323)
List Stats
On
667
reading lists
On
151
wish lists
On
381
completed lists
On
68
unfinished lists
On
272
custom lists
Note: You must be logged in to update information on this page.



While I can't fault this as being a terrible piece of manhwa, the sheer sugary feel of the art just put me off. One of the male contenders for the FL's hand has a intensely green hair and my eyes just hurt from looking at it! The plot even shows some faint promise (being different people in different timelines, due to change of circumstance - possible of not?), and I love it when a pseudo 18th century ML has the hairdo and attitude of a 16 year old emo-spoiled brat from the 21st century. But that's isekai for you! FL wasn't too impressive but had a powerful and understandably emotional moment pretty early on so it did surprise me, but not enough to continue reading it. Since I am not a big shojou fan, maybe this was all pretty predictable. But stil, I repeat, not that bad!
The plot is bad, the characters are bad. The art is mostly good, but I don't like many of the "beautiful" dresses the female lead wears.

It bugs me that no one talks about how the FL marrying the prince means the disbanding of her house, the most loyal and third ranking in the Empire. Just weird. Are her children supposed to take over ?

Why did everyone decide she is the child of the prophecy ? The prophecy was extremely vague. Why didn't she tell everyone she got a different prophecy about not being that child? It is true.
I just bought the first volume at Barnes and Noble.
The art is pretty but the plot, characters and everything are terrible.
The victim falling head over heels for the abuser is just so sickening
I regret reading this trash manhwa
By the end of this I was just glad it was other. If you don't like the main guy then you won't have a good time. I wish she had ended up with carstein he was just a great guy. Everything gets resolved then the last quarter or so chapters is just waiting for it to end.
Story starting pretty good but story writing got worse trough the chapters ...
There are a ton of really long detailed comments on here so I don't really think I'll have anything to add that hasn't already been discussed. Regardless, here are my thoughts:
Spoiler (mouse over to view)
- I thought this started out very strong and had a good premise. I wish the story kept the wild energy of the first five chapters. Instead, it became very tame after she traveled back in time.
- I loved how they emphasized the father-daughter bond in the beginning. It got kind of sidelined though. I would have preferred it if her father stayed a major character throughout the story.
- I was very entertained by the first 75% of the story, but it went down a rabbit hole at the end with the poison conspiracy. I just don't think the author handled that plotline very well. They threw in random characters that I just didn't care two cents about. Like, whatever. Off with their heads - who cares?
- I did not like the romance in this. She ends up with the worst option (he literally traumatized her - I don't care if there was a time reset - it still happened) and it left a bad taste in my mouth. Why does every female in a story have to become royalty in the end? Is a romance story not worth it if the protagonist doesn't become a princess/queen/empress? Blegh. I was rooting for Carsein.
- I feel like the author tried so hard to push that this girl was "strong" by having her go the knight path. It doesn't mean anything though. She doesn't act like someone who can protect herself and in the end, she quits being a knight. I hated that she quit.
- What is up with the tragedy tag? The only tragedy is how the romance concludes.
- In my opinion, the author had a good thing going at the beginning and it was fairly addicting to read, but this ended up going in the wrong direction.
The negative reviews scared the hell out of me, but it honestly wasn't as bad as everyone makes it out to be. If I could choose among the three, ofc I'd rather she ends up with Carsein since he was just the sweetest. But I'm not really mad at the fact that she chose Ruve either. Yes, Ruve was such an asshole in the first timeline, but he didn't do anything wrong in the second timeline. This was all because Tia decided to change after she went back in time by opening up and welcoming people into her life instead of pushing everyone away just to be the "perfect future empress." With the changes in herself as well as her decisions, the people around her also started to change like a butterfly effect; this includes Ruveliss. Let's be honest here, if we all go back 7-8 years from now and change our experiences, would we still be who we are today? Absolutely not. To be fair, Ruve hated Tia because she was taking away all the attention and love from the people he loves, but it most likely wouldn't have led to the heineous acts that he commited in the first timeline if it wasn't for the fact that.......
Spoiler (mouse over to view)
he was drugged and brainwashed into hating Tia by the people around him. Allendis' father mentioned how he would purposely try to get them to hate each other because he wanted Tia as his daughter-in-law. It didn't really work in the second timeline because Tia stopped putting walls, and Ruve was able to understand her a lot more even if it was just through her interactions with others. As said earlier, Ruve was drugged after his father passed away, and it really altered his mental state to the point where he couldn't really be in control of his emotions anymore. Tia was also given the same drugs, which led her to stab him. Basically, they misunderstood each other, and Tia's personality in th and got used by those who were hungry for power.
Anyways, I enjoyed it quite a lot, but the ending wasn't really satisfying whatsoever. It would have been amazing if we got to see Ruve and Tia growing old together; kinda like a reassurance that Tia didn't end up making the wrong decision, again. And what happened to Carsein and Allendis after Tia became the empress? and JiEun? (gosh I feel so bad for her after knowing what happened). I guess it couldn't have been helped since the author was getting death threats and had to rush the ending just because some people feel entitled to have everything their way.
I don't see how the author was promoting abusive behavior though. You could say that if the story continued on the same timeline, but it wasn't. From the way I see it, the author touches upon how nobody is really born with a predetermined personality, and that we are all shaped through our environment. And our decisions and the way we interact with others affect them just as much as it affects us. It's a nice manhwa and definitely worth the read if you are able to look beyond the surface.
...
Last updated on May 31st, 2021, 8:12pm
When i first read it, it reminded me with chinese WN I read before but as I continue to read I found that this one is just a d*mb cliche Shoujo manga so I just dropped it

... Last updated on May 30th, 2021, 2:44pm
Initially I had decided not to read this story because I kept reading that it exemplifies the protagonist pairing with a trash male lead. Upon reading the story for the Hell of it, I found out just how wrong that is. (I'll try to explain this without giving any actual spoilers. FYI, Castalia_'s comment "Spoilers on Why It's Worth a Shot" and prinzpudding's "Read the spoiler please" give good explanations with spoilers, and information from the novel, which seems to be clearer on some very important things.)
In this story, part of the entire point is that the characters of two timelines are different people (except for the two who remember it and came from it). The protagonist, Aristia's different actions result in those around her developing differently: her father, Allendis, and Ruveliss (especially him). These changes begin very early, the first two being very blatant. As for Ruveliss, he had yet to become the horrible person that is his first timeline self, and his character development takes him in a completely different direction. Also, first timeline Ruveliss is never forgiven by anyone: all the characters who know about him, despise the man, without exception. It's important to remember that second timeline Ruveliss never became him and should not be blamed for the actions of his alternate self: just because he had the potential to become first timeline Ruveliss again, doesn't make him be first timeline Ruveliss in the second or at all culpable for the actions of the first timeline. That would be like saying that if an alternate version of yourself is a serial killer, you are also a serial killer — absurd, right? There were many comments saying that Ruveliss needs to somehow redeem himself… for actions of his alternate self. Yet again, they're not the same people, so that's a very strange conclusion to make.
I've also read some interpretations where Ruveliss only began to pay attention to Aristia because she suddenly wasn't necessarily his, or something along those lines, when in fact it is made explicit that he is simply puzzled by her terrified behaviour, even though she shouldn't have any reason to (as far as he knows) — so Ruveliss begins to pay more attention to her to figure this out and that is what begins his character development. He has already begun to change significantly before the major turning point in his character development.
As Aristia finds out more about both Ruveliss and the situation around her, she realizes that there was a lot that the two didn't know (this is directly noted). Her character development is honestly just as significant as his; if you look at her in the first timeline and compare that with her by the end of the second. Heck, she points it out herself! Another point, chapter 117 explains a significant part of the toxic relationship of Ruveliss and Aristia in the first time line (and pulls attention to the sorts of things that Aristia never noticed in that timeline). It is also significant to note that deliberate manipulation on the part of one character and the use of a poison that makes its victims mentally unhinged are also part of the first timeline and were attempted less successfully in the second (which is how its use in the first was discovered to begin with).
With regard to Aristia's PTSD, Ruveliss eventually becomes so completely and utterly different from the first timeline, that she gradually ceases to consider them to be potentially the same person (she does struggle with it for a while, though). Not only that, some aspects of the PTSD continue to effect her, but instead of people, they are more rooted in actions (seeing a woman nearly miscarry due to the actions of another person, for one). Interestingly enough, this is also part of what determines the male lead: due to her trauma, she completely avoids and distrusts romantic affections where she's concerned and it is only by overcoming it that she is able to no longer think of herself as the "abandoned empress." There are also time skips that are easy to miss if you're not paying much attention, without which, the entire development of the story seems very, very sudden (which really doesn't help).
Another major theme of this work is love, specifically forms of love. It's important to look at how the various characters express their affection of any kind: supportive love, passionate love, gentle love, tough love, obsessive love, love turned to hate, open affection, and so on. All sorts of different forms are shown and their various aspects are weighed, with different forms often being used as foils against each other (e.g. Ruveliss' father versus Aristia's father; Allendis' affection for Aristia versus Carsein's and Ruveliss' for her, etc.).
As for fate, it's brought up, but rather than their ultimate circumstances, are the characters destined to become the people they do or not? Aristia, Ruveliss, and Jieun's very different behaviour, actions, and personalities between the two timelines really beg the question. Aristia, for example, only cared about herself, Ruveliss, and being empress for the majority of first timeline; in the second, she genuinely cares about others and has actual goals of her own. Ruveliss becomes practically unrecognizable by the end, overcoming his complexes and developing genuine emotional bonds with others. (Jieun's changes are way too spoiler-heavy, but anyone who gets to that point should recognize them.) It's the whole nature versus nurture question, and this story is definitely more on the side of nurture. But, gratifyingly, nature is not ignored, just less determinative; nurture determines the direction nature ultimately goes in. So what fate actually determines, let alone whether it sets anything in stone, is never made entirely clear… which I think is supposed to be the point. I'm less certain of this one, although I think that question is intended to be open-ended.
The only other thing I have to mention is that, due to the manhwaga receiving death threats, they were forced to rush the ending and leave out the side stories, which honestly would have improved it and lessened the number of complaints and weird interpretations.
The art is quite good, as is the plot and character development. I feel a little sad for the second male leads, especially one of them, but I still think the story ended as it should have, considering what the author was trying to do and such. In the end, I have a hard time understanding where all the bizarre interpretations come from, considering how direct the author is about basically all of this. Either she needed to be even more direct about the themes and relationship of the two timelines, or humans just tend to be bad with this stuff.

... Last updated on September 15th, 2021, 2:12am