Manga Poll
Manga
is the Japanese equivalent of comics
with a unique style and following. Join the revolution! Read some manga today!
Join #baka-updates @irc.irchighway.net

RSS Feed


Seirei Tsukai no Kenbu (Novel)
Login to add items to your list, keep track of your progress, and rate series!
Description
Only a pure maiden can have a privilege to make contract with a spirit. In Areishia Acadamy, maidens from noble family were gathered there, giving them an elite education to become a spirit contractor. A boy Kamito, by an accident he peeped into a girl, Clair, who was taking a bath, and he even made a contract with spirit that she wanted. Kamio was actually an irregular male spirit contractor, which should not exist.
Type
Novel
Related Series
Associated Names
Blade Dance of Elementalers (Novel)
Seirei Tsukai no Blade Dance (Novel)
Spirit Elementalist's Blade Dance (Novel)
精灵使的剑舞(小说)
精霊使いの剣舞 (小説)

Groups Scanlating
Latest Release(s)
Status
in Country of Origin
20 Volumes + Extra : Elemental Festa (Complete)
Completely Scanlated?
Yes
Anime Start/End Chapter
Starts at Vol 1
Ends at Vol 3
User Reviews
N/A
Forum
User Rating
Average: 8
/ 10.0
(139 votes)
Bayesian Average:
7.7
/ 10.0
Last Updated
June 2nd 2023, 1:30pm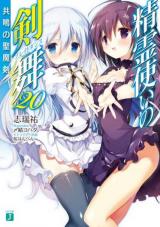 Genre
Categories
Category Recommendations
Recommendations
Author(s)
Artist(s)
Year
2010
Original Publisher
Serialized In (magazine)
N/A
Licensed (in English)
No
English Publisher
N/A
Activity Stats (vs. other series)
Weekly
Pos #
762

(+5)
Monthly
Pos #
1300

(+252)
3 Month
Pos #
2007

(+536)
6 Month
Pos #
2853

(+246)
Year
Pos #
3425

(+61)
List Stats
Note: You must be logged in to update information on this page.



I'll edit as it goes along

The author puts a major cliffhanger at the end of each volume, so this light novel is best read in long sittings at a time. This author knows how to keep you interested, you never wanna put it down.

The romance is paced refreshingly well, and each volume is devoted to a single girl or it treats them all equally.

The action is well made, better than Sword Art Online but not as good as Arifureta. The romance is above average for a harem, since each girl is dealt with properly and their feelings are shown equally, without preferance for a single heroine.

The MC is mature, about the same as the protagonist of Tate no Yuusha and OniiAi, however he isnt as well developed as the protagonists from Mushoku Tensei and Risou no Himo (so hes an 8.5, not a 10)

The author knows how to milk the "hidden past" genre, that said, after a good 12 volumes we finally learn about the MC's past, and it is satisfying.

... Last updated on June 13th, 2015, 8:52pm
The series is quite interesting. The main male is your typical harem mc based on the setting he's involved with but unlike typical harem mc tropes he isn't perversed or have any ulterior thoughts towards other girls. The story is interesting, its hung up around the mc's past that gets developed as the series goes on. Character development does actually happen, but not for every character.
The harem is your typical harem, but things do progress aside from your typical "oh oh are they going to...-gets interrupted-". The characters interacting with another is great, especially as the relationships progress with the main male.
The fights are decently written, as are the scenery and the situations.
However, it does take probably till the end of Vol 1 to get into it or consider it a good series, after that things get more interesting as things pile on which makes it a shame since it's an on-going series.
One last thing. It may say there's a "female" lead, but they all have equal amount of attention and progress with the main male. It's interesting as there's always a volume focus on one of the females (or all) so they all get equal attention (for the most part)

... Last updated on May 13th, 2015, 6:05pm
since the novel borrows elements from other similar novels it is heretic garbage and must be cleansed by holy fire

In all seriousness, this was one of those strange and compelling "page-turners" that kept me entranced for days whilst I read it. Though it does seem to contain elements from other works of a similar nature, this one stuck out to me particularly due to its execution.
The most driving factor was the story-- the novel paces itself quite well and I didn't feel bogged down while reading it. I hardly took breaks while reading it. The action is well-described and not too confusing. The diction is clear and not too laden with jargon (though this could just be skill on the translators' parts). Finally, the sense of mystery and ample foreshadowing leads the reader to try and predict each new development and keeps the pages turning.
More importantly, however, there is the topic of character development.
The main character is a rather strange individual in that the reader knows very little about him from the get-go. Unraveling the mysteries surrounding the main character's past is one of the biggest plot points, and drives the action along quite nicely. He also isn't completely inept, which is good. Finally, his primary mode of character development helps to stress the novel's main theme-- though it's a simple and overused theme, it's well-done nonetheless.
The heroines, on the other hand, vary-- their character development is rarely done cyclically as it is in many works of the harem genre. Take Infinite Stratos-- there was a very obvious break between each allocated "time" between the protagonist and a certain heroine. Here, the group is together so often that that sort of event hardly occurs. Each character has their own motivations and goals, and each has a moment where he or she is weakest-- including the main character himself. This is where the book surprised me most-- unlike in IS, where each member of the harem just seemed to blend into one character who liked the main character, each character here showed a unique aspect of their personalities.
Finally, the world-building was well-done, and although it was not very detailed, it didn't have to be to set the stage for this great work.
As it stands, this is one of my favorite reads and I'd recommend it to anyone who has 3 days to burn.
also naked sword girl and cute darkness spirit 10/10 best read
There is an amazing story in here, a really interesting fantasy story with quite a lot of depth. But this LN seems to take priority in ecchi moments and harem antics rather than continue the story. None of the heroines are particularly likable, they all have serious issues and need to be repeatedly slapped in the face, especially Clair, who is basically the worst tsundere character since Louise from Zero no Tsukaima.

... Last updated on October 1st, 2014, 12:38pm
It had a very good start. Great setting, awesome background(assassin, my personal favourite), great progress. But it turned into one of those typical tv dramas in the last few volumes.
I agree that it doesn't have many original elements, but to say it borrowed everything from IS, ZnT and others?
Those elements the previous commenters mentioned were already ancient when those came out. Except ZnT the other LNs mentioned are only 1 to half year older then this. To say it was ok in those, but it suddenly became wrong...

Other than this:
- Clair is really annoying. The girls don't have any depth to them.
+The male protagonist is cool and Est is super.
Conclusion: Ths series is so-so. It can be an enjoyable read if you don't expect too much.
All the main points were already raised before but I even so...

This is by all objective standards a bad book.

Even if we say that getting inspired from other sources isn't bad, it should be kept in reasonable amounts.

I didn't mind that the setting is that similar to IS...
I could somehow tolerate the characters being 'heavily influenced' by ZnT...

The storytelling is done quite well
The battles aren't as chaotic as they often are in other books
although the "comedy skits" are illogical it still has kind of fluid feeling to it...

so there's no reason not to finish the series but...
I can't say I'll reread it.

even now turning back I have to reread some passages from FMP or ZnT for example (e.g. whole Burning one man force; Saito raiding against the albion army) but looking back on those 5 volumes I of STnBD I already completed... there is none that would make me turn back...

Subjectively it's not that bad book. It has plenty of weak points and lacks in many places, but it can help one to pass time (while waiting for other series to be published or translated).
Almost all element has been lifted from other VN. Infinite Stratos, Zero no Tsukaima, Ichiban Ushiro No Dai Maou, index etc. It's written competently enough though and it doesn't feel like a complete drain on your IQ like Hidan no Aria. The male lead doesn't annoy and it has some decent chemistry between the characters.

Main reason to read this though is for the smexy art and the naked flat chested swordgirl.
I'm into the third volume and I'm stuck thinking about how much I really dislike an overly in-your-face bbs-on-drywall tsundere (al-la Louise in Zero No Tsukaima) and how I really can't relate to the protagonist. It's a personal thing: If I was treated the same way the main protag was, at best I'd walk away and ensure I never came across the main heroine again, and at worst, have my homie sprinkle some talcum powder on my pimp hand as I perform my wind-up, just saying…

I can see someone saying this is similar to IS (setting wise at least), ZnT (heroine and protag relationship), but I don't really see the Campione in it (hmm… maybe the awesomeness of the main char). As you can see, the novel isn't very original, but that doesn't mean it isn't enjoyable; in fact, if it wasn't for the over abundance of rage moments, I would recommend giving it a read.

Bottom line:
-If you liked ZnT you'll like this, but
-If you want to steer away from those rage moments that are bound to be brought on by a Louise troll, you should also avoid this.

/** Update - 11 Volumes In **/
Well, I don't really disagree with my earlier comment, everything stills feels about the same, though I must admit, as the series progressed I've found that I haven't run into as many rage moments as I did at the onset of the series.
I think the story has progressed well, but it has fallen prey to the traps of the harem genre, with a fairly obvious end route (if it wasn't obvious before), additions to the harem with each new volume (I didn't say they were all bad), and the like.
It's an interesting story and fairly enjoyable read...

... Last updated on September 16th, 2013, 8:13pm
Just to add to my buddy Banarok's comment, even though I have different opinions.

My quote was pretty much used as a joke to those who said "Hey, doesn't this give you IS vibes" or "Doesn't the main girl remind you of Louise in ZnT?". YES, they do. But as a matter of fact, I can draw comparisons from here until the roots of a Chinese wuxia novel, and I can do that on most of the new light novels nowadays. But basically, the current type of harem-sub-plot story is about protagonist + 3, 4 girls. These types of novels include High School DxD, Infinite Stratos, Hidan no Aria, Campione, and I can go on and on with this.

tl;dr : Don't mind the possible similarities, it's not new.

Now, for the actual review:

Seirei Tsukai no Blade Dance has possibly one of the greatest protagonist if you compare to the usual type of light novel. The thing is that he's not weak and becomes strong, but rather "was strong" and saw his powers cut off. He is not led by the nose by any of the characters so far, even if those cute girls try to make him theirs. XD

As Banarok previously pointed out in his review, Seirei Tsukai no Blade Dance is easy to read. That is often a great quality when it comes to novels with fighting involved. The author has to make it interesting enough and keep the different terminologies the most simply possible. The sentences are short and simple, and they flow quite well.

The other thing that is fairly intriguing in the plot is what happened in the past. Very early in the story, we can understand the the term "three years ago" is the root of the story. The past of Kamito and what he used to be will be the reason why many of you will continue on reading.

Like many other good stories, the story is light-hearted, comical in the first part. However, there will always be a serious fight happening in the latter part of the novel.

tl;dr : Go read the novel, it's worth it.