App
Manga Poll
Manga
is the Japanese equivalent of comics
with a unique style and following. Join the revolution! Read some manga today!
Join #baka-updates @irc.irchighway.net

RSS Feed


New Poll - Best Shounen (besides One Piece)
Member

2:25 pm, Sep 12 2015
Posts: 55



World Trigger and Toriko didn't make the cut, even if they're so good recently. :3


Member

3:51 pm, Sep 12 2015
Posts: 6



"None of the above" option is missing.


Member
3:52 pm, Sep 12 2015
Posts: 21
All this non-shounen manga in "Best Shounen" poll. Ez Alchemist win.


Lone Wanderer
Member
4:03 pm, Sep 12 2015
Posts: 2097
Ah, yes. The never-ending demographic war. Why is it so difficult for people to understand that, if the Japanese publisher says it's shounen, it's shounen? And since we're talking about
manga
here, western people pretty much have no call saying: "this title would not appeal to a western teenage male, therefore I reject it as a shounen manga." You can make valid arguments like that about your own comics, not about something made for Japanese audiences that you just happen to consume.
Ditto for shoujo, josei and seinen. There are magazines that do atypical manga which appeal to a certain portion of the target age group who don't like the more mainstream series (eg: Zero-Sum being josei and everyone ranting that it ought to be shounen), since not every teenage girl likes school-life romance, not every boy wants to see giant boobs and up-skirt shots, not every adult man likes endless violence, and not all women like marriage-job-child-rearing conflicts as the central plot. Stop condemning things just because they don't fit what you believe to be acceptable tastes for a particular age bracket or sex/gender to have.
Last edited by calstine at 4:16 pm, Sep 12
________________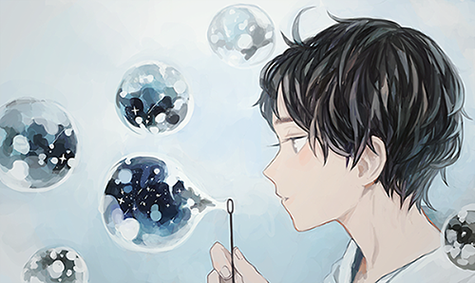 Member
4:48 pm, Sep 12 2015
Posts: 372
I'm very surprised to see Nozaki-kun, Black Butler and Horimiya here, interesting that so many people actually voted for them. Voting for Hiatus x Hiatus, can't remember how often I've read the chimera ant arc when it was still ongoing.

My real favourite would have been Kubera, though you can't really tag it as "Shounen".


Member
5:34 pm, Sep 12 2015
Posts: 50
Err none of the above?


Member
5:36 pm, Sep 12 2015
Posts: 50
On what freaking planet is "Black Butler" shounen? Give me a break.


Local Prig
Member
5:42 pm, Sep 12 2015
Posts: 1899
On the planet that publishes it in a shounen magazine?
________________
Reviews of my Work:
You are kind of boring
- Blackorion
Congratulations! Ur an asshole!
- tokyo_homi
Your awesome!!!
- Cherelle_Ashley
NightSwan also said that she wanted to peg me, once, but I'm not sure whether to take that as a compliment or a threat...
Member
5:49 pm, Sep 12 2015
Posts: 48
For a unique shounen experience try Hikaru no Go!
https://www.mangaupdates.com/series.html?id=1083


Member
6:27 pm, Sep 12 2015
Posts: 143
Voted for Hunter x Hunter. <3
Started it last year and I'm still obsessed.


The
One Piece Theme Park
is form this year alone and if that is a decline then i don´t know what success is as one can only climb so high in one coutry but let´s move on and yes dear
calstine
the demographics war will never end... Even if these never made sense as One Piece´s average readership has been over the age of 18 for years to show an example. HxH is even flopping inside Jump itself but the tankoubon are selling like crazy and the customers of these are certainly not children who were born in the 00s.
The censored new anime even had to be moved to a midnight slot later on as that is when 13 year old boys watch tv the most. Certainly! I also expect our seinen selection to be equally "female friendly" for a lack of a better term but we will see. Go FMA go!
________________
I also read EU/US comics and am a librarian.
Manga-Masters
,
My ANN-Lists + Imdb
Member

7:45 pm, Sep 12 2015
Posts: 76



Yotsubato and GTO didn't make it because the poll is bait, as evidenced by the presence of Black Butler, Horimiya and Pandora Hearts (which I enjoy, but seriously, not even top 100).
If it was a serious poll the exclusion of Dr. Slump/Dragonball, Yu-Gi-Oh, Bastard!!, City Hunter, Prince of Tennis, Rokudenashi Blues, Bleach, Rurouni Kenshin, Ghost Sweeper Mikami, Fist of the North Star, Captain Tsubasa, JoJo's, Kochikame, Death Note, YuYu Hakusho, Ushio to Tora, etcetera, couldn't be ignored...

Or maybe the poll's purported 163 voters are all just pleb kids, with a reading list in the low double digits. Who chose them anyway, did they scour the forums for retarded, 15-year-old fujos, because that's the only group that could have come up with a list like this.

Last edited by philip72 at 7:53 pm, Sep 12


9:12 pm, Sep 12 2015
Posts: 10092
If you're disappointed with the nominations, then too bad. Everyone had 2 weeks to put in their own nominations. It was announced in a news post, and the thread itself was globally pinned on every MU forum the entire time. So stop whining and bitching that everyone else is just wrong

________________
A just ruler amongst tyrants
Member
9:29 pm, Sep 12 2015
Posts: 400
Neither read, nor have any interest in any of these titles, so meh.


Member
1:48 am, Sep 13 2015
Posts: 130
Yeah, I don't really read shounen, so I voted for the only one I read (Naruto) ... does that count? Maybe I shouldn't have voted.