Manga Poll
Manga
is the Japanese equivalent of comics
with a unique style and following. Join the revolution! Read some manga today!
Join #baka-updates @irc.irchighway.net

RSS Feed


Overlord (Novel)
Login to add items to your list, keep track of your progress, and rate series!
Description
For twelve years, the virtual world of Yggdrasil has served as the playground and battlefield for the skeletal lord Momonga and his guild of fellow monsters, Ainz Ooal Gown. But the guild's glory days are over, and the game is shutting down permanently. When Momonga logs in one last time just to be there when the servers go dark, something happens--and suddenly, fantasy is reality. A rogues' gallery of fanatically devoted NPCs is ready to obey his every order, but the world Momonga now inhabits is not the one he remembers. The game may be over, but the epic tale of Ainz Ooal Gown is only be...
More...
Type
Novel
Related Series
Associated Names
Amir (Roman)
Повелитель
オーバーロード
不死者之王
오버로드

Groups Scanlating
Latest Release(s)
Status
in Country of Origin
16 Volumes (Ongoing)
Completely Scanlated?
No
Anime Start/End Chapter
Starts at Vol 1 (S1) \ Vol 4 (S2) \ Vol 7 (S3) \ Vol 10 (S4)
Ends at Vol 3 (S1) \ Vol 6 (S2) \ Vol 9 (S3) \ Vol 14 (S4) (Vol 12,13 skipped)
User Reviews
N/A
Forum
User Rating
Average: 8.8
/ 10.0
(409 votes)
Bayesian Average:
8.64
/ 10.0
Last Updated
December 2nd 2022, 5:10am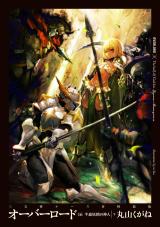 Genre
Categories
Category Recommendations
Recommendations
Author(s)
Artist(s)
Year
2010
Original Publisher
Serialized In (magazine)
N/A
Licensed (in English)
Yes
English Publisher
Activity Stats (vs. other series)
Weekly
Pos #
738

(+44)
Monthly
Pos #
1803

(+109)
3 Month
Pos #
2582

(-156)
6 Month
Pos #
2775

(-124)
Year
Pos #
3321

(+192)
List Stats
On
1817
reading lists
On
484
wish lists
On
54
completed lists
On
45
unfinished lists
On
495
custom lists
Note: You must be logged in to update information on this page.



over 2 years ago
over 6 years ago
over 6 years ago
over 6 years ago
over 7 years ago
Good light novel, but not great. My main complaint is that the author goes off on long tangents to explain things very often. The way its structured makes it super obvious that the author just makes things up as he goes. Any time something happens, the MC does something, or a decision is made by someone, the next two or three paragraphs are spent explaining stuff. This is all information the reader should have already known about, rather than in the heat of the moment. The MC joins a party and they come across goblins and orcs. The goblins already know they are there, and outnumber them. The party somehow has time to discuss the coming fight and what everyone is going to do. So apparently the goblins and orcs just sat around and waited for them to do something. That sounds odd. Next thing, once the fight begins, the author decides to go off on this long explanation about the MC's two greatswords in the heat of the moment. Mind you, the reader is already aware he has these swords, but for some reason, the author waited until the very moment the fight started to say anything else about them.
It wouldn't be so bad if every time the author decides to go on these tangents, it is information that the reader doesn't even benefit from knowing.

... Last updated on March 27th, 2020, 10:48pm
This novel is truly amazing in conveying a villain as a protagonist, no, not a dark hero just like many other novels with dark story but, the protagonist IS really a villain who doing many atrocities and despicable things and get off scot free! I read the original novel in Japanese (the latest are vol 13 by this day) so I don't know if they censored it in the translation. For extreme example, just imagine story of hitler as main protagonist, that's what the writer do in this novel, absurd!
For avoiding of losing a favor from the reader, the writer gives a reason for the lack of feeling and compassion of the protagonist that is because he is an undead. That itself wouldn't be far from truth if it is just an excuse Suzuki Satoru, the protagonist aka Ainz ool gown gives to himself when he kill another human being and not feeling bad at all (many times he said it to himself as an excuse). In fact I wouldn't be surprised if he can do the same when he is still a human, killing women and children in cold blood and doesn't bat an eye at all if it for the benefit of his guild.
At first, most of the enemies are evil people so it doesn't feel bad when they got killed or tortured (biased), typical mafia story ala godfather. But later, the writer reminded the reader that the protagonist isn't just a typical dark hero by introducing and change the point of view to some innocent victims or good characters whom their lives destroyed by Ainz ool gown.
In overlord vol 4,
Spoiler (mouse over to view)
to strengthen his guild, he decided to attack some peaceful tribes of lizardmen and annexed them. Moral lesson (by Ainz himself in vol 12), the strong took everything from the weak. Of course to lessen the guilt for the reader, the writer give some side story such as the lizardmen tribes are in dire need of food so even without Ainz waging a war against them there will be war against each other for food resulting in many casualties. In fact, by annexing them it resolve the food problem and since become the subject of Ainz ool gown the lizardmen are prosper and stronger.
It's a good result overall…but lets compare it to this:
Nazi german regard Slavic people as subhuman (lizardmen) and in the need of a master to rule against them. They attacking Poland and annexing them. Killing millions civilians, women and children, torturing them to death, forcing them to work to death without food. Ainz ool gown didn't do any of this in vol 4 yes, but they actually did it in vol 12 and 13, killing, experimenting, mutilating and torturing civilians, women and children. Now let's take an alternate history, by annexing Poland, it actually making Poland prosper and stronger under german overlord. Still sounds good?
To keep Ainz ool gown as a proper protagonist, the writer cleverly making him appear as some "sub-innocent leader". He didn't directly do the torture and mutilation thought he still the one who give the instruction for it. In fact most of atrocities against innocent victims are deliberate acts of his two subordinates alone, Albedo and Demiurgos (mostly Demiurgos). But here is the best part, when Ainz knew about what demiurgos doing to innocent victims, his reaction are "…nani yattenda…" or "really…what is he doing", one line and the writer leave it like that so the reader can decide whether this is a silence acceptance/agreement by Ainz or he will ask this later. Just imagine that most despicable things Hitler do in WW2 are deliberate acts of his two subordinates Goebels and Himler while he himself is quite innocent from it (laugh).
In overlord vol 7, to make a casus belli
Spoiler (mouse over to view)
they made elaborate plan inviting some explorers to their lair. Of course to lessen guilt for the reader, most of them are selfish and act for money so when they brutally killed it seems like they deserved it (biased). But the writer cleverly slipped some group of good characters in there who need the money to save their friend from debt. They use the body of the good explorer and his girlfriend as medium for breeding monsters.
. Ainz simply think this is a needed sacrifices to strengthen his guild, in fact this lead to a strong empire to become
Spoiler (mouse over to view)
their tributary
due to some funny misunderstanding and coincident at the right time in the right place in vol 9 and vol 10.
Furthermore in Vol 12 and 13 the writer ingeniously created a distorted atmosphere throughout the volumes that made the good one looks like the bad one while the actual bad one portrayed as a good one and treated as a hero and messiah who saved the nation…he is actually the real culprit of the catastrophe itself (Neia is mildly brainwashing the reader by her narratives). This are what make this novel unique and interesting.
...
Last updated on June 13th, 2019, 2:28pm
if there' one thing that pops in this novel series... it would be it' characters. I havent read all the novels as of now, but after reading just 1 vol I was engrossed by the range of different character and their personalities. Every character in this series is interesting and all of them are dynamic. they changes and grows though out the story. A great read if you are into those things.
There is only one word to summarize everything inside my mind about this series: Boring.
REPETITIVE WRITING
that keep telling us every chapter about the guild past glories, 40 names that will never be important to the story except that they create this and that, guild etiquettes, and so on.
A lot of non-important dialogues, wasting time to read them. Scrolled them down fast.
Repetitive themes where the OP chars of Nazarick crushed menial lowlives.

I've read other LNs that are more exciting to read than Overlord.
It seems readers have different opinions of the individual components of the story, but here's mine:
The good:
The characters (Nazarick). Like them or not, the author gets props for deviating from what you usually find in light novels:
Original race and alignment: the cast of Nazarick certainly isn't your usual fare. While the female characters are certainly gorgeous, their true forms are hideous and range from lampreys to blobs to... whatever that interrogator is, same for the male characters and the past Supreme Beings (which are really fun to read about). And if the gorgeous human appearances of the NPCs make you forget their true nature, their vicious behavior will certainly remind you. It feels like a really nice change from your usual human/elf/dwarf/furry fighting-for-the-good fare.
Interactions: the cast does feel pretty flat at the start, but the author actually fleshes the individuals out later on and shows more diverse interactions between them, and it's interesting how fiercely protective they are of their home. Things really get going once you realize that despite their worship of their overlord, they really have their own agenda and are doing things behind his back (often thinking that he knows... when he has no clue. Which is hilarious).
The MC doesn't hog all the OP-ness: He's not the strongest and most certainly not the most cunning. Problem is, his underlings (who are Much more cunning and sometimes stronger than he is) think he is, and will build all sorts of grand reasonings around his goof-ups. Which is hilarious, and also makes the MC more relateable and down-to-earth (for a skeleton, anyway).
Gender parity and not-quite-harem: It's really nice that the author doesn't go down the path of "all the characters are females clinging to the MC", instead there are quite a lot of characters of both genders. And while many female characters are taken with the MC, they're treated primarily as characters rather than love interests. On the one hand, the MC is totally devoid of sexual functions and thinks of his underlings as his children. On the other hand, you have characters like Albedo. Well, you know how in many fantasy series, the MC is a huge pervert who chases in a comedic manner after girls only to get turned down, but is actually badass? That's Albedo, except a cunning, evil and female version.
Writing: The writing of Overlord is really descriptive in a good way. The Tomb of Nazarick really comes across as incredibly grand, and the writing can switch easily between humor and horror.
The bad:
All the other characters. The story often shifts POVs to characters outside of the Nazarick cast, except it's so obvious that it's attempting to build sympathy (again) for some poorly-developed fodder whose sole purpose is to draw out some cheap tears, that it's Really hard to feel anything for them other than annoyance before they're squatted away by our MCs like flies. It may have worked the first time, but once it became a trend, it got really tedious.
The plot. There is no plot. When you've got an OP cast who has literally no opposition in this world, well what sort of tension do you expect to get? The author attempts to remedy that by shifting to the POV of the opposition and having our MCs be the source of tension instead, but nah, it doesn't work at all.
To summarize, basically, Overlord is like the author made a really cool cast with a badass stronghold, then didn't know what to do with them. So you spend half the series reading about Other characters facing up against our cast with the effectiveness of throwing eggs against a wall. Which is just as entertaining as it sounds. What a waste.
...
Last updated on January 27th, 2016, 3:27pm
Overlord can be considered an expansive view into the world where the MC (linchpin) is dropped.
If it is read as an OP characters is transported into a new world where the MC is going to be fighting for an ideal or goal against strong opponents on equal ground, you are certainly going to be disappointed. However if you approach the novel with the idea that the MC is transported into a world where the factor of hidden adversaries and political challenges pose a great risk which can overturn the situation against the cautious approach of the MC, then you are likely to find the novel interesting.

I personally read Overlord as a story about the faction of Nazarick, their interaction with the world, and how the world reacts to this unknown/uncertain factor. This allows me to enjoy the expansive cast of side characters which add life and expectations/foreshadowing to the story, while granting it rules to live by, rather than allowing the author to dump information and characters as he wishes to create/solve an issue momentarily.
It also offers a story in the personal growth of the characters in the story, Sebas being the most notable example of this.

While the MC and the center of the cast of Nazarick are evil, they fall closer to a lawful/neutral evil alignment.
The story does however contain 'needless' violence and torture as other have mentioned previously. This mostly seems to be created from the Supreme Beings' character settings for them, which leads to these serious and humourless cruelties and abnormal personalities.

In the end I am reminded of 'the raven' By Edgar Allan Poe. While the raven is not the main character, but rather a symbol of evil, yet still named after it. Could Overlord be the same? A story about an evil Overlords rise (and fall) to (from) power in another world, or simply a story of a transported OP MC grasping for straws in a sense of loneliness while adjusting to the world?
Started of fun and interesting, something about OP MCs that just pwns his enemies without care is rather satisfying after all the weak "heroes" of so many other manga/Jap LNs. Problem now for me as of volume 5 is this boring side story focusing on background characters. I don't give a damn about some shounen-ish boy knight and his Golden Princess. I don't care about the douche nobles and their politics. I just want to see Ainz kick more ass as easily as sipping tea while instilling the fear of Hell itself on the pitiful masses. Probably going to put this series on hold until this current story arc is over.
Nice idea and good start but becomes boring later on. I totally dislike those boring side stories about characters that will be overwhelmed later by MC. I have started reading Overlord so I want to see more Overlord and less side stories.

Also there is almost no humour in story and I cannot digest so overpowered characters without humour. What we are reading is like mastrubation fantasies with no problems and falling foes.

... Last updated on July 21st, 2015, 12:06am
Shalltear and Albedo = 2 this is NO WHERE at harem level such as Ichika and his harem of 5+ girls or high school DxD with groping 5+ women or all these new reincarnation novels with at least 4+ love interests. Also harems are there so each member/heroine/girl involved will constitute a single character archtype which in turn make them one dimensional and the story bad. 2 heroines taking up maybe 2% of the word count with their advances does not justify the series to be tagged as harem and MC sees them more as he + friends' creations in a almost fatherly view while Shalltear romantically seem to be just there so Albedo can have love drama and I am pretty sure if MC and Shalltear are not both high tier undead (true vampire and archlord lich) Shalltear would not be involved in this triangle at all due to the fact that she seem to have A LOOOOOT of female sex toys with the vampire brides and captured adventurers in the webnovels one can call her 100% a goth loli dominatrix lesbian. Albedo's almost Yandere AI settings seem to also be building up into a plot point as the story develops and may explode in the most entertaining and unexpected ways with her actions in the background and is NOT for fanservice like typical harem settings are for. People need to at least READ the contents before taking a glance at the tags and then declaring their pointless opinions.

FYI the MC is NOT and never declared to be EVULS or EVIL or FOR THE EVIL. The novel states at least once a volume that he is an average businessman before he was trapped in this new strange world as his player character and he has a clear goal, reunite or find his friends that may or may not also came to this world that his now sentient NPC minions misunderstood. All his EVULZ actions are large ham because he is ACTING DRAMATICALLY as he stated himself to be what is expected from him by other people or his minions. Momon is all for show, the mid level undead he summoned during the graveyard crisis are so other people would not interfere with his heroics for show, him using creation magic to shock and awe the lizardmen are for show, him beating "spoiler" who went rogue and letting his minions watch using tactics and baiting was all for show (guy has world tier items that can affect the world).

MC is not evil, never declared himself to be evil, but is realistically believable and is willing to listen to reason, acts overly logically, and has his own self interest and that of his subjects first before those of others. He is probably the strongest person in the current world by far and commands the strongest faction by far but he is in fear of possible hidden max level players, his NPC rebelling now they are real and other forces growing stronger over time so his actions are cautious and he make many plans just in case.
This has become tiresome. I don't have much fun reading it. From time to time I check the volumes when completed but my hype is at its lowest point.
I started Overlord with the mindset: "Oh, great! MC is overpowered skeleton. It will be fun to read and there will be a couple WTF moments."
But no. It become pretty depressing. The main cast after the first introduction is actually boring. The interactions between them are tame and maybe the only remotely interesting character is Sebastian. After all he is the only one shown to think a little out of the box. The rest are just overpowered killing machines. The MC on the other hand is... just retarded! What evil? He is timid and self-conscious. He goes on a killing spree for some random self justified reason and on top takes himself too seriously.
I find the side characters fun but they tend to be killed from the MC and party. So much wasted potential. Thanks goodness Enfrea survived or I would have dropped this on the spot.

As for the harem. He is damn skeleton! Why is there a need for harem?! Yea, I get it why Albedo and the necro girl like him but he is skeleton -> he has no thingy -> no future in relationship -> so no one should care and the whole thing should be excepted as a gag.