Manga Poll
Manga
is the Japanese equivalent of comics
with a unique style and following. Join the revolution! Read some manga today!
Join #baka-updates @irc.irchighway.net

RSS Feed


Mushoku Tensei - Isekai Ittara Honki Dasu (Novel)
Login to add items to your list, keep track of your progress, and rate series!
Description
From Seven Seas:
Kicked out by his family and wandering the streets, an unemployed 34-year-old shut-in thinks he's hit rock-bottom—just as he's hit and killed by a speeding truck! Awakening to find himself reborn as an infant in a world of swords and sorcery, but with the memories of his first life intact, Rudeus Greyrat is determined not to repeat his past mistakes. He's going to make the most of this reincarnation as he sets off on the adventure of a second lifetime.
Type
Novel
Related Series
Associated Names
Jobless Reincarnation - I Will Go All Out When I'm
Jobless Reincarnation - It Will be All Out if I Go to Another World (Novel)
Jobless Reincarnation ~ It will be All Out if I Go to Another World ~ (Novel)
Mushoku Tensei: Jobless Reincarnation (Novel)
Transported to Another World (Novel)
موشكو تينسي (رواية)
เกิดชาตินี้พี่ต้องเทพ (ฉบับนิยาย) (Dexpress)
无职转生 (小说)
無職転生 (小説)
無職転生 - 異世界行ったら本気だす - (小説)

Groups Scanlating
Latest Release(s)
Status
in Country of Origin
26 LN Volumes (Complete)
24 Web Volumes (Complete)
Completely Scanlated?
No
Anime Start/End Chapter
Starts at Vol 1 (S1P1) / Vol 7 (S2P1)
Ends at Vol 6 (S1P2) / Vol 9 (S2P1)
User Reviews
N/A
Forum
User Rating
Average: 8.7
/ 10.0
(894 votes)
Bayesian Average:
8.62
/ 10.0
Last Updated
November 3rd 2023, 2:49am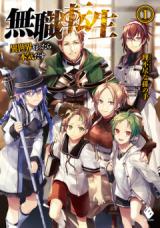 Genre
Categories
Category Recommendations
Recommendations
Author(s)
Artist(s)
Year
2012
Original Publisher
Serialized In (magazine)
N/A
Licensed (in English)
Yes
English Publisher
Airship
(24 Volumes - Ongoing; Early digital)
Activity Stats (vs. other series)
Weekly
Pos #
579

(+25)
Monthly
Pos #
871

(+320)
3 Month
Pos #
1301

(-106)
6 Month
Pos #
1305

(-111)
Year
Pos #
1538

(+249)
List Stats
On
2232
reading lists
On
852
wish lists
On
778
completed lists
On
90
unfinished lists
On
642
custom lists
Note: You must be logged in to update information on this page.



over 2 years ago
over 5 years ago
over 8 years ago
over 9 years ago
over 9 years ago
A realistic portrayal of what a WEEB actually is isn't really a power fantasy since the MC needs to read and train, all his goals are active goals, actions by the MC have consequences, the portrayal of an isekai-world where it isn't just a pure power fantasy but it's a horrible world that is controlled by numerous people that he couldn't face alone.

Great start, but it falls off at the later volumes as it focuses less on the world, on more on the fights, in general, the generic fights are the weak part of this novel, I love the fights when it is used to represent his ego or something negative about the MC, or if the fight is used to portray something. Instead, most of the later fights are just normal fighting that needs to be done for conflicting reasons between both sides.

While this makes a lot of sense, I feel like it undermines the great opening this novel had. While the later parts aren't bad, I wouldn't say they are unique and exceptional like the earlier volumes.
An average rating of 8.7! You people are kidding me!?!
My own score for this series is 5.5. The best I can rate it's 6 if I am forgiving.
Mushoku Tensei has far too many problems that I even don't know where to begin with.
The story goes fairly ok until volume 15, than Rifujin na Magonote starts to screw up so much, and infuriates me to the point that I wanted to rewrite entire volumes by myself.
Spoilers ahead, obviously.
Spoiler (mouse over to view)
LN #16: Luke is scum, he only have his looks for his favor, what he uses to fool around with as many girls as he pleases. He never seems to have a head on his shoulders, only between his legs. He screws up the library search, and as an apostle, threatens Ariel's life. Totally unforgivable! But Ariel and Sylphy both forgives him, he is an old friend after all. Later he makes a move on Eris. Rudeus should have crushed him right there but instead not only he carries Luke into his house and even makes Eris to say she is sorry since she had punched Luke!

LN#19: I would rewrite this volume entirely. Pax was scum and never redeems himself. Even worse: he kills his father and brothers and becomes an usurper of the throne. When Zanoba decides to went back to his country, what he would expect from Pax was to be used by him to repel the invasion, and after that, Pax would plot his death or, at least, his imprisonment, since Zanoba has precedence to the throne, as the third prince. By his time, Zanoba should help to defeat the invaders and then went back to the capital to punish the usurper and claim the throne. Instead Zanoba forgives Pax on the premises that his little brother was never understood by nobody. WTF! Mushoku Tensei is a medieval like isekai, however Rifujin na Magonote seems to understand nothing about European and even Japanese culture. A parricide and usurper like Pax would never been forgiven anywhere!

Still in vol. 19, when Rudeus, Roxy and Zanoba fight Death God, Randolph, Rudeus acts completely out of character. So far every time Roxy is offended or hurt, Rudeus gets mad. Randolph gives Roxy a certain death sword cut. She didn't die because of a magic ring that she was carrying, a ring that gives her an extra life. Even so, Roxy was hurt, Randolph had shed her blood. What I expected from Rudeus was he getting so mad that he would blow up half of that tower by releasing all of his power to kill Randolph. Even if the Death God could escape, Rudeus would have saved his face. Yet, no, Rudeus was overwhelmed by his own cowardice. So Randolph seems unbeatable, but then he suddenly sheathes his sword, and gives up the fight because he was just preventing them to enter the real chambers while Pax was fu*ng his queen… What the hell! After that Pax takes his own life and Zanoba, Rudeus and even Roxy deeply regret Pax's death. Man, if I were Magonote's editor, I wold ask him what the cr*p was all of that and tell him to rewrite everything!

LN#21: Another WTF moment: Rudeus' grandmother, Claire, thinks, after extensive research, that what will heals Zenith's catatonic state is having her raped by a bunch of men day and night long!! At first she only tells Rudeus that she wants Zenith to marry again, despite her condition. Rudeus becomes furious, obviously, and leaves her state making a ruckus while scattering the guards. Later, at Claire judgment, Zenith forgives Claire and slaps Rudeus! Perhaps 10 years of imprisonment would be too much of a sentence, since the intention of committing a crime isn't a crime by itself. However, as the bare minimum, Claire should be stripped of her condition as noble, her family name, and be banished.

Mushoku Tensei: Redundancy. Aisha and Ars; The problem here isn't the incest (aunt and nephew) or the age gap, the actual problem is that Aisha is an adult and Ars is a 10 yo child. Ars is below the minimal consensual age (13 in Japan), and Aisha herself declares that Ars would do whatever she says. Ars is not able to make his own choices, thus what Aisha did to Ars was rape, nothing less, nothing more. This "shota" side story was bad taste.

Paul's death was just to make Rudeus the head of the family, a poor plot device. Unlike Norn, Aisha refuses to go to the Magic Academy albeit "being a genius". Another poor plot device just to perpetuate Aisha's condition as a maid.

Very often, Rudeus' internal monologue is too long, boring, and meaningless. Many times I just skipped it.

And what's all the fuss about the Man-God? He doesn't seem capable of doing that much damage besides bothering people in their dreams. The maximum he could muster was sending off a sick mouse after Roxy. A really bad move since it made Rudeus an allied of Orsted. After that, when the Divine Beast and Orsted himself start protecting Rudeus' family, the Man-God becomes much less threatening than a cockroach. C'mon, the guy seems to be unable to leave his pocket dimension, white room or whatever. He's all alone for the eternity. Right, at least he has TV, what means in his case is that he can watch the lives of each and every people on that planet. All the porn one could ever want! The Man-God is nothing more than a NEET. For some time I thought that he could be Rudeus from the future.

And Laplace? — Not Pierre-Simon Laplace, famous French mathematician — That guy will reincarnate as a defenseless baby 80 fu**ing years in the future! He's not a problem for Rudeus to worry that much about, not even for his children, only his grandchildren will meet Laplace and the guy will be a baby then! Orsted, among many other things, is a criminal that kills babies. Laplace is Orsted's problem, since for him 80 years pass in a blink of an eye!

Those two doesn't convince as fearsome foes, despite Magonote's constant effort.

About the life expectancy of that world's people. True, that they are medieval like people. They don't know the benefits of proper disposal of human waste nor piped clean water (Medieval ages were filthy and stinky, not the clean and smell less picturesque times depicted by fiction. You definitely wouldn't like to live back then). But they had the wonders of healing magic in that world, magic that could bring one of the verge of death even. You can argue that not everybody there had access to a healing magic doctor, but Rudeus was a magic himself and dirty rich to the top, so his life expectancy, and Eris', would be at least above 100 years. Humanity's life expectancy improved a lot in the last 200 years due to proper disposal of waste, clean water and medicine advancements. Rudeus and Eris' average (for today standards) life expectancy was just to make Lara's departure more sentimental? Rudeus, with the help of his magic, could have tried cloning himself, or tried to find a way to transfer his mind to one of his automatons or whatever. At least I would do it, I'd be more worried about stretching my life expectancy than defeating enemies that aren't even born — and Eris' life too. She is too hot a tsundere to let her just die of old age.

Speaking of Eris, she could at least raise herself to Sword Emperor. Did she lost her greed after marring to Rudeus?

Rudeus' armors are made of some stone material akin to ceramics, I suppose. C'mon, doesn't he remembers about steel and other alloys? Even if ceramics are used in the production of tanks' armor, it is sandwiched with metals and other stuff. Even Tallhand was able to produce a better material using Rudeus' rocks.

Killing and slavery. Rudeus had a strong hesitation to kill people —intelligent humanoid life forms, better saying — to the point of being stubborn and annoying. All of his wives had killed long before him, even Sylphy, and none of them exhibited any regrets regarding the matter. We could say that Rudeus had the strong moral standards of a modern day Japanese ('cause up till the end of WWII, killing and genocide was kind of a sport to them), however he had no problems when dealing with slavery. It was a common practice in that world, so it couldn't be helped. Of course, he himself wasn't a slave trader, but he had no moral problems when accompanying Zanonoba to the slave market in order to buy Julie. Later he buys Linia to free her. As a prior good citizen of Earth (that actually he wasn't), he should fight slavery whenever he finds it. In many stances, killing is sanctioned in our world; in war mainly, when fighting against crime sometimes, in self defense and so on, however slavery —albeit it still exists in the underworld— isn't accepted by any civilized country member of the UN.

It is said that Rudeus has quite strong sexual desire, however if it wasn't for his three wives, he would be such a faithful husband that he would made Cliff proud of him. Rudeus could, or better, should have bedded Ariel, Elinalise, Linia, Pursena, Aisha and Nanahoshi too! No forgiveness! Magonote goes the usual harem manga/anime route; it rains but the soil didn't get wet (An approximate translation of the Brazilian expression — "Chove mas não molha."). Such tiresome BS.

Ariel wishes to recruit strong and influential people to support her when she goes back to Asura and tries to seize the throne. Since she doesn't have much money on her, her main resource would be sex. Ariel is a horny b*ch, so that's ok for her, however Luke would be happy to do the job when the target was a woman. Ariel could even force Sylphy in some occasions. Speaking of her, Ariel could have taken Sylphy first time, even having a threesome with Luke. After that, to cope Rudeus to her side, she could bed Rudeus and let him have Sylphy. Rudeus wouldn't refuse Sylphy just because she wasn't a virgin anymore, after all he himself wasn't virgin too. You'll say that Rudeus had erectile dysfunction back then, however what heals him was more the aphrodisiac than Sylphy's body. Ariel could do the deed much better due her being more beautiful, and experienced. An addendum here; Rifujin na Magonote doesn't know the fact that alcohol makes more difficult for people to get aroused. Poor virgin writing about what ignores, at least he could have researched.

To not say that I have nothing but critics, let me say something about Tallhand. For most of the story, I thought that he was there only because there had to be a dwarf in those kind of isekai stories, much like elves. So Tallhand was there only to complete the picture. That was until Rifujin na Magonote decides to tell his past, Tallhand's background story. And it ended being the most human and well conceived of any other character in the novel. Thumbs up here.

I wanted to write about that final battle, but I'm tired of exerting my brain over such weak story, perhaps in the future I'll come back and write an addendum.

...
Last updated on September 27th, 2022, 7:47pm
this is the first manga, anime that i read the LIGHTNOVEL/WEBNOVEL completely, usually i stop in the middle cuz i get bored of repeated action and boring dialogue, but this one is chefs kiss 😀
I gotta disagree with the review below, it's really good and the harem made it perfect. Every girl adds a bit of change to the flawed protagonist that adds up to his character development. The focus of the novel later on is in the FAMILY too, unlike many harem stories, and their family moments were a joy to read. The harem itself felt very organic and exactly how a healthy relationship between people should be, with lots of communication and concessions between them. Without spoiling too much the story would also be completely gutted if it wasn't harem, the author would have to write a completely different novel with different characters.
I usually never read harem novels and so but this NL didn't disappoint me .
The MC Rudeus is quite consistent , he doesn't go from being a neet to an adonis,(the author writes it is a more or less "natural" way).Even though he is famous for being strong and having performed some feats ,his friends consist of people with similar tastes or acquaintances he gradually gets to know better .
The story has a hard magic system and explores the whole world with their different costumes it isn't perfect but it is the most deep and complete exploration of a fantasy world with just one character (you don't need extra explanations for anything that happens). For example "Toaru Majutsu no Index" or the "Ender" books use loads of novels to explain / explore the world and you must read some to get a complete understanding.
Almost all this harems' feelings are created slowly as a combination of being together for a prolonged time ,teacher/student bonds....and a other normal normal and plausible reasons. BUT the after Roxy the relationships get a bit rushed.
It is a bit disappointing how the author tries to convince himself and the readers that the harem was an option, it is just an excuse to take out his internal struggle and change it for some corny scenes (I recommend you skipping them).He isn't going to die for breaking up with his GF .
spoiler about the school arc and why the harem is created:
Spoiler (mouse over to view)
The story got a bit messy when Sylphy got pregnant. Since she stops getting stronger ( with bad consequences in the future) and makes him unable to move forward with some things... After knowing the future he feels guilty , since breaking up is her death flag...
.
I quite liked the ending it isn't your typical MC turns into a god or an ass pull power-up to bend fate with the MC giving a moral lecture the the villain. Like slime or Re:monster....
The prologue reminds me of parasyte
Kiseijuu
last fight
Spoiler (mouse over to view)
after the MC dies, he goes to the plane where the main villain exists and sympathises with him.Then the villain thinks he is mocking him and he (the MC) disappears from existence
...
Last updated on June 12th, 2020, 5:08am
Real rating: 6.6/10
Simply put this can be said to be the story of a perverted, worthless member of society getting reborn into another world and slowly becomes a better person. This doesn't happen immediately after he reincarnates either but he does eventually become less of a piece of trash and more a genuine character.

I think a good thing to mention with this story is that the story is as mature as the main character is in his new life. When the MC is a child its a childlike and barely adult themed besides the MC staying to his old perverted ways(which he never brakes off) he or being bound by his old life still. But by the time the MC is an adult the story and plot are serious and can get dark. Don't expect the story to be big and grand in the first immediate volumes, this is a slow but steady ride throughout the story.

The harem is also done pretty well compared to most harems I have read, and the romances actually go somewhere throughout the story. I will admit sometimes the romances can feel a bit off but compared to other novels to me its a breath of fresh air.

The biggest downsides I can see for this story is that its slow and not action pact immediately, there is remarkable amount of hidden incest (2 cases) that arent mentioned so I thought I would, and I did notice that this story tries to make the world not that safe, but due to the MCs experiences we never end up believing it due to him never running into these dark elements. Another downside is because most people rate this a 9/10, including me, people assume this is something that tailors to their taste as well. Dont assume you will like a story just because a large amount of people do.

And one last comment, the MC isn't more OP than everyone else. He is strong for his age yes and he is OP for a normal person due to reasons stated in the story but most of the entire later part of the story we see the MC face people who could literally kill him in a minute if Rudy didn't prepare for months on end. Just because the MC is strong doesn't remove the tension from any of the fights and his powers barely put him on equal grounds with his opponents
The protagonist is an absolute useless, scheming, perverted trash. The plot seemed rushed af. Half the characters are plain terrible. All in all, there are much better isekais out there, with less ratings than this series.
Condensed
1st Paragraph of the Novel
Spoiler (mouse over to view)
I'm a 34 year old homeless and jobless person.
I wasn't homeless three hours ago; I was a veteran NEET who hadn't left my room for the past year.
However, my parents had passed away without me noticing.
As a NEET, I didn't even attend the family meeting, let alone the funeral.
I was masturbating in my room on the funeral day when my siblings suddenly rushed in, dressed in mourning clothes, and declared that they were severing all relations with me.
I ignored them, and my younger brother took a wooden bat and destroyed the computer I valued more highly than my life.
Half-crazed, I lunged at them, but my older brother has a dan rank in karate, and I was viciously beaten in turn.
I sobbed and begged for forgiveness in an unsightly manner, but I was chased out the door, and didn't even have time to change my clothes.
What did I do wrong?
All I did was masturbate to a mosaic-less loli video (I took of my older brother's daughter in the bath with a digital camera) during my parents' funeral.
The MC is a self-inserted, perverted PoS that defies logic in why he was resurrected. Ignoring that glaring issue (and his obliviousness to why his brother reacted that way), the novel itself reads like a bad fan-fiction with the plot bouncing randomly in one direction and then another. Ironically, I persevered with the expectation of upcoming grandeur because surely all these "masterpiece" reviews weren't a mistake. I dropped it halfway and haven't looked back.
...
Last updated on September 17th, 2018, 4:35pm
At first this novel was great, probably one of the best novels I've read at the time but the MC just ruined this for me.

Just when you think he actually grows as a person and learns something, he regresses and makes the same stupid decisions. I mean, I get it (it's supposed to portray how human he is by all the mistakes his made and how he grows from them) but common author what's up with the inconsistencies in his character. One moment he establishes himself as this reliable character and the next he's back to his old habits.You'll be reading the novel and you're gonna be asking yourself "nobody who's gone through so much can be this stupid right?" well...