Manga Poll
Manga
is the Japanese equivalent of comics
with a unique style and following. Join the revolution! Read some manga today!
Join #baka-updates @irc.irchighway.net

RSS Feed


Cat Street
Login to add items to your list, keep track of your progress, and rate series!
Description
From
Condensation
:
The story centers around Keito Aoyama, a former famous child actor. Due to a childhood incident, she retired from her career early and withdrew from normal society. Now 16, she passes her days in boredom and without purpose. But one day she runs into a stranger who takes her to El Liston--a free school for high school students like herself, who don't have a place where they belong. Though hesitant at first, Keito decides to enter El Liston and subsequently, she begins a new stage in her life. With the help of her only remaining childhood friend, Taiyou, and her new classma...
More...
Type
Manga
Related Series
N/A
Associated Names
Cat Street (French)
Kyatto Sutoriito
Бродячая кошка
キャットストリート
猫街
캣스트릿

Groups Scanlating
Latest Release(s)
Status
in Country of Origin
8 Volumes (Complete)
5 Volumes (Bunko, Complete)
8 Volumes (Digital Color-ban, Complete)
Completely Scanlated?
Yes
Anime Start/End Chapter
N/A
User Reviews
N/A
Forum
User Rating
Average: 8.7
/ 10.0
(2277 votes)
Bayesian Average:
8.67
/ 10.0
Last Updated
April 7th 2022, 12:54pm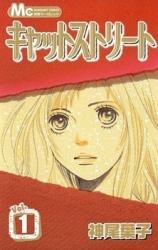 Genre
Categories
Category Recommendations
Recommendations
Author(s)
Artist(s)
Year
2005
Original Publisher
Serialized In (magazine)
Licensed (in English)
No
English Publisher
N/A
Activity Stats (vs. other series)
Weekly
Pos #
689

(-11)
Monthly
Pos #
1037

(+472)
3 Month
Pos #
2295

(+526)
6 Month
Pos #
2781

(+919)
Year
Pos #
3803

(-804)
List Stats
On
1234
reading lists
On
1482
wish lists
On
5190
completed lists
On
94
unfinished lists
On
655
custom lists
Note: You must be logged in to update information on this page.



over 10 years ago
over 14 years ago
over 14 years ago
This is one of those shoujos that I read when I was younger and have periodically revisted. I really like it each time and I think it's worth a shot. Strangely, it's a series that resonates with me, even though I had a very conventional upbringing. Everyone is likeable, even when they are being dummies. It's shoujo cliches done right and for me, that's everything I look for in a series.

Plus it's a story that knows when to end (35 chapters) rather than drag out like other series.

2022 reread: Still good. I am wondering what age this will get old at or if nostalgia will always win, lol. I will add that I enjoy finding something new on each re-read to think about -- I think the author was very thoughtful about the themes in this one.

... Last updated on May 1st, 2022, 11:39pm
This is probably one of my all-time favorite mangas, but even I will admit that it has its problems. Though the character development is actually pretty solid, unlike what a few users claimed below, there is quite a bit of drama towards the end that made the later half of the manga feel rushed and unnecessary. However, I hesitate to even call it "super dramatic" as it is just a few or so turns that felt ultimately a bit unnatural to the entire concept of the manga.

Nevertheless, it is still a really beautiful manga that has an amazing lesson to teach. It essentially follows a girl who is trying to get back on her feet after the loss of her identity from a failure. This will probably touch base with all of its readers, but most especially, it's for a lot of cases of what I like to call "Asian burnout", where many pressured students that have been pushed and forced to work a single aspect of their life end up burning themselves out after a single failure or loss.

For some complaints about Keito being annoying or immature or static, I actually personally found her refreshing and much more realistic than typical shoujo heroines. She was a bit naive at times, but I can promise that her character development is fairly satisfying and slow. I didn't really like some of the other characters' personalities, including her friend Rei, but Kouichi (who is cool, calm, and composed) and Momoji (who reminds me a bit of Miwako from Paradise Kiss and Black Finger from Spirit Fingers, but I suppose it's the goth aesthetic and the coming-of-age plot that they all share) were really great with bringing out Keito in her truest form. And the side characters were very useful for Keito's development and very well explored with their own side character development, which was cool.

TL;DR: Ultimately, I would very strongly suggest reading it despite its several problems with melodrama, plot holes, and annoying character flaws. It had lovely, clear art, nice dialogue, realistic characters, and a beautiful message. Therefore, 8/10.

... Last updated on March 24th, 2019, 12:59am
cat street is a classic example of when a manga starts out great then goes downhill. I really hate th too many dramatical unneeded obstacles in between lovers and then they get together and it ends. I usually don't like

spoiler
(when the female lead goes with a guy then dumps him but it would have been good with the flow that showed the flaws of Rei where shown and her confusion but just got worse)

I am really mad about the time I spent on cat street I could have done something better. You know when you want to eat something different to wash the bad taste away? The only merit was that the male lover got more handsome at the end
The entire manga glorifies it. The characters never grow up and act like children throughout. Nobody lives a realistic life and they magically get everything they ever wanted (using the power of the deus ex machina known as tech company money). Even after leaving school they all become intimately connected to the school and have occupations related to it.

It's basically the same as when you have a 20 volume long shoujo manga and the last 5 volumes are about the characters deciding their future careers, which inevitably, the heroine will end up as a teacher. Now imagine that x4.

Like if you got free college tuition + room and board and you decide to stay a grad student for the rest of your life. That's what this manga is about.
Let me pour my soul out, because this manga deserves a positive, well-written review that many of the recent ones have not been. This manga was, still is, and always will be my life saviour. I've read this manga about, what five times? Maybe even more. It is one that I hold very dear to me due to the sheer amount of heart and encouragement embedded into its writing.

About 4 years ago, I was in a very, very bad place in my life, where I was severely depressed and, very similar to Keito in the sense that I was not attending school properly. I had so many absences from refusing to attend school that I was almost held back a grade... Yes, it was that serious. My relationship with my parents was also at an all time low, and every night I would cry myself to sleep because of a fight with my parents or simply just being depressed and anxious about my life. Thoughts similar to suicide such as "I wish I could fall asleep and never open my eyes again," were so constant that I would spend my free time sleeping because I felt that dreams were more beautiful than reality. That's how bad my depression was.

So, one day after one of the worst fights I've ever had with my parents, I remember laying on my side in my bed with tears streaming down my face and into my pillow, trying to find something to take my mind off the anger and sadness from the fight that just occurred. At that time I began reading a lot to take my mind off of reality and escape. "Cat Street" happened to be a manga saved on my tablet at the time, so in desperation I opened it and began reading it. Immediately, Keito's story, her emotions, her life were so similar to mine at that time I instantly connected with her on an extremely deep level. Her journey, was my journey and the many words and realizations Keito has during her healing and re-entrance into life became words that I latched onto for dear life. Small quotes like "Please capture your own happiness" moved me, a young, impressionable, sad girl, so incredibly much. By the end of the manga, I felt like I was reborn and I needed to begin taking steps to begin healing myself instead of wallowing in my own sadness like I did before. Reading that manga became a turning point in my life, and since then I have not once thought that I should ever stop improving my life and myself. And whenever I feel down, and at a point in my life where I felt so battered by the world I would sit down and reread this manga and come out feeling refreshed and motivated.

Now to touch upon the more technical points of the manga, and ignore my sob story for a bit, I still think this manga was still impeccably written and planned out perfectly. Every time I reread this story I have never felt once that the pacing was wrong. Admittedly I wished the story wasn't so short, but it needn't be any longer than it is now. And people who complained the pacing of the story increased near the end; it increased because Keito was already walking down the right path. And once you realize you've walked down the right path in life, that walk becomes a sprint and life becomes much brighter than you will ever imagine. Or at least that was what the mangaka intended. And for those who didn't like that the romance was very downplayed, it was done that way so it wouldn't steal the spotlight from Keito's story. The story wasn't one of Keito's romance, but rather it was a story of Keito's healing and her journey from an overgrown grade schooler, to a successful, beautiful and shining woman. The story is rather unrealistic because opportunity does not present itself that conveniently in the real world, but the message is still there. To work hard and strive towards your goal no matter how many times you've been knocked down. And I believe the mangaka did a beautiful job at expressing that. All the characters were loveable, if not relatable, and all the challenges Keito faced were ones that helped her grow, no matter how small that growth was. Its every page teaches individuality, kindness, forgiveness, and most of all: perseverance. It is written beautifully, and I find it appalling that others do not see the worth of this manga past many of its technical flaws (such as many of the unrealistic events that happen).

To end this incredibly long review, this is a manga that should be read by lost souls, and people who desperately need a pick-me-up in their life. It is a manga that saved me from myself, and I believe that it can save others as well. Call me immature, gullible or any other name, however I believe that work simply is a masterpiece and one that can be enjoyed by anyone who has experienced the pain of feeling inadequate and useless. Because if a girl who couldn't even read her own first language could find success and happiness on her own, Kamio Youko wants you to know you can too. Never give up, and always keep being your best self!

(Thanks to anyone who actually read through this entire review. Congratulations!)
Cat Street started out really good. The story appealed to me a lot, since I really related to Keito and her friends, feeling like "stray cats". I liked the idea of a free school, and the characters were unique and realistic.
Unfortunately, somewhere around chapter 15, when Keito starts dating
Spoiler (mouse over to view)
Rei
, is where is started going downhill.. The pacing suddenly becomes REALLY fast. The plotlines and romance are extremely rushed, and the mangaka even throws in time skips all within like 15 chapters.Its like the mangaka suddenly found out that she had to condense her story into 35 chapters when really, it could have been at least 50 chapters.
The rushing of the plot/romance, along with the abrupt change of pacing weakened the overall quality and strength of the manga.. In fact, it even hindered the character development that started so strong in the beginning. I like Kouichi, but I think that he was the most underdeveloped out of the four main characters. This was a real let down, because I really liked him
Also, the plot lines started to get unrealistic and far stretched, venturing into the cliche shoujo zone. The whole thing with Natsumi was totally unnecessary,stupid and unrealistic. I'd have preferred the author spend those chapters developing Keito and Koiuchi's relationship or developing Koichi's character more. Its really too bad, because I liked Cat Street a lot. However, before chapter 15ish~, I give it a 9/10.
...
Last updated on December 13th, 2015, 9:53pm
I wouldn't say it is the very best manga ever, but somehow, everything in it is perfect as is. I really enjoyed the characters and story way more than I thought I would. Like everyone else has said, there is more to it than the summary lets on. The characters will drawl you in. I highly recommend it to anyone looking for a good read. P.S. Thank you author for being one of the few who an write about programming without sounding ridiculous. =D I know a little bit of programming, and reading about it or seeing it in books and movies is always hard, because you can tell the writers had no idea what actually goes on in programming. I mean, not to say this was perfect, but it was definitely not off-putting. =) Again, if you have the time, this is definitely worth reading. Very motivational.
The manga was amazing (though the art not so much) in the way it inspired. How everyone started aiming for their dreams in the end, and got what they desired.

The main problems were the timeskips, though. The timing kept skipping from a few weeks to years in a matter of a chapter (or under). It's extremely confusing-I don't even know how old Keiko is, seriously. Some characters weren't given enough screen time, especially when it was nearing the end-Momiji, for example.

But this was a really sweet manga in the end. I enjoyed reading it.
I've always came across this manga in the past and always skipped it. It never really interested me, however after reading a few reviews for it, I gave it a go. Man do I want to kick myself!! This manga was perfect. The characters kept me reading as they all shared different personalities and not one person was placed in the manga who had no importance. Everyone was absolutely relevant and the plot went smoothly. Yes there were some hiccups like Keito's first relationship that I found completely stupid and her nonsensical and annoying sister. But over all, it was a page turner, it kept me reading even though it was 4am in the morning. The characters were wonderful, art was beautiful, the plot was a breath of fresh air and the climax was outstanding!! Bravo

... Last updated on October 15th, 2014, 9:09pm
I did not originally think this manga would be worthy of a review...but, now that i've finished the whole thing, I can say with confidence that this manga is sweet, relatable, and definitely amazing.
As I read the story, I found many parallels between the past Keito and me--both have suffered and fallen from a mistake, and have been unable to get back up to their feet. For me, it's not as dramatic, and doesn't involve having no friends; but, my situation definitely made me enjoy this manga more. To me, this manga and its characters are inspiring, and I think I will read it again some day just so I can fully absorb the messages hidden within.
Meanwhile, here's a review:

ART:
This manga has cute and pretty art that is not over the top. The characters don't look like fashion models, but you can see an attractiveness within each.
CHARACTERS
:
I love how each of them had a dream they wished to pursue, and how romance didn't really get in the way of things. The four main characters were pretty well developed, and I love them to death. But, unfortunately, the other characters who didn't show up as much weren't as developed. And I see a lot of potential.
However, the book did a good job of keeping tabs on what's happening to all the characters--we see something about them every now and then so we know the author hadn't forgotten about them.
Other Aspects
Yeah. This story.... while it's not perfect, it exceeded my expectations so much that I will give it full score!...ok maybe not.
(I was expecting something along the lines of ... hmm... Charisma Doll or something?) Oh, I also wish there was more "acting" in the story. The girl is an actress, but we only see a couple of her roles.
CONCLUSION
Judging by other reviews, I think my personal experience made me relate to the character on a deeper level, which made me understand her pains and be more happy about the slightly cliche parts (it gave me hope of a similar future)---which were admittedly, somewhat unoriginal
But whatever. If you are feeling down, this manga might just give you hope again. Have fun!
...
Last updated on June 29th, 2014, 1:57am