Manga Poll
Manga
is the Japanese equivalent of comics
with a unique style and following. Join the revolution! Read some manga today!
Join #baka-updates @irc.irchighway.net

RSS Feed


Mx0
Login to add items to your list, keep track of your progress, and rate series!
Description
During a flashback, an interviewer inquires Kuzumi Taiga, a prospective student for Seinagi Private High School, on what he would do if he could use magic, during his entrance interview. He replies, "take over the world", with an outburst of laughter, from an attractive girl, following his answer.
After the entrance exam, the school rejects his application; although he recalls almost nothing after this event, he does recall the girl, and believes the cause of his school of choice rejecting his application involves her.
Wandering around outside of the school the next day, Kuzumi tries to enter...
More...
Type
Manga
Related Series
Associated Names
Em x Zero
Emu x Zero
M-0 (Emu x Zero)
Mahou X Zero
Mx Zero
MxO
MxZero
M×0
エム×ゼロ
魔法零蛋
魔爱

Groups Scanlating
Latest Release(s)
Status
in Country of Origin
10 Volumes (Complete)
Completely Scanlated?
Yes
Anime Start/End Chapter
N/A
User Reviews
Forum
User Rating
Average: 8.4
/ 10.0
(2586 votes)
Bayesian Average:
8.38
/ 10.0
Last Updated
January 19th 2023, 8:53am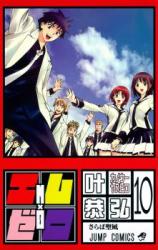 Genre
Categories
Category Recommendations
Recommendations
Author(s)
Artist(s)
Year
2006
Original Publisher
Serialized In (magazine)
Licensed (in English)
No
English Publisher
N/A
Activity Stats (vs. other series)
Weekly
Pos #
641

(+8)
Monthly
Pos #
1338

(+180)
3 Month
Pos #
2201

(+291)
6 Month
Pos #
2581

(+447)
Year
Pos #
2906

(-773)
List Stats
On
2143
reading lists
On
1156
wish lists
On
6396
completed lists
On
194
unfinished lists
On
426
custom lists
Note: You must be logged in to update information on this page.



over 11 years ago
over 14 years ago
over 14 years ago
over 14 years ago
over 15 years ago
We all WISH there was just more.. It ended so abruptly.. Too bad the author was forced to drop it :'(

It's such a bitter-sweet feeling looking back on this series.
Slightly above average, but just that. Don't get me wrong, I enjoyed reading this and it's worth the time. The following text will make it sound as if I hate this manga, but there are good parts too, I just wanted to mention things I dislike since so many people just mention the positive ones. So... Read some other reviews if you want positive stuff about this manga, I'm not going to mention the things I liked and this is going to be long and might be somewhat redundant at times.

Crappy ending though. I also don't find his constant "fake strength" to be appealing, I mean... He gets beaten up left and right and wins by mainly using luck in combination with his good battle senses. I got sick of the whole "hide your powers" and the opposite version "hide the fact that you don't have the powers you should have" premise a long time ago. He's not completely stupid but he's extremely immature and hotheaded, but I didn't expect anything more from a shounen manga. It still bothers me that his sister can whoop his ass ridiculously easily and that he only got his good battle senses after being beaten up by his sister for training or whatever. I mean, that was the biggest redeeming trait of this guy, his unusual and ridiculous battle senses/power when excluding magic, yet he gets his ass kicked without being able to fight back at all, against a girl without magic and a severely underdeveloped body at that... And that's when she's only using half her strength according to later chapters. Come on, what is she? A freaking xianxia martial artist or something? Does she cultivate the dao? Because her power is impossible for a human, and she's a midget with a severely underdeveloped body at that, her strength should barely be above a child. At least give us a reason for her ridiculous power. But nah, she just exists as a comedic relief character that is unreasonable and abuses the mc, a template one at that. Damn I hate her in this manga. If it was another manga/anime/novel, her character type could be used in a good way and I'd like it, but there's nothing I'm more tired of than characters that excessively abuse the mc in the name of comedy and are stronger than the mc just for the sake of comedy, no matter how unreasonable it is.

His sister is also one of the character stereotypes that I despise, I don't mind her being a loli, but her personality is horrible and I've seen it far too many times, abusive, violent, doesn't really care that much about those close to her such as family or friends, as seen when she was supposed to help deliver his entrance booklet that was required to join the school and she saw some band or something that she liked and instead of delivering the booklet that was required to pass and that he needed, she chose to get an autograph and handshake from that band while going "kyaa" and also used that booklet as autograph paper, even better the last page was used which resulted his entrance exam failing... So clearly her own flesh and blood and his future is less important than a worthless autograph from some gay pretentious punks. That brings us the next thing I hate even more about her, her fangirl personality that goes "kyaa kyaa" over idols and gets heart shaped eyes(literally) when meeting them, she's also one of those disgusting types that sees a hot guy and starts trying to cling to him with her heart shaped eyes and girly screams. The type that only cares about exterior appearances in order to start squealing like a pig. Tsk. I hate fangirls that squeal over idols or "hot guys" like that, I get a severe feeling of repugnance when I see them, that's one thing that I would hate no matter which manga/anime/novel she was put into. I mean, learn to have some fcking dignity as a human being... It's okay to like them, but that exaggeration...

Actually, you know what would've been great and really funny? If the author made his sister into a tall muscle monster that can hardly be called a woman, the type that has so pecs so overdeveloped that it can no longer be called boobs. Then it'd be reasonable that she'd beat the mc up and her personality would be pretty amusing, you know, super desperate because no one would take her and the sight of a muscle mountain squealing would be really amusing, the reactions by the people she's interacting with would also be way more amusing as compared to the running "kindergarten child" and "overpowered/unreasonable retaliation" gag that is just not funny, because we see that gag in almost every shounen novel/manga/anime that has an edgy and abusive tsundere in it.

Well, she hardly shows up at all since she's just an outsider, but she's far from the only character with a crappy personality that makes me hate them, hell, most of the people have shitty personalities that makes me wish I could punch them straight. This author is NOT good at making the personalities of the side characters, or perhaps I just hate the types of personalities he prefers. I mean, it's possible to make "enemy type" characters somewhat interesting and likable, especially since this is a comedy manga and was never anything in terms of action, story or drama, so why not do it? Every "enemy" character introduced thus far has been generally detestable and annoying, the kind you either want to show their place by beating their teeth out and turning them meek and timid or that you want to outright torture to death, both works. It's fine to make characters like that in serious novels, manga and anime where we can get the pleasure from seeing them brought down to earth or killed off in gruesome ways which is utterly satisfying, but something like that would never happen here so introducing such disgusting people is a very, very bad choice.

He also gets pushed around by pretty much everyone, losing and getting beaten up all the time for "comedy". I guess that's what you get when he only possess fake power. Though... around volume 7 his power starts to raise a bit and then he got an additional ability at volume 10, but we never actually see him properly use his power against enemies because he's not allowed to show his "special card" power, at the very end he pretty much just stepped on the starting line when it comes to power. It ends when he's supposed to properly train and become strong, so it feels like it got axed or that the mangaka got bored. A sequel might be nice that starts when he comes back and has trained and now has real power... Sigh.

I also didn't like the power system in this manga. Feels way too flimsy and ephemeral/temporary. It seems like their power is just temporary, we also hardly get any proper explanation of the magic and everything seems to be relying on cards, it seems that a better card = more magic power and more spells, that they can't improve themselves and have to rely on external items... Also seems that it's almost impossible to use magic anywhere but at the hotspots all over the world(magic is impossible without the magic waves at the hotspots and even if they can use it they need the help of an item in order to use a single spell, kinda like a storage device, their cards that is and then they can only use one spell and a down-leveled one at that, so the magic knowledge is worthless outside and even inside a plate is required to use magic). I prefer something permanent that doesn't rely on a certain place or item, otherwise it feels like those vrmmorpg novels, they might be super powerful but as soon as they leave the game world, they're pretty much just an average joe, that's also one of the main reasons that I hate it when the mc goes back to their own world after defeating the demon king(losing his/her power and uniqueness and privileges) or whatever they do over there in the novels where the mc gets transferred to another world. Well, the setting and story are both completely horrible, but I never care much about that when reading stuff that focus on comedy, because I'm not even here to read a good plot, just to have a good laugh... It just bothers me that it couldn't have been a little bit better and not so riddled with holes everywhere. It feels as if the author went "wouldn't this be cool?" then implemented it without thinking about it and then never bothered to properly work stuff out and just left it as is, and that is probably what actually happened.

Anyway, worth a read but my main gripe with this story is his lack of actual power and reliance on luck along with him getting pushed around too much in the name of comedy. He's not a character should be pushed around if we look at his personality, yet the author does it because he thinks it's extremely amusing when the mc is abused despite having a fiery personality. There are some manga, anime and novels where the mc are made to be pushed around with a no-balls and timid personality, and then it feels natural and somewhat acceptable, but not in this case when everyone thinks he's super powerful yet still abuses him.

... Last updated on August 6th, 2017, 3:16pm
Mx0 is one of the very few Shounen Manga that I truly enjoy reading. It is a story of a boy who possess not what others have but what others lack. A tale that brings out deep meanings within one's self and others. I find the ending to be quite fitting. Though I wish for a sequel to this story. A continuation of this truly magnificent tale in the near future.
So for me I read it not because I found it was on Baka-Updates, therefore unlike you who's reading this I did not know that it was an axed ending. When I read the "beginning" of the ending I got so excited and happy I knew it was the last chapter but when I finished it I just assumed it was ongoing so I checked on MangaRock (what I was reading off) and it said it was Conplete. I knew that sometimes they accidently put the wrong status on so I wasn't completely believing it until I came onto BU....Now I'm just sitting in the shock of the fact that it just ENDED like THAT.....
I enjoyed it so much so the ending didn't destroy it all for me but still I'm left with a horrible craving for something more complete. It's really a shame that the author was forced to stop it, with just even one more volume it would've been more complete. I think they were abruptly told to end it as it felt very abrupt. A real shame....

I hardly read fanfic over manga but I might try looking for some and hope there's someone who felt what I felt and tried to write an ending for it. I'm even desperate enough to try write one myself!
so yea it's been 5 years since the last update but this series is just too good to end like this!!!

https://www.change.org/petitions/kano-yasuhiro-we-request-a-second-season-of-mx0#s hare
I totally recommend this manga, truly enjoyable to read and some parts are really funny. This is the first manga I've ever read that one of the female characters made me say "Omfg, finally"
Spoiler (mouse over to view)
When Aika and Mizuki discover Lucy, what Lucy says after they bad mouth Taiga was plainly awesome and gave me a glimpse of geek happiness, it frustrates me that the main character always is to blame for something that he should not be blamed about by female characters
.
Sadly you can actually notice when the mangaka got tired of it or just had to finish it asap, so it feels somehow sliced up at the end, besides that, good story, good characters, but unsatisfying ending.
...
Last updated on September 27th, 2013, 3:51pm
I really enjoyed reading this manga. It's a lighthearted and funny manga with interesting plot. The art style is good, the characters are likable, and the pace is just right. While it's certainly true to say that every story has an ending, the ending in this manga doesn't make me feel satisfied. The manga is really interesting up to chapter 94, and I guess either the author ran out of ideas or it got axed, but it just... end. I want this manga to go for a few more volumes!

Overall, this is a great read. Give it a try, you might like it.
I am giving this a 9 since the ending killed it for me... its drags on until it FINALLY gets good then.... oh shit its over? thats it? WTF? GIVE ME MY TIME BACK PLEASE!
I mean it was a GREAT story Great characters Great EVERYTHING but the ENDING!!! I guess it wasnt up to par to the people making it.... but sadly I Disagree with this. I thought it was a very good
read and i wish they would have fixed the ending.... actually I wish they continue it further Im not talking an Omake extra chapter. im talking I WANTED TO SEE MORE VOLUMES LIKE MABYE ANOTHER 5-6 or so. Dont you agree? Or did the ending just crush me to the point that i am bias?

Edit - changed my rating to a 9... I thought about it and i cant portray the manga in a negative way just because I personally was unhappy with the ending. I mean everything leading up to the ending was perfect couldnt have asked for more.

... Last updated on August 10th, 2013, 3:53pm
I've read this manga several times and i love it wish it would have been continued though, i feel like it was just getting to the good part now that Kuzumi was gonna be on equal footing. i say its worth a continuation.
Let me begin by saying that the ending of Mx0 is weak, because it was axed due to lack of popularity. Disregarding the ending, this manga is a beacon of hope that shows how romance and action can work together in a shounen manga without neglecting one or the other.

The protagonist of Mx0 is not typical of the traditional harem. While most male protagonists of harem mangas are WEAK but lucky, the protagonist of Mx0 is STRONG but UNLucky. He gets himself into misunderstandings that serve as fodder for comedy, and uses his strong will and wits to save the day. So for anyone who is annoyed at the traditional harem manga, Mx0's atypical protagonist will without a doubt provide a refreshing change.

Going back to my initial point: Mx0 is the epitome of romance and action mixed together. Often, shounen mangas that attempt to mix romance into action tend to neglect one or the other as the plot progresses. I'm sure you can think of a manga where there is romance and action, but one is less significant compared to the other. On the other hand, Mx0 executes this mix perfectly. Almost every chapter and arc in Mx0 is dedicated to the relationship between Taiga (the protagonist) and one of the girls. The action takes place as a consequence of romantic situations, but it is definitely not insignificant. The action is interesting (i.e: Taiga's bloody training, school festivals) and actually drives the manga forward, all the while strengthening the romance.

A possible flaw of Mx0 is that the romance does not go anywhere: none of the relationships are fully developed. Well, the reason for that is again, the manga was axed. If you can overlook this fact, you will definitely enjoy Mx0. It's funny, has great action, good ecchi scenes... it's the whole package.

So yeah. The ending is painful (because the manga is SO DAMN GOOD), but read it anyway.