Manga Poll
Manga
is the Japanese equivalent of comics
with a unique style and following. Join the revolution! Read some manga today!
Join #baka-updates @irc.irchighway.net

RSS Feed


Suijin no Hanayome
Login to add items to your list, keep track of your progress, and rate series!
Description
One's life can be changed in a brace of shakes. And little Asahi is unlucky in that: she suddenly finds herself in a strange world where people worship the mysterious water god. The girl is sure that the whole story about gods is just a mere fable but... why and to whom is she sacrifiсed to?
Type
Manga
Related Series
Associated Names
Bride of the Water God (TOMA Rei)
Die Braut des Wasserdrachen
La novia del dios del agua
Pengantin Dewa Air
Su Tanrısının Gelini
Suijin no Ikenie
The Water Dragon's Bride
Thủy Thần Đích Tân Nương
Thủy Thần Đích Tế Phẩm
Невеста бога воды
เจ้าสาวมังกร The Dragon's Bride
水神の生贄(はなよめ)
水神的祭品
수신의 제물

Groups Scanlating
Latest Release(s)
Status
in Country of Origin
11 Volumes/45 Chapters (Complete)
Completely Scanlated?
No
Anime Start/End Chapter
N/A
User Reviews
N/A
Forum
User Rating
Average: 8
/ 10.0
(151 votes)
Bayesian Average:
7.74
/ 10.0
Last Updated
August 28th 2021, 12:12pm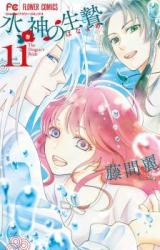 Genre
Categories
Category Recommendations
Recommendations
Author(s)
Artist(s)
Year
2015
Original Publisher
Serialized In (magazine)
Licensed (in English)
Yes
English Publisher
Activity Stats (vs. other series)
Weekly
Pos #
740

(+36)
Monthly
Pos #
1281

(+246)
3 Month
Pos #
2704

(-102)
6 Month
Pos #
3275

(-64)
Year
Pos #
3481

(-213)
List Stats
On
785
reading lists
On
422
wish lists
On
199
completed lists
On
40
unfinished lists
On
259
custom lists
Note: You must be logged in to update information on this page.



At first, when I started I thought the story premise was pretty good, but slowly... The end kind of just fell flat.
kuroioni.akari has it all summed up pretty well.
Spoiler (mouse over to view)
Like really? Why does the manga just end with her being pushed back into her world? A small montage (as it's commonly seen throughout this entire manga) of her in the present day, with Suijin's dream? Thoughts? Kind of expressing his desire to see her again. And then voila Asahi gets told a hint by her brother and bam they meet again. Honestly, there are so many gaps in the end and it felt very rushed. I think perhaps the mangaka wanted to finish it and start a new story. I get that, but this one could've been given a better ending. I feel bad for Subaru as well... Boy got unlucky. :L
If you're in for a lighthearted shoujo, you should read this. There's a bit of sadness too but it all resolves itself. And it's less than 50 chapters, so a quick read. Overall, not too shabby, could've been better.
...
Last updated on November 15th, 2019, 2:14pm
*edit*
After reading the remaining volumes, my rating fell down to 7.5. I love the earlier volumes just as much as I used to, however it really is a shame the manga went the annoyingly.. flat shoujo route in the end.
Spoiler (mouse over to view)
Asahi has decided to let the Water Dragon God eat her, because she wanted to save his life and be with him, when it finally got to her that as soon as he sends her away, he will, indeed, die. It was her choice to make, whether it was the right one or not. But nope. Subaru pulled her out by force and pushed her back into her own world. I mean, I get it, being worried and stuff. But what gave him the right to decide that - the most important thing that will ever happen in her life most probably - for her? It just pissed me off, especially the shoujio vibe it was wrapped into. And I don't mean any feminism bs, like we don't need no mens to decide for us and such. No. I simply mean it as one person taking it upon them to take the choice away - and the right to decide ones own fate - from another. That's juyst not cool.
And even *then*. There should have been cequences. You can't have your cake and eat it too, that's not how life works. And yet. Asahi is not raging on Subaru. Water dragon God does not die and is, in fact, being sent to our world and finds Asahi in the end. And he's fine! And they just... get back together, in her garden. And they live happily ever after, the end. How? how does a god do that? How does their life look like? Will he get a job? Is he human even? Or will she be like a priestess in here, just working by day and living it out with her god-husband in the night? What about her family? Do they find out? What of Kurose and his god? It's all just... flat. Something amazing turned into a usual shoujo mush and fairytales. I feel dissapointed.
I'm amazed by this *shoujo* manga.
(no spoilers per-se ahead, just some general comments about overall character development and their relationship used to illustrate my points. The front cover posted above can tell you about as much as I have below, so feel free to read on, unless you wish to go into the manga 100% blind, but then what are you doing here, reading comments, huh?)
The setting itself is average enough, I admit. We have Asahi - a girl (a child, really) that's whisked away to another world, finds a friend (..zone-kun, hee hee), gets sacrificed to a Water Dragon God by mean villagers and so becomes his Bride. Queue typical shoujo tropes...
...Not! The characters are what makes this manga a one of a kind masterpiece.
Because it turns out that a god, who lives eternally, feels neither pain nor hunger, has no need for sleep and is able to spend decades idly staring into the distance, who while being aware of humans, can only muster to display for them mildly disdainful indifference, and who generally is closer to a force of nature made aware, rather than anything resembling humanity,
that
god is made a main character and Asahi's love interest. ..Can you imagine?
But. This wouldn't be much of a masterpiece without a solid female lead. So let us look at what Asahi, our heroine, brings to the table. When we meet her first, she's just a child. A rowdy one, enough to provide a passing entertainment for a bored god. Even though she is scarred and wants to go back home, she does what she can even then. And as she navigates through her new situation, she adapts. She doesn't whine. She learns how to survuve and slowly builds a life with what she was given. It's so rare these days to get a heroine that is not a whiny moe-blob, an ever-blushing maiden or an inept idiot who's not capable of thinking or doing anything by herself.
The absolute best part about this manga is, therefore, watching the relationship between the Water Dragon God and Asahi unfold. At the beginning she's terifird of him and rightly so. But because she's adaptive, perceptive and quite smart, she's able to gradually understand Suijin-sama's (Water Dragon God) way of thinking, how he sees the world (and humans) and acts the way he does. She grows to understand and accept his.. limitations and, in turn, he slowly gets pulled closer. Because his 'entertainment' is getting more and more, well, entertaining, he - extremely slowly - starts to *learn*. Not any such tropes as how to be a gentleman though, no. He starts to slowly expand his emotional range. Where in the beginning we have this immobile... pond, that can be set to either indifference or mild irritation, slowly, very, very slowly, some colour starts to be injected into that never-changing, ever-lasting puddle. And every single time we see some progress, we know exactly why and how this happened. There's no beautiful eyes being batted at him to make his cold heart skip a bit. There's no mighty god coming to rescue the heroine in great anger every time she's in trouble and realizing his feelings thanks to that (bleh..). There's no of that bullshit cliche in here. What we get instead, is this masterful feeling that makes you go "ah.. yeah, this really IS how an eternal creature like that would be, isn't it?" as we see him and his indifference and the excitement as we see the smallest of ripples appear, when it is earned. Because that's just it - they both earn what they get. As you read, you can clearly see that Asahi is indeed worth the changes she makes in him. And, in turn Suijin is slowly growing, causing her to change (emotionally, towards him) as well. They influence each other, and stand in this sense as equals. And, as a result, evolve together.
And I personally love it.
If you're bored of never changing relationships between the MCs (Dengaki Saisy, Ore-sama teacher - I'm looking at you..), relationships that are flat, simple and predictable.. then look no further. For me, this is just as good as Akatsuki no Yona (albeit not plot wise) and I recommend both highly.
...
Last updated on November 11th, 2019, 7:00am
I just read ch 29 and the series has really been dragging. The main objective for the MC was to return home, but once does, she has a difficult time adjusting and eventually returns back to the makeshift world. Which is good for the romance development but random villains come out of no where to provide loosely-associated conflicts that previously had no footing on the storyline. The storytelling also becomes more blunted. This is another series that suffers from lack of direction as a result of too many chapters past its original shelf life.

... Last updated on April 18th, 2019, 2:10am
I agree with bip0larbear. At first, I couldn't pinpoint what makes this manga uninteresting yet appealing. But the I read, bip0larbear comment, that is the most perfect answer I find about what is wrong with Suijin no Hanayome. The art is beautiful, but each character is rather flat, the relationship is awkward and the storyline is lukewarm. I'm not even sure, what the mangaka intended with these characters.
I've read up to chapter 15 and there seems to be no clear objective to the story so far other than the MC trying to get back home to the modern era. The series does touch upon philosophical questions about human nature but it just scratches the surface. I find the main male lead (water dragon god) somewhat interesting compared to all the other characters because he seems atypical and not so much like your stereotypical romantic interest. He reminds me of Tomoe from Kamisama Hajimemashita albeit a bit less relatable. However, this is where my main criticism of the series comes in though. The series is primarily romance but because the main male lead is thus so far static and romantically unappealing concerning the MC that it makes the romance aspect fall flat. The MC does not like him that way and I would find it weird if she ever did after seeing and experiencing what he does to her and to people around her. Also, the side characters are the most lacking so far. They don't seem to exist for any other purpose then to be awkward, comedic fodder for advancing the relationship between the MC and the lead. And because of that, I find their interactions lacking. The series would have been better had there been a clear goal / objective / subject and the romance had been secondary. It has a good theme that could be developed into more but the storyline is nonexistent and the characters abstract and incomprehensive. Buuuuut then again, this is up to chapter 15 that I've read so far. Maybe it'll redeem itself somewhere down the line but so far I'm not impressed. :/

Rather than a manga I'm of the opinion that this would do better as a isekai light novel series instead. It might touch on depths that are otherwise difficult to in manga format and make character interactions much more interesting.

I would recommend Niehime to Kemono no Ou if looking for another series like this one. It's more of a cute and fluffy read and pulls off the theme better IMHO. Or Mimizuku to Yoru no Ou if light novels are also your thing.
I'm really loving this one so far. It's beautifully-paced and it has so many interesting elements. It has some really dark and twisted moments--and characters!--but it's not so grim that you lose interest. Moreover, the protagonist is simply so adorable that she counteracts the darkness of the events--and people!--around her. I really hope Argo keeps up the amazing work!!

edit: I am loving this series so much! I just read the latest update by Argo. I wish I could help him/her with this work since I love it so much, but I don't know how. Anyway, thank you, Argo!!!

... Last updated on June 30th, 2017, 10:16am
It seems pretty fun so far. I'm not fully caught up and I can see where the similarities are with "Bride of the Water God" but I would say that the stories seem different. I also cannot really tell which guy she is gonna end up with and that's part of why I need to find the next volume of this!

Note: So my friend actually lent me the first volume to read in Japanese so there were some words and parts that I did not understand HOWEVER, I had a lot of fun reading the story on the bus.

... Last updated on January 29th, 2017, 1:18am
Mysstris says: "However I am quite wary of this series as it seems to draw on a familiar shoujo trope of a dominating and ruthless male lead with a spunky resisting young girl (literally a child) who will undoubtedly touch the cold heart male lead."
HECK YES! I'm signed up. Can't wait for some more chapters.
For the plot itself, it is quite a combination of fairy tale. The most prevalent fairy tale evoked is the little mermaid with the image a disney version of Ariel. Asahi, the young girl is quite reminiscent of Ariel in appearance and circumstance. Additionally the story conjures up a manga of a similar title as well but quite differently executed, "Bride of the Water God."
However I am quite wary of this series as it seems to draw on a familiar shoujo trope of a dominating and ruthless male lead with a spunky resisting young girl (literally a child) who will undoubtedly touch the cold heart male lead. Also there is no doubt that the little girl will one day grow up to an attractive red haired and green eyed beauty so....the trope is building itself up.
Nevertheless, what drives the story as I read it is the question of gods and their relationship to humans. This issue is quite drawn out from different perspectives that ultimately makes every party appear human including the gods. I find that discussions about this story result in intriguing thoughts about this relationship which in that sense makes this series quite a worthwhile read despite a shoujo trope horizon (fingers crossed it won't happen though).

... Last updated on April 11th, 2016, 12:43am