Manga Poll
Manga
is the Japanese equivalent of comics
with a unique style and following. Join the revolution! Read some manga today!
Join #baka-updates @irc.irchighway.net

RSS Feed


Bloody Monday
Login to add items to your list, keep track of your progress, and rate series!
Description
Official English:
INKR
,
Azuki
Takagi Fujimaru may seem like a regular high school student, but behind the cheery facade lies a genius hacker by the name of Falcon. When his father is framed for a murder, Falcon uses his brilliant hacking skills to try and protect his sister and clear his father's name. However, he finds that his father, an agent in an elite government agency, was involved with something far more complex than a simple murder. A terrorist group is plotting against the city of Tokyo and it is up to Falcon, with the help of his friends, to unravel the twisted plans set in place ...
More...
Type
Manga
Related Series
Associated Names
Bloody Monday - Saison 1
Bloody Monday Ver.0
Bloody Monday รหัสมรณะ
Bloody Monday: Season 1
Кровавый понедельник
الأثنين الدموي
ブラッディ・マンデイ
血色星期一
블러디 먼데이

Groups Scanlating
Latest Release(s)
Status
in Country of Origin
11 Volumes (Complete)
Completely Scanlated?
Yes
Anime Start/End Chapter
N/A
User Reviews
Forum
User Rating
Average: 7.8
/ 10.0
(836 votes)
Bayesian Average:
7.75
/ 10.0
Last Updated
September 7th 2023, 12:05pm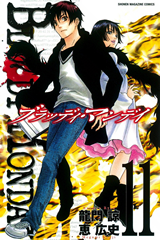 Genre
Categories
Category Recommendations
Recommendations
Author(s)
Artist(s)
Year
2007
Original Publisher
Serialized In (magazine)
Licensed (in English)
Yes
English Publisher
Activity Stats (vs. other series)
Weekly
Pos #
716

(+13)
Monthly
Pos #
1619
(No change)
3 Month
Pos #
2193

(+801)
6 Month
Pos #
3461

(+836)
Year
Pos #
5297

(+841)
List Stats
On
1387
reading lists
On
1150
wish lists
On
2303
completed lists
On
173
unfinished lists
On
360
custom lists
Note: You must be logged in to update information on this page.



over 11 years ago
over 14 years ago
over 14 years ago
After readnig all the crappy reviews of this manga, I decided to give it a try to see just HOW bad it could get.....

It wasn't all that crappy as people make it out to be, y'know? The main char. was way too OP, that part remains true, and it's totally unrealistic--especially from a programmer's point of view.... but i thought the ideas that the author came up with was interesting to an extant, and kept me happy for a short while...

The sister of the main char is indeed frustratingly helpless, and many pointless betrayals occur--but in a way the betrayals all make sense IF and only if the girl from the newspaper club is the main antagonist boss. Because, that way, the other betrayals would have been logically staged seeing the location of the main boss.

As for the sister.... Let's just say she is inherently naiive and idiotic and pure.....BUT FOR GOD'S SAKE WHY WOULD YOU GET KIDNAPPED SO GOD DAMNED MANY TIMES?? It's ridiculous... If i were the main character I would've realized that other plans were needed to keep her safe.

Also, having all the smartest and toughest guys be highschoolers is a bit of an overkill.

... Last updated on January 26th, 2014, 8:09pm
I got to chapter 40 and i just couldnt be bothered to read anymore, the art was good and some of the characters were interesting (like his friend Otoya) but it was quite repetitive; most of the story seemed like someone (mainly his sister) getting kidnapped and Tagaki being forced to work for the terrorist. The thing that bothered me the most is that Tagaki would keep switching from being resolved to being indesisive or going from being really smart to stupid
maybe it's just be but while i liked the story a few things really stood out as negatives, first the main characters cursory glance at a suspects (always female) alibi/history
Spoiler (mouse over to view)
particularly maya and anko
it's as if when the suspect was female he didn't even try to find out if they were the traitor that just stood out as a big annoyance for me, as well as the stupid declarations such as "i will get you the antidote that may or may not exist or i will defuse a nucleur bomb - i know it's common in shounen manga but somehow it felt far more out of place when the threat is something like a nuke as opposed to just physically saving your friends. Also his sister got kidnapped a stupid amount of times (i think i counted atleast 5)
overall a good read though.
I agree with all the negative reviews before mine. My eyes were rolling while reading this. Character development are lacking, anyone could turn traitor, anyone could fall in love with anyone. Some characters that should have died or left are brought back with no further development, but follows the same pattern which gets tiring.
The technology they have is possible in the future, yet in such a society, they still use cd-rom? Also it does not follow hacker culture, in which alot of mistakes could be avoided if the hero just uploaded everything onto the net.
Some plots are not predictable and makes me wonder if the author rolled a dice in order to add dynamics into the story. For example:
Spoiler (mouse over to view)
- J turns out to be the brother of Otoya, WTF. What is the point of the author adding this in?
- Towards the end, the hero had to hack into the GPS systems in order to disable the bomb, which was predictable, yet he couldn't figure this out himself? Only when J called and gave him the hint was he able to do it.
- In the end, Maya showed up in the end and started talking about stocks, wasn't there a better way to organize that into the story?

Spoiler (mouse over to view)
Towards the end, a black-hat of equal skill is bought into the story. It makes me wonder why they didn't use him from the beginning? In that case, the entire storyline becomes invalid. If they already have someone of equal skill, why bother forcing the hero to hack for them?

Overall, I read this purely for the spy plots. It reminds me of Death Note (but not as good obviously).
well technically great ideas
about the competency of the agency as someone suggested
comparing it to CIA, no apparently its equivalent to the NSA though NSA has much more resources human-wise (hackers) and material-wise (Echelon)
from IT POV i have nothing to complain there is no magic all of it is possible
the use of wizard is true in Hacker-culture
though they got the wrong lessons from Hacker-culture and theology
the message of "we'll keep it secret for the sake of the country"
is opposite to hacker ethics of freedom of information and information sharing
and the cult although most cults are destructive but the message of "lest praise this peaceful world" is not convincing
most people are born in places of conflict I agree that people fighting for peace are righteous but we have seen how following authority blindly will lead to either it a cult or a nation, and people doesn't seem to have much of imagination in term of divine (it must always be in human flesh)
the cult I think was based more on James Jones communist and militant cult
than any other of weird cults, including Jones tendency to have relations with every women he can put his "divine" hands on
ok I like the idea of a "Novelist" type to be the most dangerous antagonist
the letter "K" is also a hint to the name and also to a "mangaka" I presume

... Last updated on May 18th, 2013, 9:58am
I must say, what the hell is going on with this manga.
It so unlogical that I can't accept it. For example:
+ Do you really think that someone can hack into somewhere just about 5 or 10 minutes even though they are genius, they must have enough time. And don't tell me that because this is manga that make me get laugh and mad.
+ The main character, I don't know what he is really. I mean, he act sometimes like a genius, sometimes like a fool, sometimes like an adult and sometimes like a little kid.
+ When he unlock the encrypted file, he already know the dangerous of the work he do, I can understand his friends can get into that trouble, but how the new teacher - a very stranger - can join in without doubt. See, what the holy unlogical. Too bad, really really bad.

After all, I must say this manga just like an US action film, a classic RPG game ( I got laugh when think about it) with cheap plot. I don't know why it can get a movie >.<. Ah, one more thing i want to tell the author, Don't ever try to be like "Death note". Every single detail in DN is completely perfect. Don't make me mad more. I get enough. 3 point is a little high, actually it must get 1,5.

~Drop~

... Last updated on July 17th, 2012, 9:57pm
While the artwork of the series is great, it is ultimately hampered in later chapters by several things:

- Repetitive and predictable plot

I started out with high hopes for the manga: the series started out great with Death Note's likeness (the concept of the major protagonist and antagonist countering each others' moves through out the manga). However, it started growing more and more predictable - almost every new female character that was introduced wound up to be either a spy or an informant. The main protagonist is continually given the SAME near impossible tasks ("Hack the government system within five minutes") over and over again which takes away any sort of excitement towards the possibility that he might fail in his task somehow.

- Extremely bland characters

The main protagonist is probably the most fleshed out character in the entire series, which isn't really much. None of the characters are really developed. The most the author gives is the character and his or her favorite hobby that happens to help the main protagonist or antagonist. The fact that there were TOO many characters may have contributed to this. The quality may have been improved if several of the character's abilities or traits were combined into one.

- Too Many Unexpected Plot Twists with No Foreshadowing

Many of the "twists" in the manga are never really developed. You'll have a character who appears to be an ally through out several of the chapters and then suddenly turn into a bad guy. While the manga does make explanations as to why the character is actually the enemy (sometimes you can guess that the new guy is probably a spy already due to the repetitiveness of the manga), nothing in the manga really foreshadows how he or she would have done what is explained.

-Too much Deus Ex Machina

Thinking on the spot is nice, however a lot of times, the main protagonist tends to...as one user already puts it "pulls stuff out of his ass." There are a lot of times in which Fujimaru comes up with a solution that is never even hinted at all.

-Incompetent Agency

You'd think that such a top secret agency that is entrusted with safeguarding a country would at least hire some competent staff. Wrong. Many of the adult characters who work for Japan's equivalent of the CIA (in the manga) are literally being led by a kid chapter after chapter. Fujimaru ends up being an expert on not only computers, but also epidemiology and a variety of other subjects that seems to leave the adults dumbfounded. If a virus was spreading throughout a country, wouldn't it make sense for the Agency to bring in an epidemiologist? Instead, they bring one in at almost the end of manga (and it wasn't even to contain the virus).

-Flawed explanations

While I can suspend my disbelief sometimes, the author sometimes just get things wrong when it comes to explaining virology or computer science. One of them is that a vaccine can do nothing after the symptoms of the virus starts showing and that an "antiviral" is the only way to stop it on time. Vaccines CAN have an effect after symptoms show. The manifestation of symptoms is just a way of showing that a body is dealing with the virus. However, this can be overlooked by saying that the virus kills too quickly after the symptoms show for the vaccine to take effect. An antiviral merely inhibits a virus's ability to infect the body. It does not "kill it" and it would be likely that anyone who has been infected would be on antivirals for several days until their body can get rid of the virus. The correct term would be a "viricide." However, this could just be a mistake on the translator's part.

... Last updated on April 4th, 2012, 1:28am
This manga lacks the most important thing: excitement, which can be easily found in other manga such as Death Note, Liar Game, Eternal Sabbath,etc. What a waste, because the arts is good and the plot is okay. One advice: Megumi Kouji needs to be Obata-sensei's assistant.
It keeps me going. Or to put it another way, I've seen some truly atrocious hacker-hero manga, and this isn't really one of them. It's tight, fast-paced, and the art is fantastic. The fact that it reads like a novel is a plus in my book. Yeah - it's unbelievable. The time limits are especially unbelievable. There is genius, and there is genius, and there is "Riiiiight. Sure. Really." I can try to swallow the explanations, but the programmer in me would deeply appreciate at least a little deference to the laws of reality. Does the guy never make typos in his passwords?

Also, I agree with the guy who called it "The most inept secret agency in the world". Because, they are.

As far as character depth goes, it's non-existent. The protagonist is a character who exists to be a protagonist (and to be awesome, of course). It's probably because we've never really seen him in a situation other than "currently saving the world!" But, well, the plot drives this manga, and I liked the plot, so I won't complain too awfully.

The only character that drives me up the wall is his sister. Auuugh! Can you seriously be any more kidnappable? And why, why, for the love of heaven, would you go into a dangerous place if all you can say once you're in there is "Daddy, Onii-chan, save me!!"? Why?!?

Sob.

... Last updated on October 22nd, 2013, 9:26pm
Okay. Overall, I like this manga with all the secret identities, hidden complicated plots and okay action. Art is definitely awesome. I can't count how many times I swoon over Otoya.
But. The way the author reveal the secret of the protagonist is way too inelegant. I swear, that's one of the major disappointment I had and an early one as well.
The start was really exciting and made my blood boil over excitement. But as many people have said, the protagonist became those "damn, I'm helpless but I want to save everyone" kind of character. The sister of the protagonist was also too exasperating. I know they need this character who needs saving all the time, but seriously, how many times can you get captured and used by the enemy, for the love of God. Argh.
Curiosity on the identity of the enemy's leader and their final objective were the only things which kept me going to the end of this series. Somehow, I don't feel too good with the end either, feels like every chapter is rushed and was just there to keep the story heading towards the end.
As for the romance aspect, I actually like how unique it was.
Spoiler (mouse over to view)
The childhood friend actually likes the protagonist's father rather than the protagonist himself? Epic.
I have to say the past of the cult should be dealt more deeply. Like the reason they want to do this revolution and everything. Is it me, or is the author made it too shallow by just portraying the group as terrorists who just want to destroy? Okay, he made some point with the government not being as clean or helpful, but that's just like one time. They're just there to be the enemy that needs to be defeated. So meh. Perhaps he's going to reveal it in the later seasons, I don't know. I hope he will. I really like how he opened the past of one of the antagonists. So maybe it's just saved for later on. Guess I will continue with the series then *shrug*