Manga Poll
Manga
is the Japanese equivalent of comics
with a unique style and following. Join the revolution! Read some manga today!
Join #baka-updates @irc.irchighway.net

RSS Feed


Alive: Saishuu Shinkateki Shounen
Login to add items to your list, keep track of your progress, and rate series!
Description
From Del Rey:
A strange virus is making its way around the globe, causing its victims to commit suicide. In less than a week, it's become a lethal pandemic. Now a group of Tokyo teens who have survived the outbreak are wondering why they are still alive.
Official English:
Azuki
,
INKR
Type
Manga
Related Series
N/A
Associated Names
Alive คนผ่าเหล่า เผ่าหายนะ
Alive: The Final Evolution
Живой: последняя эволюция
アライブ
アライブ 最終進化的少年
最終進化少年
最终进化少年
얼라이브 최종 진화 적 소년

Groups Scanlating
Latest Release(s)
Status
in Country of Origin
21 Volumes (Complete)
Completely Scanlated?
Yes
Anime Start/End Chapter
N/A
User Reviews
N/A
Forum
User Rating
Average: 8.3
/ 10.0
(1109 votes)
Bayesian Average:
8.25
/ 10.0
Last Updated
February 19th 2022, 2:52pm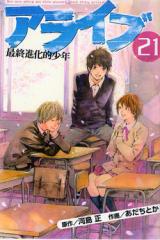 Genre
Categories
Category Recommendations
Recommendations
Author(s)
Artist(s)
Year
2003
Original Publisher
Serialized In (magazine)
Licensed (in English)
Yes
English Publisher
Activity Stats (vs. other series)
Weekly
Pos #
676

(+24)
Monthly
Pos #
1396

(+107)
3 Month
Pos #
2381

(+101)
6 Month
Pos #
3074

(-94)
Year
Pos #
3478

(-219)
List Stats
On
2018
reading lists
On
1684
wish lists
On
2313
completed lists
On
150
unfinished lists
On
558
custom lists
Note: You must be logged in to update information on this page.



over 6 years ago
over 8 years ago
over 9 years ago
over 10 years ago
over 11 years ago
Alive The Final Evolution is quite the experience. In a world where MMC's best friend is discount Saskue who gets Friendzoned by Discount Sakura, who gets convinced by Discount Orichimaru to join him in hopes for more power. Truly a unique experience. The story is set in modern century Earth, a random shooting stars decided to crash land(?) onto planet earth. Certain people seem to now have Evolved and gained superpowers. Not everyone who was affected by the shooting star became evolved though. They were unable to contain it and committed suicide. So a mass suicide went across the world. Our hero however cares for none of this shit and has only 1 job. To rescue discount Saskue from the clutches of Discount Orichimaru.

The series is split into 2 parts. The 2nd half is set after a timeskip which starts with an amnesia arc. And like many amnesia arcs its just doesn't connect. I found the story to be intriguing but also a bit complicated. I think which was a bit of a nice touch tbh. It had just the right amount of unknown ending aside (which I will get to). Alot of the characters powers also are never really explained. It feels less majestic more the author couldn't think of a reason that made sense. Nonetheless though the author combined with his nice art was able to give some insane panels and nice double page spreads.

The characters are without a doubt its strong point. Now i do think Discount Saskue was a weak villain. Characterization wise that is. He was simply someone who was literally upset over being friendzone. That was his entire thing. Thats it. Yes there was deeper meaning but honestly that's pretty much the core of his entire reasoning. NOW. Discount Voldemort on the other hand was just taking it by the storm. Every step was truly vicious. I like the fact that he wasn't stupid and was ahead of the MMC. Like he actually acted like a smart villain instead of just some random that manically laughs. Discount Voldemort is definitely one of the more entertaining villains I have seen so far... mostly. The main character is also very likeable. He actually doesn't resemble naruto as much as he resembles the MMC from Kekkaishi. Even his like Off duty job is similar kinda hilarious. Regardless the side characters are also very entertaining. Almost all of them have there own purpose. They are kinda selfish in a way people are. and it really gave them their own personality. I didn't like the FMC's character development though. She was a good character but she was really lacking in the 2nd half. I didn't like how the author developed her character. Made her less of her own person.

Fanservice was a bit of an issue for this series. Now i love naked women. I love half naked women. But this series did not need either. Now this is a minor issue considering that the author didn't really add them in serious moments but rather moments that were already light hearted. But it just kinda pulled the heroines down for me. Overall though its a minor issue considering the author didn't over do it.

Action was somewhat of a unique bag though. It was good but at the same time i wasn't good enough kind of. Now what i liked about the action is that the characters die. They die and they don't come back. Giving real weight and tension to the fights. Actually giving the MMC a run of his money. Now its not as flash as naruto or one piece its more like Psyren just better written. Also they never explain some of the characters powers. It feels less like the author was giving us the option to think rather it felt like he couldn't think of one that would make sense. So despite the fact that the action maybe a couple steps below the real great ones i mentioned i think with the death inclusion the tension kinda cranks up to 11 sort of bridging that gap.

There is also a psychological aspect to the series. Whether or not death is a curse or a blessing. Who decided the rain means sad? and though the introduction to these are fantastically presented. I think the author just never truly expanded this. Never used it to its full potential. I did enjoy this aspect however i do think this is something people have already been asked. So unless your tired of this i don't think you will like it either.

The first half of this series was really good. Discount Saskue was kinda fun. I liked the MMC and how he approached people on his travels. Who joined and what not. When i think about the first half is really more like an adventure than an action series and the really wrote it well. the 2nd arc though good and answers many questions ( and leaves some) it just didn't bring itself to the quality of the first half

**TLDR**: Manga was fantastic in the first half. But some minor speed bumps in every aspect except art. The 2nd half some moderate speed bumps in story and characters but everything else remained pretty much minor. 7/10. Also It was drawn by the same author/artist as Noragami. however Alive's author is different.
One of the best shonen out there. The dynamic among the characters is complex and interesting. There are quite a few emotional moments as well. I feel that the manga could go on much more as there are a lot to explore as well as some questions unanswered. However, Tadashi sensei wrote this on his sick bed, and he had to wrap up everything fast due to his health condition. The last chapter was published not long before his death.
I gave this up after about 10 chapters because I just hate the main character. He seems to care more about Hirose than he does about his childhood friend who was kidnapped by Hirose. He's also putting his poor sister through hell. Does he not realize that Keeping and her in the dark about what's going on is actually more dangerous. His stupidity is at such a high level that it's painful to read. Most manga only get worse as the story goes on so I'm just going to bow out now before I spend 2 night reading all 21 volumes and regretting it.
The beginning was promising: suicides, mysteries ... I thought maybe there was something psychological and seinen, but, turns out it's just sci-fi, and insted of advance technology, the aliiens brought us special abilities like magic, sort of like Flame of Recca, you know, fire, ice, gravity and stuff. I continued reading just to see why people kill themselves smilling. I had to endured reading until I got the author's message in the last chapter, because it was hardly enjoyable:

CONS:
- Plot: an MC destinied to kill the main antagonist, but unlike in Berserk, Monster, or 21 century boys, this one just has no plot at all. The MC could have just killed the anta in the first 10 chapters and call it a day, but somehow, it lasted almost 90 chapters, just explaining unrelated stuff and introducing more and more characters doing uncessary things. Everything in the beginning was to lead to their decisive battle, but then nothing happened, and the anta just slept for 2 years so the author can introduce more characters serving no plot purpose whatsoever... and in the end, nothing happened either. All abilities are gone. Buff. We return to chapter 0, yeah, before chapter 1 when the story started, everyone just goes about their daily like as if nothing ever happened.

MC: just your typical stupid, easy going goody 2 shoes. His role is to defeat the devil and save the princess, but instead of fighting the boss, he just wished for it. or something along the lines. He has no character growth at all, from beginning to end, it was like this: 'the anta's gone too far, i've got to stop him', then when they met: 'why can't we just all be friends', then the dude kills more people, he goes 'the anta's gone too far, i've got to stop him' again. Yes, in the end, he doesn't even let others kill the anta for him and still wished things never changed.

Heroines: The main is heroine is exactly like Peach from Mario. She has no characters. Just a pretty face waiting to be rescued. And as if she weren't bland enough, she were brainwashed, to be even more empty and silly: she doesn't try to run away from the bad guys, she stick to them. The second heroine, Nami, is your typical tsundere, the idol of the school who somehow got the hot for the MC. About 1/3 of the story was about their romance, since her attractiveness is a pull to keep readers continued reading. Besides that, she also serve no plot purpose, the story would be the same if she weren't there, as the MC chose the first Peach anyway.

Main anti: a loser. He's such a loser you don't wanna bother dealing with him. A bullied kid who doesn't fight back, because he doesn't wanna do stuff to others which he doesn't wanna done to him. Yet, deep down, he wants to kill them all, so it's just that he doesn't have the guts to fight. He loves the Peach heroine, but doesn't have the balls to even express his feelings, and just blame the MC, who helps his useless ass, for his suffering, until he received a power from outer space which lets him kill people like ants, he feels all better and superior, and kipnap Peach himselve, though he never touches her, so the poor kid may be impotent, sexually frustrated, or bisexual and is actually in love with the MC but knowing he can't have his love realized either way, he wants to kill everyone to be alone. Not sure if he knows this or not, fastest way to achieve that is for him to just kill himselve save us our time.

Sub anti: I feel sorry for the old man. He schemes, plans, manipulates others to die for his goal. He does that until his death by a falling telephone pole while never achieving his goal.

PROS:
Good art work. ~3-5 hot gals.

CONCLUSION
To save you time, I'll just tell you the author's message: Life sucks. But go on living anyway.

There, I just save days to read through ~90 chapters of this manga. Seriously though, do read this manga, if you have nothing better to do with your life.
Spoiler (mouse over to view)
For God Sake, I LOVE THIS MANGA! Nice story twist, AWESOME DRAWING, I dont mind the ending but I kinda hoped Taisuke would end with Nami instead with Megu. I know Megu is Taisuke's childhood friend and probably the two of them had been in love since long time ago, but maaaaannn Megu's line always sounds cheesy and she's so stupid and tried to look like an angel -_- I just hate her for no reason. Nami is way better.
Know this before you judge the ending when you finish reading this amazing manga: the mangaka wrote the final chapters of this manga on his death bed.

I would like to quote the typesetter's note from the FTH-AAS translations of the final chapter:
"There is some poignancy in the way the last page of the last chapter were written. As some of you may know, the author 'Alive' finished the series on his death bed. The narration you have been reading probably contains the author's exact thoughts as he faced his own death. Sort of like someone speaking to you from the grave."
loved the manga. I have read this over and over again for the joy of it. It took me two tries to finish it, that's true, but it still has become one of my favorites. If you like the genres, there's no reason to avoid it. There is never enough gore, but this was good. It allows people who don't like gore to enjoy it too. SO, it made me really mad to hear that the planning of making this into an anime was canceled. In 2008 they announced it, and my feels when through the roof. Then they turn around and said No... T.T "According to the Monthly Shonen Magazine editors, production on the anime project was suspended last year due to the delisting of the Gonzo anime studio from the Tokyo Stock Exchange. Gonzo was co-producing the anime with another studio, AIC. The people involved did their best to revive the project after Gonzo's delisting, but to no avail." - ANN (Anime New Network)
Spoiler (mouse over to view)
that the ending has failed me. Not because it is not a typical shonen's happy ending where all problems are resolved and everybody's friend again, but rather because I'd hoped for mutual destruction. really, I think that way it would have created a huger impact. As the way it's done, it feels rather half-assed to me. Oh, well, on the other side, the author did a good job deceiving me (if I had guessed the ending right, that would mean the story's too predictable, don't you think?)
it was ehn. Taisuke pissed me off a lot. your typical 'one punch spew morality' bullshit 'hero.' just 'i have a power that i wont use to stop bad people i want to stop because they're killing people but i wont do anything because i dont want to get blood on my hands because i'm a good guy. i'm so sad people are dying oh look i'll PUNCH this murderer because i got a little upset.' for christs sake it's like authors can't bear to dirty their precious little protagonist because even hurting a mass murderer will be end of the good guy's morality.
god it's like the main characters are just made of cake and honey gee that's great why don't you guys just go have a tea party or something instead of trying to save all of humanity.
Idea: Great!
execution: mediocre shonen crap
realism/excitement/believability: 0
fucks i give for rereading this
: 0
Too many convenient resolutions in the story. Makes me wonder why I bothered to read so much of the stuff leading up to it.
Spoiler (mouse over to view)
like when taisuke loses his memories and everyone's sad and we're led to believe he has to gradually remember stuff with the help of others and im getting caught up like 'oh no howre they gonna remind him' and starting to feel sad: but NO his memories conveniently flood back in like 2 pages and he's just all like 'omg sorry i forgot you guys i remember EVERYTHING now. okay im ready now let's go get the bad guys.' and everyone's like 'haha okay welcome back!' seriously? wtf. and like how every freakin supporting character miraculously survives all these mind-blowing catastrophes and mass destruction where buildings collapse and everyone else dies. and like a single death of a side character needs an entire arc and everyone STOPS the battle to mourn and give taisuke time to get 'mad' and do some heroic punch or something. freakin great. the bad guy kills everyone and wipes out an army but you're going to run up so you can throw some stupid punch at him because you're sad you couldn't get off your dumb ass to do something useful earlier but you still dont want to resort to using your powers because they might HURT someone. and taisuke conveniently and miraculously is able to dodge attacks that can wipe out BUILDINGS because that's his 'talent.' and and ... you know what? no no screw it. ALIENS. ALIENS explain everything. that's why. you know why?? because ALIENS.
...
Last updated on July 18th, 2012, 1:49pm
An OK story by an OK mangaka. Premise is the whole "alien-god-thing comes to take over the earth, and in doing so, gives humans supernatural powers." It was excusably executed.