Manga Poll
Manga
is the Japanese equivalent of comics
with a unique style and following. Join the revolution! Read some manga today!
Join #baka-updates @irc.irchighway.net

RSS Feed


Magi - Labyrinth of Magic
Login to add items to your list, keep track of your progress, and rate series!
Description
From Viz:
Together with the djinn Ugo and his friend Alibaba, Aladdin sets out to find his fortune in the depths of the endless dunes.
Type
Manga
Related Series
Associated Names
Magi
Magi - El Laberinto de la Magia
Magi - Mê Cung Thần Thoại
Magi - O labirinto da magia
Magi - The Labyrinth of Magic
Magi: Mê Cung Ma Thuật
Маги
मागी - जादू को भूलभुलैया
เมไจ
マギ
마기

Groups Scanlating
Latest Release(s)
Status
in Country of Origin
37 Volumes (Complete)
Completely Scanlated?
Yes
Anime Start/End Chapter
Starts at Vol 1, Chap 2 (S1) / Vol 12, Chap 116 (S2)
Ends at Vol 12, Chap 115 (S1) / Vol 20, Chap 198 (S2)
User Reviews
N/A
Forum
User Rating
Average: 8.4
/ 10.0
(1198 votes)
Bayesian Average:
8.35
/ 10.0
Last Updated
June 2nd 2023, 6:49am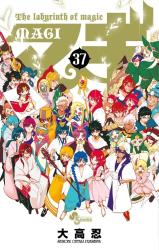 Genre
Categories
Category Recommendations
Recommendations
Author(s)
Artist(s)
Year
2009
Original Publisher
Serialized In (magazine)
Licensed (in English)
Yes
English Publisher
Activity Stats (vs. other series)
Weekly
Pos #
518

(+158)
Monthly
Pos #
1366

(-29)
3 Month
Pos #
1890

(+241)
6 Month
Pos #
2147

(+298)
Year
Pos #
2657

(-154)
List Stats
On
4859
reading lists
On
1304
wish lists
On
1074
completed lists
On
221
unfinished lists
On
694
custom lists
Note: You must be logged in to update information on this page.



3 months ago
over 5 years ago
over 9 years ago
over 11 years ago
The beginning was a bit slow, but amusing enough to keep me interested. As the story developed, I became hooked and really fell in love with all the characters. However, towards the end of the manga, it just got really boring and I fell off. It's good though from start to middle-end. Although, I never finished it, I was content with where I stopped. I didn't care how it ended, I'm glad to finally know everyone's backstory.
This is a shounen manga that introduces young readers to a grey world parallel to our own. While it's true that a lot has been
exaggerated
and
simplified
, it reminds us that nothing is black-and-white. The only problem I have is that most of these rulers are pretty extreme, even if they have good intentions.
The author shows a mixture of good and bad, but never truly dives into politics. Instead, she mainly deals with
theories
and
ideologies
under the guise of politics.
Story-wise, this stuff is pretty good. History repeats itself, and often times humans are
not
the most rational creatures out there. This manga does a good job of showing such aspects of the world. Comedy is also on point, and I'm impressed by the mangaka's ability to draw troll faces. (seriously)
Spoiler (mouse over to view)
Nonetheless, I do like what the author does here.
The creepy black-robed people seem to have a "legitimate" reason for doing horrible things, and the good guys seem to have hidden agendas as well. The main characters are good people, but we see negative sides of naivete and blind justice in Alibaba. The only character who seems to be completely pure would be Aladdin, and even he sometimes shows a darker expression.

I love the different rulers/kings presented:
Sinbad- The king everyone loves, but may have gone off to the dark side (a bit)

Magnoette (not even gonna bother to spell his name correctly)- A warped version of Hitler; albeit a controversially "good" one.

Kou Empire ruler- (a reflection of communism and ancient China.) Two strange mix but somehow it worked

The female magi- She would invade other countries to protect her own. Loved by her citizens. (kinda reminds me personally of USA huh)

And Alibaba- The one who looks to the weak and tries to help everyone out. While he obviously may SEEM to be the best king of all, he has a lot of flaws that pull him down to every other king's level.

Either way, I just LOVE how much this manga makes me think about controversial things I normally wouldn't bat an eye about.
____________________________________

The only exception to the black-white world of villains and heroes seem to be the Kou Empress.. Honestly, she's a tad TOO cray cray....purely twisted might be a better description.

ON ANOTHER NOTE:
this manga provides some of the funniest gags ever, and some of them come at such a random time that it'll make you go "WTF??" Oh and dear lord, don't forget the hilarious expressions and troll faces (yes legit troll faces) in this manga. Ha ha ha ha. Good times.
...
Last updated on May 20th, 2015, 6:39pm
The manga starts off in an ordinary manner but quickly reveals a larger plot with a world with potential for a great story. This falls apart due to the author's, in my opinion, poor handling of the secret evil organization and their origins, motivations, actions, etc. At some point the story devolves into lots of "heroic" characters with identical faces, identical transformations (I can't tell the difference), very flashy but boring powers and magic. The first half of the manga makes you think you know what the story is gonna be like, but then the second half makes you wonder where it all is going. Personally, I found that the story went off the track right around when the climax of the Magnostadt arc. Pretty sure I could read this if it were complete, read it all in one go, but following it as a weekly dose is not appealing anymore. I found many readers enjoying the manga for the couples they shipped, Sinbad's anti-hero badassery, Ali Baba's "hilarious" romantic life, the evil boss woman's creepy face, etc. Basically, the story is not the manga's selling point.
I was introduced to the series via the S1 anime and kept following it even after S2 completed airing. I admit I don't really like the MCs (Aladdin) and Alibaba is OK for the most part. I've read up to the latest chapter but it's now a battle manga vs fantasy which is boring for me since almost each one lasts several chapters at a time.

The worst part is how they all seem to lack resolutions or change anything really for the main cast :v

Art gets better but fights can be confusing as everyone has magical powers and ultimate attacks.

Side note: I'd recommend reading Sinbad first as it seems to be better and more interesting characters. Not to mention it's not 23+ vol.

e: I read the entire series and it had a much better beginning than ending. So many incomplete character arcs and rushed ending. I have a lot of regrets.

... Last updated on August 17th, 2019, 5:33pm
I started the series with the hope of something good based on the review. My hope shattered in my 2nd hours of reading. And here's what I think.
Art = B+
The art is pretty good and clean. Most of the times. But get ready for some serious quality drop whenever the author decided to go for over the top battle scene. Pretty common for shounen series, What bothers me is how the design of the faces looks very similar to one another, even the between opposite gender, hence my reason to only give the series a B+.
Cast of Characters = C
The series got a lot of potential with premise of dungeon crawling with naive + pragmatic lead character duo. Here's we got Aladin with his big hearted hopefulness, and Alibaba with his pragmatic view of the world with a hint of some awesome backstory. And then the author decided to go another way.
He changed Alibaba character to some naive crybaby, destroying the interesting trait that once made the series interesting. And then he decided to make Aladin a pervert without any respect for woman. And even with the black and white morality the author using (which is bad, more about this later), nobody even bothers to explain to Aladin, that woman are not sex object to grope whenever he wants. It's the author fault, since he founds that this particular lack of respect for woman are funny. It's not.
And what bother me the most is how the author throw all the consequences of the 2 lead character's action after every arc. Nobody even cares if the lead characters mistakes were actually make everything worse, people dying and everything. How, if the lead characters never exist, the village/city/world would be just fine.
Spoiler (mouse over to view)
For example, if Sinbad or one of his eight general instead of Alibaba killed Kassim (the backstabbing best friend turned mass murderer warlord) instead of crying like a little girl, he could've prevented a lot of civilians death by the black djin. But since it was Alibaba. A lot of people dies. This kind of things happen a lot because supposedly capable people lets Aladin and Alibaba meddle in important matter.
The secondary characters are mostly awful. Archetypal 2 dimensional stock character also devoid of consequences. In the series, even if you're a mass murderer, as long you are sorry and the cry in battle, you will be forgiven. Let me say, that's a very good lesson for you kids.
Oh wait. No.
If you kill someone, you'll go to jail. The same goes for corruption, war crimes, or any crimes. You'll go to jail.
Characters reset also one of the biggest flaw of the series. Nobody seems to learn anything. Once the arc end, and a very big lesson learned, expect to see, that very same problem, occur in the same or secondary character (whom gave the advice for the problem in previous arc) in the next 3/4 arc.
And to make it worse, the characters sometimes regressing not just resetting.
Storycrafting = D-
Story started good. With a pretty decent premise, that until the author decide to go for political drama. The thing is, the author understanding of politics was not very deep. It's very obvious he was not a college graduate with major in politic, but I at least expect him to do a good research about the subject. But he didn't, thus my squirming in seat every 2 chapters and saying, "wait, I don't think he know what that word means", or "no, that's not how that [political/economic idea] works".
And man, the numbers of Deus Ex Machina used in this series is a lot. Even more so than Naruto. Sometimes it so very obvious, I just assume the author used the very simple formula of:
battle + philosophical rant + flashback + finishing rant = x
if x > 1 then win battle
if x = 1 then repeat the formula using another character
if x < 1 then use
Deus Ex Machina
While I do understand, most of shounen writer are the very same guy who draw the art, thus no writing lesson or anything. I kinda hoping for them to maybe, pop up in a 1-2 month writing class. Maybe they will learn how to structure your story, so they don't need to use deus ex machina every frickin time.
Now, black and white morality. While I do understand most of shounen genre are targeted for kids, and not too bright hikomori, but once you've made a political story, then, the deal is off. There are no, I want to destroy the world because I just want to see darkness. Or I want to save the world, because white rukh are good.
Nope. You have to explain why. Every one, every entity, every individual has an agenda. Grey agenda. Humans have flaws and weaknesses. They have wants and needs. No one is pure evil, and no one is pure good. That big bad with the sole reason to destroy the world just because they just want to see darkness is stupid. Go live in a cave. They need a reason. And surprise surprise, even the good one, need a reason.
Storytelling = C-
Have you notice when you go outside this big world, your chance of meeting/finding someone/something very specific, is amazingly low? It also true in the fantasy world when their world are also big. That's why, it bothers me that the author keep using convenient coincidence in his storytelling.
Oh, the MC meet with big good king by accident. How convenient is that, considering this is a very big world we're talking about. And oh, he's somehow exchanged glance with his rival in the middle of the street, how convenient. Wait, the MC are somehow in the village/city/kingdom at the exact time of something big is happening, damn, what is the chance of that happen?
Yeah, lazy.
Overall = D+
Unless you're political buff 4th grader or not so bright hikomori who hates reading Song of Ice and Fire because it's too hard and too long. This is not for you.
If you are, go for it.
Chapter 1-200 stat
1. Number of deus ex machina used: 16 occasion (1600% too many)
2. Number of plot inconsistencies (a.k.a plot hole): 19 occasion
3. Number of character growth reset (character not learning his/her lesson): 15 occasion
4. Number of scene resolution by crying in the middle of battle/war like little girl: 12 occasion
5. Number of plot progression using non-existant foreshadowing plot device : 35 occasion
...
Last updated on November 11th, 2014, 5:34pm
From reading the first hundred chapters, I initially felt little depth in the characters. However, after the 100th chapter mark, the series began to pick up and the motivations of the characters felt more realistic and understandable. Though we still have the 2-dimensional evil villain, the story also presents us with characters that are much more than that. It shows us that there are no completely evil factions in a war and that "greater good" is often cruel. By showing us the different reasons and facets of factions in the story, you are able to sympathize with each side which creates a surprising amount of depth. It forces to ponder where your stance is within the story. There is a constant battle between ideologies and ways to govern. "Would it be better for the world to be unified as one people? Or is it better for each nation to retain their individuality?" These are some questions that you will ask throughout the manga. The art is not bad a well. It is better than average but not too masterfully drawn. At times, I have trouble differentiating between characters. There also seems to a limit in the emotional ranges that are shown in the characters through the art. The backgrounds are decently detailed and can be considered well done. Character development is a continuous process in the story that adds and drives the story. Each of the three main protagonists have their own valid motivations that are believable. As they navigate through the story, their points of view and beliefs are constantly challenged. Often times, the way they react can create quite an interesting story. Although I usually read seinen, this shounen is not a bad alternative as the conflicts in this manga can be surprisingly dark. Therefore, after dropping this manga for the fourth time and picking it up again, I am happy to give this manga a positive rating.

Update: The ending is just asinine. I regret everything.

... Last updated on September 8th, 2019, 9:46pm
Magi is a rare manga that is simultaneously rooted deep in the shounen genre but subverts many of the traditional shounen archetypes. It always feels fresh. The extremely likeable characters, mainly composed of Aladdin, Alibaba, and Morgiana, develop well throughout the story, to the point where the manga is comfortable at switching between the perspectives of the three without any problem; it never breaks off the action of one character to show the meandering life of another, but develops different stories at the same time. The magical and epic feel is helped strongly by its sources of Judaism and One Thousand and One Nights, and the wonderful art only adds to the experience.

If there's any complaint I have, is that the author often s**ts on Alibaba and his love life, despite heavily developing a potential ship. But that's not really a huge concern. Go read this manga! You won't regret it.
Recently I have some trouble picking a shonen manga because they tend to develop or end in a crappy way. Nevertheless, Magi it's one of those gems in the dirt. I'm amazed of how a very recent shonen actually has some original concepts.

It has a complex story. The world feels alive. It has interesting and funny characters. And a good sense of humor. The art is wonderful. Especially the architecture. Magi also presents interesting themes like economy, philosophy and sociopolitics. Those aren't properly unusual in a shonen, but Magi handles them in a different way as far I've seen. .
And last but not least, the concept of magic it's pretty good and well crafted. Unlike Fairy Tail's dizorganized and shallow magic.

Another thing that is a bonus for me. Is that Magi makes reference to the Ars Goetia that was supposedly written by king Solomon in real life. That trope made feel confidence in Ohtaka's work. Because she shows preparation and control. Unlike many other shonen that improvises stuff and usually ends up in a mess.

The week I spent reading this manga is one of the best "journeys" I have had.

My only complain, in a personal level, is that in recent chapters, Ohtaka has told every single mystery the story had in a very short time. Instead of showing it to us from time to time. Also, some story layers, like Hakuryuu's, are developing in an awkward way.

... Last updated on October 21st, 2014, 7:02am
Magi is a shounen series that started off decently, got better, and then degraded so rapidly that I got whiplash.
For a series with the subtitle of "Labyrinth of Magic," you would think there would be ample, well, labyrinths. Well, too bad, because after Magi hit its midway point, it seems to throw away all pretense of a fun, campy adventure full of dungeon-crawling in favor of some really convoluted politics. Now, I'm not a fan of genre changes, but Magi really takes the cake with how bad this particular genre change is.
In a word, the politics is
godawful
. It might be the worst I've ever seen--and I've seen a lot! Maybe if it doesn't take center-stage so often, I might be more lenient with it, but it does, and it's awful, so no.
Spoiler (mouse over to view)
For instance, Ren Koumei's political ideology makes no sense. His assertions that people want power and, thus, he will unite the world in order to facilitate peace do not connect with one another at all. Even on a surface level, these two ideas don't coincide! In what world does having a single ruler automatically mean all power struggles will cease??

Not to mention how difficult it would be for a single person to govern an entire world. Like, really, Koumei will have to appoint governors and shit anyway to take care of different parts of land, and power struggles will happen in that case. And, of course, if your people are unhappy with your rule, revolutions also happen, and these revolutions are far more likely when the country is big than when it is small (just look at Alexander the Great!).

Finally, the whole premise of people can't understand each other and just fight for power is just so inherently flawed. People don't just pop into existence thinking "I WANT TO RULE THE WORLD." There are actual reasons why power is so desirable, and only by understanding these reasons can you understand why people fight. The way Koumei is thinking is extremely lazy because the thought that "people are just inherently evil" solves absolutely nothing. It simply obscures the real problems within the social system that pushes these people to fight. And the only way to prevent more fighting is to get to the root of these problems and solve it there. Not to just look at it on the surface and go, "Well, maybe if I just conquer everyone." Like what??

The worst part of this scene was the fact that Alibaba wasn't able to respond to Koumei's ideas at all. These are incredibly simple and shallow ideas that he could have easily refuted with a word or two. Instead, he's shown as not being able to give any conclusive answer at all. ESPECIALLY because Alibaba is probably the only one in the whole manga who has chosen the "correct" choice in terms of political ideology when he decides to turn Balbadd into a democracy. Forming a democratic nation is clearly a radical idea, and the fact that Alibaba does it shows that he knows enough about what the people need to do it. But now he can't even refute a simple "lol i'm going to conquer the world because [insert shitty reason]"??

Oh, and don't even get me started on the terribad ideas of both Sinbad and Solomon, both of whom the author tries to make charismatic but both of whom just turn out to be jackasses instead. (I know I'm not the only one who confuses the two and wants to punch both in the face whenever they appear.)
The mangaka also has a tendency to derail characters in favor of really crass "comedy." And while it might have been funny the first time around, the nth reiteration of Aladdin's perversion and Alibaba's desire to find a girlfriend is just overused and bad. I can't like any of these characters because of how grossly they're portrayed in these contexts--and they never grow and develop to, you know,
respect
women. Instead, the whole thing is continually treated as a joke, as if it's something to laugh about rather than frown at. The whole thing is just really tiring for me, especially because, as I said, it derails both personalities and development in favor of a cheap laugh.
All in all, Magi has become a chore to sit through nowadays, and if the mangaka continues this way any longer, I might have to stop reading for the sake of my own well-being.
(Please go back to feel-good dungeon-crawling, Ohtaka,
please
.)
i don't have anything to say the manga will show you the greatness and the awesomeness , its really a deep and have a great "great" i say story line whit a lot of mysteries and thrilling events . some people may think its slow starting but its really an important part in the story line of this manga thats because while you climbing up you will start to feel the greatness

... Last updated on February 18th, 2014, 3:41pm