Manga Poll
Manga
is the Japanese equivalent of comics
with a unique style and following. Join the revolution! Read some manga today!
Join #baka-updates @irc.irchighway.net

RSS Feed


Oooku
Login to add items to your list, keep track of your progress, and rate series!
Description
From Viz:
In Edo period Japan, a strange new disease called the Redface Pox has begun to prey on the country's men. Within eighty years of the first outbreak, the male population has fallen by seventy-five percent. Women have taken on all the roles traditionally granted to men, even that of the shogun. The men, precious providers of life, are carefully protected. And the most beautiful of the men are sent to serve in the shogun's Inner Chamber.
Note: Won a special prize at The Japanese Association of Feminist Science Fiction and Fantasy's fifth annual Sense of Gender Awards in 2005 and the Ex...
More...
Type
Manga
Related Series
N/A
Associated Names
Lady Shogun
Le Pavillon des hommes
Ooku
Ooku: The Inner Chambers
Ōoku
Ōoku: The Inner Chambers
大奥
오오쿠

Groups Scanlating
N/A
Latest Release(s)
N/A
Status
in Country of Origin
19 Volumes (Complete)
Completely Scanlated?
Yes
Anime Start/End Chapter
Starts at Vol 1, Chap 1
Ends at Vol 4, Chap 15
User Reviews
N/A
Forum
User Rating
Average: 8.7
/ 10.0
(191 votes)
Bayesian Average:
8.37
/ 10.0
Last Updated
September 12th 2023, 9:31am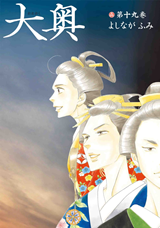 Genre
Categories
Category Recommendations
Recommendations
Author(s)
Artist(s)
Year
2005
Original Publisher
Serialized In (magazine)
Licensed (in English)
Yes
English Publisher
Activity Stats (vs. other series)
Weekly
Pos #
475

(+170)
Monthly
Pos #
1064

(-46)
3 Month
Pos #
795

(-70)
6 Month
Pos #
861

(+204)
Year
Pos #
1362

(+552)
List Stats
On
685
reading lists
On
1222
wish lists
On
86
completed lists
On
55
unfinished lists
On
443
custom lists
Note: You must be logged in to update information on this page.



2 months ago
5 months ago
over 11 years ago
over 13 years ago
pure NTR juice
I don't know what to say. I just finished the manga and I am very pleased. Yes, the beginning is rough because of the translation but after the first volume, it really grew on me. At some point, the translation gets a lot easier to read because they drop the old English.

Each few volumes focused on a different handful of main characters but they are connected to each other in some way, thus making the story technically every lasting. Because of that, I had wondered how the story would end and with who, exactly.

There is a lot of romance, which I had not expected. But the intimate relationship building had me rooting and crying for characters. Even some of the most unlikable characters won me over. (I mean annoying and rude ones, not the pure evil ones).

Of course, historical genres are not everyone's cup of tea. But if you love history, as I do, then I suggest giving this a go.
I literally can't even read this, my brain hurts, it seems good but I really wish they used modern englsih
Suicides, Rape, Incest, Cooking, Love triangle, More Rape, More Incest, Sex, Nudity, Violence, Socially acceptable incest, Socially unacceptable incest and Murder but enough about me. Let's talk about the manga.

The series set early in 1605 when the red pox disease that takes the lives of many men reducing the male population to 1/5th. Women outnumbering men from 5 to 1. In a patriarchal society this results in a massive shift of workforce and social behavior somewhat. The political figures become women. The breadwinners become women, the workforce in itself becomes a massive shift. This story specifically however is about the shogun. Political leaders and merchants that were originally led by men have now been replaced by women. The shogun which now have become woman. As a king or a leader of course you have an absurd of women to impregnate but with the roles reversed, the shogun now has an abundant of men to be used as stallions. These men live in the Chambers Known as Ooku. This what the manga pretty revolves around more or less.

A good aspect of the series is that you only need to read volume 1 or not to realize whether or not this manga is worth reading. Though the manga does get better it really is more of what you see in volume 1 with more characters and bigger twists and higher stakes. Its fantastic and exceptional. Genuinely I have not enjoyed a manga as much as I have in quite a long time.

The series revolves around the shogun and there love interests essentially. The main shogun (FMC depending on which year) and either the consort or Main concubine (The MMC). Now the reason I mention depending on the year is because the series does not actually have a main character. It spans an era of 300 years in 19 volumes. We go through so many characters it can become a mess but its so continuously engaging as well.

The 3 big issues I have is that, There is no Main character, No 1 person journey to follow, The dialogue is incredibly dense. If you have read western comic books you know what I'm talking. Each volume that takes me 20 minutes to read would take me 1 hour or more to read. Not to mention each volume is 220+ pages. It can get literally exhausting read that much. I recommend a bottle of water next to you and of course the reason you might have heard before. The archaic use of the Language. Old english does not bode well. But personally this is not a big deal. You can understand the words via the context given. I do believe there is very little usage of the Old English as well especially in the later volumes. Perhaps this is a show of the fact that the world in the manga has changed. So pretty clever but irrelevant as well.

There is a lot to unpack about this series. The male characters suffer from the red pox disease so we have less men and more women that need to step up. I'm a bit disappointed in the role reversal though tbh. Maybe it was the author's point that power and money is what changes the world not the gender but regardless there is a little change. Since men did most of the heavy lifting type work they have set a precedent on how much work needs to be done. To make up this gap there has been slight technological advances to gain the same rewards as men but that was it.

The characters are by far the most enjoyable aspect. Each character has a finesse or is followed by character development that makes them have finesse. It is such a joy reading each story about every character. Like I mentioned before there is no main character but there is tons of individual arcs to follow. Some of the stories you read are insane filled with incest, rape and just a whole bunch of addictive nonsense. It is an excellent that takes its time (perhaps too much sometimes) to develop and showcase each character's individual personalities and characteristics and this is exactly despite not having a main character, each character went through that I wanted to see fully.

There is a character that is no nonsense business. Dealing with political rifts while giving birth to a baby. A women in love with her mother's lover, A women molested by her father and it just goes on. Either with events that occur to them, or be the events that occur due to them shift them into the character they become and we see that change and its glorious.

When we get a stereotypically unattractive character that is meant to be the focus the series focuses on other things such as cooking with a more sexually enticing cast instead. The political battles are just as entertaining but it is more hard to keep track due to the confusing names and similar character designs that some characters end up being plagued by.

I also love the costume designs in this series. the costume designs are *chefs Kiss*. Fantastico in every way. So many call backs when you least expect it. The series hooks you in far deeper than i anticipated.

Also Threesomes. Not tell me this series isn't a masterpiece.

I love this series I really do. This is why I read manga. Yeah it has its problems but these are nitpicks in regards to overall quality. I truly believe this is one of the better manga I have read to this day. Do yourself a favour and read this manga.

... Last updated on April 11th, 2022, 3:05pm
It's supposed to be playing straight the "reversed gender roles" thing, yet tries to make it realistic to some degree, which completely shatters my suspension of disbelief, as the males would seem to be able to create a patriarchy in like 10 minutes if they really wanted to.
this manga inverts the history of patriarchy and instead examines an ancient world where the women rule, and the men have been reduced to prostitutes and trophy "husbands" due to their scarcity. It is quite interesting to see, and this author does a terrific job of covering multiple aspects of such a situation.

However, unfortunately, the English translations are in Old English...and the phrases such as "thee" "thou" and whatnot are inconsistently used. Also, this story still flows without any real direction, and it feels like I'm reading a dramatized version of a history book. There are SO many different characters with names I cannot remember that I have become lost in this manga. There's Mizuno, O-tama, O-man?, Fuke-u? (lol for real), and bunch of random names!!! What's worse is that many of these people have MULTIPLE names!!!! I'm at a lost as to what else to say... It's just too much lol.

But, this is still a pretty cool manga series, and I think I will find the movie version enjoyable as well!! It's called "Lady Shogun and Her Men."

... Last updated on December 25th, 2014, 10:41pm
I enjoyed the story telling of Ooku very much. Each set of story lines are intricately linked, with the underlying human emotions that come with change and life. The author made the story compelling, exciting, sad, and at the same time wondrous. Please read some of the other commentator's for more details on the elegance of the story.

My only problem, (and its a HUGE one) is the horrible translation. Whatever the translators thought they were "creating" was absolutely abhorrent. If I ever wish to read a Shakespearian play, please I will, but the fact is: we are in an era where we do not speak as they do, so unless we are English majors, the use of olden english is TERRIBLY ANNOYING AND DISPLEASING! If the story, was any less than what it is, I'd have dropped this series entirely, even though its so good? Which IDIOT (in Viz) decided to ruin a good read for everyone? Why must we suffer, because Viz decided it would be interesting to re-live old England (with so much of it made in Scottish/Irish accents) in an otherwise Japanese setting? Its horribly inaccurate, some words are just incomprehensible, there is so much LOSS of understanding, and a waste of time! By the end of it, I had to read each bubble, then mentally translate it to proper English just to get the gist of it. PLEASE for the love of god SOMEONE RE-TRANSLATE THIS BEAUTIFUL STORY WITH PROPER ENGLISH PLEASE I BEG YOU!!!!

--And yes, I understand that Viz wanted to relate the authors original intentions, but let me remind you, Japanese, and some other languages, might not have changed altogether as much as English has. For instance I know that Russian books written some 200 years ago, can be read almost without loss of any meaning. This is NOT the same for the olden English. Almost everything is different, this isn't a factor of just some archaic 'polite speech' this is a matter of rearranging your whole head to cave in for "thooths" "thees" and "thousts"! Viz thought to translate Ooku into the piece of "artwork" they thought they were creating. But, I the reader, don't want to read their 'artwork' but a story which I can understand and comprehend. Why make it so unnecessarily hard for readers? Why do we have to sit with a dictionary, re-writing sentences just to read one manga written in our common era? I see it as unnecessary extra work being flung on me without even asking, for what the translators misguidedly though would increase the 'credibility' of the manga's setting (and don't worry, its a manga for gods-sake, I can understand its setting without having some ridiculous English from a different era and different country thrown in to 'spice' things up, k.thanks.bai :T).

... Last updated on November 2nd, 2013, 2:36am
It's an interesting take on social dynamics if Japan was a matriarchal society. The old modern English that the translator tries to use is kind of annoying because it's inconsistent and inaccurate though. The overall story is very unique and the art is typical of a josei.
i was perplexed. at first i was turned of with the old english language.. i kinf of imagined shakespheare going on and on in my head with a japanese accent <impossibru LOL> but that thinking was taken over by how fast paced the story telling was... no it wasnt so fast paced that you dont feel for the characters anymore but there wasnt one scenario that doesnt have any relevance to the story. i liked all the characters, how noble they were and i just love all of them.. each have his and her flaws and they are not all perfect shoujo types.. i mean sure they are pretty but.. actually the art wasnt that pretty but it was clean. clean lines every where.
the thing that got me here also is the history and boy was i a sucker for period drams, ive never been to japan but i wish that will someday and yeah gosh.. im not so sure about the accuracy but it seems legit
) and did i mention the awesome story telling.. im only up to volume 3 and i mean,, i was having goosebumps while reading the last chapter on how it really began i mean.. so awesome.. "in order to understand a story you must first start with the beginning" so awesome. gawd... i really hope that i can have all the published copies of this in english but since online shopping is not an option i can only pray that theyll sell this in a local bookstore
Since this question still pops up a lot: shoujo (and shonen, seinen, josei) is a demographic label in Japan, not a content/genre one: Ooku is published in a shoujo magazine ( = aimed af teen females readers), hence it's shoujo. As simple as that.
Content, art and storytelling can vary wildly within such demographic: Nana by Yazawa Ai is shoujo, published in the older teen-aimed( = still shoujo) magazine Cookie. . Ooku appears to be an older teens/mature shoujo and borderline adult (in terms of readers' age) work, as the magazine hosting it... in this sense is similar to Nana, a shoujo with a crossover demographic appeal; on the brink of adult readers' demographic in Japan, and popular among both adults and teenagers in the Western world. Yet Nana and Ooku, although both of them are shoujo, they are totally different in terms of content, art, genre(s) and 'feel'.
You see? It's a bit like like the Young Adult fiction label for books in the West: you can find any kind of genres and style among such books... it's a 'cointainer' label, not a 'content' one ^^ .
Ok, now that this arguably pedantic intro is over, on to Ooku itself.
-----
This manga is a brilliant, thought-provoking and verisimilar 'what if' about politics and gender dynamics. It has many characters and manages to make them both compelling, multifaceted and fleshed out, their flaws and all. As a Westerner I find the insight into the Imperial court and the period feeling fascinating. As a history and period fiction and essays lover, the subject is just my alley.
Fumi Yoshinaga is a gifted storyteller and her drawing are deceptively simple, yet effective and evocative, regardless of her churning out yaoi, shoujo or seinen titles, but her period pieces are where this evocative yet understated/sober quality of hers shine the most imho. As such, I consider Ooku not only an excellent piece of fiction in manga form, but also her best work to date.

... Last updated on January 12th, 2012, 7:45am