Manga Poll
Manga
is the Japanese equivalent of comics
with a unique style and following. Join the revolution! Read some manga today!
Join #baka-updates @irc.irchighway.net

RSS Feed


I Am a Hero
Login to add items to your list, keep track of your progress, and rate series!
Description
Hideo Suzuki is a thirty-five-year-old mangaka assistant struggling to be the hero in his own life by breaking back into the limelight with a new serial all the while juggling his relationship with his girlfriend and his own delusions. However, as hard as Hideo may try, the world seems to have a different set of plans for him; sinister and dark machinations that completely overturn his reality as he knows it.

Note: Was nominated for the 3rd, 4th and 5th Manga Taishō and won the 58th Shogakukan Manga Award in the General category in 2013.
Type
Manga
Related Series
Associated Names
Ai emu a Hiiroo
Ben Bir Kahramanım
Я — герой
ข้าคือฮีโร่ I am a HERO
アイアムアヒーロー

Groups Scanlating
Latest Release(s)
Status
in Country of Origin
22 Volumes (Complete)
Completely Scanlated?
Yes
Anime Start/End Chapter
N/A
User Reviews
N/A
Forum
User Rating
Average: 8
/ 10.0
(668 votes)
Bayesian Average:
7.93
/ 10.0
Last Updated
September 23rd 2023, 1:05am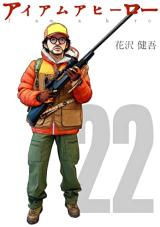 Genre
Categories
Category Recommendations
Recommendations
Author(s)
Artist(s)
Year
2009
Original Publisher
Serialized In (magazine)
Licensed (in English)
Yes
English Publisher
Dark Horse
(11 Omnibus Volumes - Complete | Print)
Activity Stats (vs. other series)
Weekly
Pos #
720

(+49)
Monthly
Pos #
1219

(+228)
3 Month
Pos #
1865

(+521)
6 Month
Pos #
2623

(+323)
Year
Pos #
3244

(-238)
List Stats
On
2368
reading lists
On
1482
wish lists
On
927
completed lists
On
117
unfinished lists
On
505
custom lists
Note: You must be logged in to update information on this page.



over 7 years ago
over 8 years ago
over 10 years ago
over 11 years ago
WARNING:
A number of the comments below this one should be in SPOILER tag, as they spoil the ending for you. This comment does not contain spoilers.
This is a mixture of NHK and
Kiseijuu
. It's truly an epic read. The manga starts really slow and picks up I around volume 5-6. Towards the end it becomes hard to put down. This is nothing like the movie, which is purely a Zombie flick.
The manga is about the journey of Heido as the world around him collapses due to unknown viral infection that is transmitted through the blood/saliva of the infected. In other words, usual Zombie like infection. We follow the main protagonist, an Otaku; though intelligent in some ways, when it comes to social skills and common sense he seems to be somewhat lacking. As well as being socially inept, shy, emotionally detached, he suffers from episodes of visual delusions. He also has strong desire to abide to the written law rather than the spirit of it, no matter how impractical it is in the current world. We follow him as he and his companion(s) try and survive in this zombie infected world.
Positive aspects:
The best aspects of the Manga are the internal emotions, lack of emotions, social interaction, relationships between humans and recalling of past events (flashbacks). I may have attacked the way the author deals with early reactions of government (below), but the way he portrays Heido, is fantastic. Heido suffers from emotional disconnection, which is truly captured in the last few volumes. He tends to run away from real world and his own emotions when things get to hard. But he tries to change himself and he does succeed sometimes.
Heido has an unhealthy obsession with being a hero as though it is a profession. Outside the DC/Marvel world "heroes" do not exits. People can be heroic and there is plenty of that in the manga. There were so many heroic acts by many (forgotten) individuals.
Other "side" characters also have a childish obsession with "heroes", either wanting to be one or seeing another as one. The biggest contrast is between Korori, who does not see himself as one but has a person whom he idolises as a "hero", and Hedio which wants to be become one. While both men are seen as "heroes" by others; the way they see themselves is not similar and by extension their emotional maturity, and the acceptance of one's fault and personality is also different. This in a black humour sort of way, is shown in the last few volumes. I cannot find the right words for it, but as you read the manga you may understand.
One thing I have to say but you will not understand unless you read it,I am glad Korori
Spoiler (mouse over to view)
never turned around.
Had he, I believe the manga would have ended differently.
Negative aspects:
Though I said the Manga's Hideo is less stupid in some ways, he is still a total retard. In fact most of the Japanese population seem to be retarded. Even after several days the people still seem to behave in a blissful unaware fashion. And why in God's name do they not notice infected people, with veins all over their face and stuff. They just continue as normal and only react when several people get taken out and the SHTF. The first guy having his face bit does not garner reaction, it has to be a few before people react. Even the police, who one would think would be the most informed and react the fastest are absolutely useless. Slow is an understatement for their inability to respond in a timely fashion. Also no one seem to convey what is going on to others, they just shout in pain and talk about random daily stuff. Why didn't anyone try explain to those around him their ideas of what is going on, instead of vague statements like I was attacked by crazy people. Even after 3 days and city after city falling, the media pretend nothing much is happening. This much worse than being an incompetent government, they are in cahoot with the virus. A totally unrealistic reaction from the government and the SDF.
Another gripe I have is when Hideo's group are stocking up for food, they only get enough for one or two days, when one would think they should get as much as they can. They leave cash if they have any for the stuff they take, and avoided breaking into vending machines because its against the law in zombie apocalypse. On top of that they are afraid of the law catching up with them because they killed infected people in self-defence. It's OK to kill someone who is trying to kill you, that is the case in every nation on earth. If it was just him, I can say it is a quirk, but he is with a group seem to have the same follies. So there are lot of small things like this, that rub me the wrong way.
The story line has a tendency to time jump and we seem to miss highly interesting sections, like what happened in Chapter 54 in the car. Can't say much without spoilers. These parts skipped were heading in a great direction and would have been interesting to see how things went down. It kinda leaves you guessing.
Final note; some people have complained about the ending, I disagree. The ending is masterful. It's bitter, but also very sweet. Heido truly changed, and all shown in just the latter half of the last chapter. It is satisfying.
...
Last updated on September 20th, 2018, 9:25am
The manga ended in a deeply moving and intelligent way. From the beginning to end, the main character represents cultural HERO of the enlightened age, Robinson Crusoe on his (mental) island. The main character's end and beginning are the same, but with a very meaningful difference emerged in between: all the other people from the city are gone to the collective world of ZQN. In a way, all the other people already were like zombies to him. The collective mind will keep on as one, without sacrificing two-for-the-sake-of-one, in contrary to what the main character keeps on doing. The manga sets the deep question about the meaning of civilization and culture, of individual and collective mind. The return-to-nature ending is a way of ending civilization and culture, in the collective consciousness which could be seen as the perfection of collective life. In the end the civilized-cultural technical individual keeps on doing his mechanical tasks: farming land, making weapons and killing animals to please his hunger: to sacrifice nature to himself. He only communicates with lifeless monuments and treats them like living beings, as does the civilized man of letters who keeps to himself and his books. Mechanical person is a schitzophreniac, who has lost his touch with other people and nature, and keeps on sacrificing it. In the end he is a punished by ZQN by abandoning him to survive on his own, because he's not worth rescuing from himself. The main character represents pessimism against mechanico-individual human culture, while the ZQN-collective represents optimism for the collectivo-natural animalism. This doesn't mean the manga is purely opting for the ZQN, since there is also the third medial option of the islanders: close-to-nature small community living, rising children, creating art and fishing with simple tools. This represents another kind of island-living, as opposed to the robinsonal city-heroism. The Robinson-Hero of mechanico-technical enlightenment is shown to be cut off from nature and communal ties to his fellow humans: he pointedly keeps on living in his city-wasteland, because his city originally already was a wasteland in his schitzophrenical individualism. The real being of this robinsonal hero is and always will be city-wasteland, not an island: he is an island in himself, and so his city already always was wasteland as the place void of other people, a deserted city-man in his habitat with his fields, guns, lifeless monuments and technical ego.

... Last updated on June 3rd, 2018, 9:30pm
I am a Hero started as one of the best modern manga, managing to carve its own personality in an overcrowded genre with great characters, an interesting twist on the zombie formula and a well written story. It was so good that it became a huge commercial success, and with it came one of the downfalls of such manga: filler. It made so much money that the author was forced to stretch the story way beyond his possibilities, first opening way too many sidestories and then just plainly releasing entire volumes with nothing happening at all. Some of the later volumes have several pages of copy-pasted close-ups of character faces and meaningless text dumps.

The pace picks up towards the end with the author finally moving the story forward and interesting events unfold, with an original take on the origin of the zombies. But then the manga is abruptly brought to a terrible "end", if it can even be called that way. Nothing is resolved, the multiple sidestories are ignored; we don't even get to see what happens to one of the main characters!. It's the worst and most rushed ending I've had the displeasure to read.

The only possible explanation for this non-ending is that Hanazawa simply got burnt out and just wanted to be done with I am a Hero, completely destroying what once was a great story in the process. A real shame, but probably the Japanese manga industry is partly to blame.

Avoid this if you don't want to feel terribly disapointed after a very promising start.

... Last updated on May 5th, 2019, 5:52pm
The premise and progression of the manga is interesting. Despite unsteady progresses, the manga develops multiple perspectives of characters and sometimes unifies these characters' meaning into a whole (whether the manga does it sufficiently coherent is to be debated, I feel). There are some unique character traits in these characters. Unpredictability is really a factor you can count on in this manga. Although I did somewhat enjoy this manga for the most part, the exploration of the manga's world wasn't really thorough. I'd recommend this manga if you like slice of life or unpredictability.
This is a great manga, to say the least. Characters have depth and the story is very convincing. Rhythm is the major problem of the manga. The first volume is just a prolog, which is ok considering we are talking a long 22 volume manga. During the next 21 volumes the plot will grow slowly and more and more intriguing mysteries will appear, everything is action packed for the most part. But then the final volume comes up, and everything is rushed and most, if not all, of the mysteries will remain a mystery. If you can deal with a manga without a real ending, this is for you. In fact, this is the the best undead or zombi manga you will ever find.
This is happening a lot, a bad ending ruining the whole series to the ground... Frankly I'm so frustrated and tired of reading endings like this one, that I'm gonna be quick with this.
Every story as a whole has to have a introduction, development and a conclusion/ending. Each as to be near the same level as the others for the sake consistency, but here we have = 9 - 10 - 4(don't even know how to rate the shitty ending). Without spoiling the ending is pretty much a disappointment along this lines: You are enjoying the story and when it gets awesome Hideo(main character) trips while walking, falls to the ground, breaks his neck and dies, end of story. Now imagine reading 22 volumes and meet a conclusion along something like that. Apocalypse no Toride was the same damn thing...

... Last updated on March 4th, 2017, 7:50pm
I don't understand. Why did the author end the manga where it was? There was basically no conclusion and very little explanation for what went on. It was an incredibly random and disappointing ending. I wish I never read the last volume. This was such a depressing manga to read in the sense that first several volumes were so good, but everything went downhill afterwards.
The ending is not very good... For the manga to be such a rollercoaster, the last chapter doesn't do it justice. I am disappointed. It would be a perfect 10/10 if not for the ending.
This is a zombie apocalypse story with an autistic protagonist. Its incredibly frustrating following a mentally ill person as he lucks his way through massacres. It's meant to be frustrating but that doesn't make it enjoyable.There is a lot of meta commentary on manga and it pokes fun at itself and how meandering and wasteful this manga's panel usage is. The main character is a reflection some of the author's worst traits; mentally slow, a bloated sense of ego, naive, and pathetic. I get what the author is going for, but this story fundamentally fails to be entertaining. I found the author's other work, Ressentiment, to have the same problems of being capable of addressing interesting ideas but absolutely a chore to read through. Maybe I just don't enjoy this "loser" sub genre that this author specializes in.

Edit: After giving it another several volumes, the story finally picks up and becomes interesting. There's a lot of small details that the mangaka throws in without explaining them which are fun to figure out. There's still plenty of zombie story tropes used but there's aspects that are really unique to this manga. I think I've changed my mind on this manga. The beginning is still painful to read through but the world building done there does somewhat pay off later.

... Last updated on May 20th, 2016, 11:34pm
Really like this manga. Goofy yet great. Artstyle remind me of old manga feom the 90s yet with modern look to it. not mutch to say. Just enjoying the story and puzzle. maybe the manga does drag on and kind wish the story just focus on the main character but oh well. plenty of other manga out there that have flaws to. Im always looking foward to each vol. The ending was a huge disappointment like the author wanted to end there stoey just there and cancel it.

... Last updated on July 25th, 2017, 8:10pm