Manga Poll
Manga
is the Japanese equivalent of comics
with a unique style and following. Join the revolution! Read some manga today!
Join #baka-updates @irc.irchighway.net

RSS Feed


The Legendary Moonlight Sculptor
Login to add items to your list, keep track of your progress, and rate series!
Description
The man has forsaken by the world, the man a slave to money and the man known as the legendary God of War in the highly popular MMORPG Continent of Magic. With the coming of age, he decides to say goodbye, but the feeble attempt to earn a little something for his time and effort ripples into an effect none could ever have imagined. Through a series of coincidences, his legendary avatar is sold for 3 billion 90 million won ($2.7 million), bringing great joy to him, only to plunge him into despair at losing almost all of it to vicious loan sharks. With the revelation of money through gaming, ...
More...
Type
Manhwa
Related Series
Associated Names
Dalbic Jogaksa
Dalbich Jogagsa
Dalbin Jogaksa
El Legendario Escultor de la Luz Lunar
Legendary Moonlight Sculptor
Legende du Sculpteur Crepusculaire
Legendinis Mėnulio Apšviestas Skulptorius
Moonlight Engraver
Nhà Điêu Khắc Ánh Trăng Huyền Thoại
Легендарный лунный скульптор
ประติมากรนักล่าแห่งแสงจันทร์
달빛 조각사
달빛조각사

Groups Scanlating
Latest Release(s)
Status
in Country of Origin
169 Chapters (Cancelled)

S1: 52 Chapters (1~52)
S2: 65 Chapters (53~117)
S3: 52 Chapters (118~169)
Completely Scanlated?
No
Anime Start/End Chapter
N/A
User Reviews
N/A
Forum
User Rating
Average: 8.1
/ 10.0
(494 votes)
Bayesian Average:
8
/ 10.0
Last Updated
September 12th 2023, 8:42pm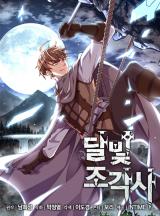 Genre
Categories
Category Recommendations
Recommendations
Author(s)
Artist(s)
Year
2015
Original Publisher
Serialized In (magazine)
Licensed (in English)
Yes
English Publisher
Activity Stats (vs. other series)
Weekly
Pos #
375

(+44)
Monthly
Pos #
482

(+7)
3 Month
Pos #
462

(+95)
6 Month
Pos #
535

(+28)
Year
Pos #
460

(-242)
List Stats
On
3463
reading lists
On
480
wish lists
On
110
completed lists
On
102
unfinished lists
On
469
custom lists
Note: You must be logged in to update information on this page.



over 6 years ago
over 7 years ago
How is this manhwa rated so good? It could not be more boring.
I read the web novel and loved that... but the manhwa adaptation took away too much and I just could not read it. It also looked like the art changed over the series and the character development that I loved was taken away to nothing. *Sigh* I wish they would do a re-make of the manhwa to better match the web novel.

Update: So, lovers of the web novel should skip the first season of this manhwa. They change too much about the game play but it gets better in the following seasons. You start seeing how the plot is moving *like the web novel*. Do NOT expect it to be like the web novel ... that ship sailed when they took out the amazing character development in season 1 *Shaking fist of frustration of a fan.* However, they do "some" justice to the web novel in the proceeding seasons. You actually see some of the absurdity that is Weed in image form but they do still take out bits that actually help the readers make a little bit more sense of the plot.

TLDR; Lovers of the web novel should skip to chapter 53. But don't expect that it matches the web novel exactly ... they get the big strokes and you get to see some of the absurdity that is Weed's personality in image form.

... Last updated on September 24th, 2022, 1:20am
Every time I pick this up and try to read it, I just can't help but cringe at how serious everyone acts about the "game".

The MC is using the game as a way to get rich (which is a pretty stupid gamble). Why doesn't he work? When his family needed money so badly, he spent all his time playing video games. This stupid MC actually spent a year training to play a video game. What the actual fuck.

During the first few chapters where the manhwa is trying so hard to make you feel bad for the MC and the debt, I just couldn't help but laugh. The plot is just so fucking dumb. It's like the author spent 5 minutes coming up with it and didn't think about it ever again.

It's easier to digest if you just forget all about the debt situation and pretend it's not supposed to be a video game. At least then you have a reason why all these adults are acting like the game is their whole life.

... Last updated on October 11th, 2020, 4:48am
I really enjoyed the first part of the story if it were a game I would definitely play it (even though it is overly exaggerated with the money/media coverage).I use to be the best of the genre since it blended his daily life and the seriousness of his situation with his optimistic thinking and evasive tendency of playing games .

But with the art style change and how exploited the same premise is now (I also feel the MC got waaay too c***y).
I just dropped it .
Why do all Korean MC have a mother in hospital and a small brother /sister...
(The other alternative seems to be living by themselves covered in gaming dept that their ex payed)
It's interesting enough. The MC is only mildly overpowered so far. The story never really addresses why but as he's playing more than ten hours a day it seems he's just no lifing it. The art took a big dip in Season 2, as did the pacing, it almost feels like Season 2 is an entirely different adaption. Both seasons though are just on the edge of being good, they have all the right ingredients but when combined its all just "fine". Not bad, not great, just fine. Maybe it's because as readers of the novel have commented that its being rushed and condenses far too much (a sadly common sin for webnovel adaptions). I will say solely on the issue of time management, the comic makes it explicit that in-game time is not the same as real world time, a month in-game is equivalent to a week in the real world.
This mc is, no doubt about it, quite unusual. He's greedy to ridiculous levels. He doesn't want to give anything anything unless he earns something from hit. He'll stoop to any level to get what he wants. It's pretty good, but it'd be nice if he was a bit smarter(he's not really smart at all although he's not stupid either, I've yet to see a single instance in this manga where he did anything that could truly be called brilliant in terms of brainpower) and wasn't as greedy or selfish as he tends to be sometimes. I like his traits, but sometimes it's overdone. I also can't understand why he'd whine about things like adding an egg to cheap ramen, an adition of around 200 won, far less than even a single dollar. Surely he should realize that his body is first priority if he's going to use it to play and earn money, right? But he doesn't. Oh, and he can be pretty petty and violent for no reason. I personally dislike his attitude against his summoned beings that serve him.

Anyway. The first season had pretty crappy art, a bit too realistic and dramatic for my taste. The second season had much more preferable art, well, until the last several chaptesr where the drawer decided to say "f*ck it" and copy-paste screenshots of bad game graphics into the background, the type of crap you'd see a more than a dozen years ago, chunky and polygonal. It really stood out and made things less amazing.

As for the characters, I guess they're pretty good. Can't say I hate any of them, at the same time I can also say that I don't care much about them. They can be funny when they show up but contribute with little else. The comedy is so-so, sometimes hilarious enough for me to laugh out loud, sometimes enough for me to smile and sometimes just not hitting home, missing completely. The comedy and light-heartedness is essentially what makes this an interesting enough manga(and novel) to read.

Overall, it was pretty good, at least I didn't feel bored when reading through all 2100+ pages in half a day. The setting is pretty interesting and it somehow works despite some flaws here and there. It's not anything truly exceptional though. I've read over 20 volumes of the novel version before deciding that it was turning to garbage and I wanted to drop it because it gave more boredom than enjoyment. This is what happens with unnecessarily long novels, they lose steam and crash, a crash that never seems to stop as it gets worse and worse. The author could've paced this differently and finished it in 20 volumes, going for more wasn't a good decision. Too bad he didn't. I actually feel like the manga is superior in many ways because it's much faster to read and we can see everything happening quickly. The novel is full to the brim with exposition and useless information that we never wanted to or needed to know. Some of it is nice, like details about his crafting and thoughts which we don't get to see here, but much is just sheer garbage.

So, I recommend the manga, it's a good and light read. If you've read the novel and wonders where season 2 ends, you should know where if I mention "grass porridge" and "tomb/pyramid". It never got to any romance parts yet, I guess some of that might happen in the next season.
I have to completly disagree with some users comments about this being an inferior work compared to the novel coz it drops lots of details.

The novel have WAY TOO MUCH useless information, basically the author repeating one time after another after another after another how sad was the MCs childhood, how great he is now, how superior is he to everyone else, how he can do things better and faster than anyone else, how much of a moneygrubber he is, how every good guy respects him, every beautiful lady falls for him and anyone that oppose him has to be a bad guy.

The novel is a continuous, non stop, masturbation from the author to his own character. Its gross and sad at the same time and makes you lose A LOT of time reading the same thing one time after another. Believe me, it was CRYSTAL CLEAR that the protagonist had a sad childhood the first 100 times you said it, i dont need another 1000000 times ffs.

The adaptacion drops all that useless stuff and goes directly to the point.
Leaving aside the terrible 2 or 3 first chapters, it started great, unfortunately it didn't last long, from the get-go there were some interesting stories, the depicting of the world, new characters, parties, interesting romance prospects and so on but soon enough this became as most every other similar manhwa, same concept, it's all about how awesome the MC is, and how powerful, and talented and how fast he learns, crafts, gains money, how all the world loves the MC (who is by the way a prick), etc. etc. etc., the posible romances make no further appearances, the secondary chars rarely get a few panes (expect the sword instructor) and there is a fight once every 20 chapters, the MC just keep doing boring stuff leveling all his ridiculous skills and so on. This reminds me too much of Gamer, it's better but still, I'm disappointed at how this progressed.
The good: Art-design and flow of the drawings, some fights are exiting, the game for a change is cool, I'd definitely play, the rules and skills are relatively consistent and I like the non mainstream class of the MC.
The bad: the things mentioned above. Time management in-game suck (the writer forgets this is a game, ej: no one would spend 3 month resting in a cave and just practicing skills; ej2: weeks to travel between cities. This are all real life time... leaving the MC aside people play games to have fun imagine sitting doing nothing hours to move around). The chatting or whispering system logic is flawed again, it's a game, how come they can't speak in secret when wanted? Actually they can when far away, why can't they when they are close? The MC seams to have his leveling curve set apart just because he's the MC, he levels 5 (and eventually more) simultaneous crafting/gathering skills and in a few month reaches what the TOP players reached after over 1 year and few month in only 1 skill... Also, how can someone go 10 days straight without sleeping? the author is retarded... also his body is still fit after that, there are more.
Still it's probably the best MMORPG I read since Log Horizon (I watched the anime actually of that one).

Edit: Having ended season 3, the raids are the highest points of the manhwa and the "obsessive about money" personality of the MC is it's biggest flaw. A character can be obsessed with money without being an ass about it, I know part of it is done with the intention of being funny but it's just annoying imo.

... Last updated on November 13th, 2020, 2:00am
Look at all those reviews below which are full of negativity and complain on how the adaptation story is too fast paced and that the art is bad.



Story side:
Well, I'll be fair here. The story adaptation is not that too much rushed. If you want to see some really rushed manga/webtoon adaptation, see Zhan Long, Overlord, and Doulu Dalu.

That said, this LMS adaptation is not that rushed, the story is upright close to the novel with only slight differences that's practically only flavor texts. Please don't say that the story is being "skipped", the correct term is "summarized". The reader of the adaptation will have around 80-90% content compared to novel readers and no major plot/content is skipped, so story-wise it's truly still acceptable.



For the art style side:
Those reviewers below complains that the art is mediocre, characters not like the depiction in the novel, and such.

Well, Although it's not the best ever, this adaptation is by far really well-made. I mean, see Doulu Dalu & Coiling Dragon/Panlong adaptation then I dare you to come back here and complain again. In case you still say that the art in this LMS adaptation is poor, then you people are being ungrateful bastards.

Look, it's in full-color, and unlike other adaptation where even old men have baby face, this one clearly show actual facial line that's rich in expression.



Someone actually complain that MC's depiction is different than what the novel depicted. Apparently he/she thought that MC is a big, muscular athlete.

Then on my understanding, MC is not depicted as big muscular guy at all in the novel, well duh, *minor SPOILER alert* the big muscular guys are his dojo mates... MC really was depicted as athletic and has stamina, but he never was depicted as big brawny guy. Although he does dojo training, it would not make him a big muscular guy with ripped-chest and visible bicep. He is clearly depicted as your average around 20yo korean gamer boy on appearance, and yeah the novel stated that he does not look handsome but also not ugly.

If you still complain that the art is ridiculous, I dare you again, go read Coiling Dragon adaptation. Now that's what I'd call "bad art style" that miss the novel depiction by a huge margin which will make fans cry when they see it. The artist of Coiling Dragon's adaptation is like a Stormtrooper and the artist of LMS adaptation is like a Boba Fett. Don't you even dare to put them on the same league.
The artwork is technically lovely. Whoever is adapting this series has a good deal of skill, but the problem is that he's really just not a very good storyteller. The dialogue and exposition are really over-simplified, as if talking down to the reader (like I don't know what a quest is!!), and I would almost rather the beautiful paintings weren't quite so beautiful, since that leads to a lot of panels where people are just posing around for the sake of looking good.

As others have mentioned, Weed is also really a little too boyish. His character is a grown man in his early twenties, who does martial arts and a good deal of physical, blue-collar labour work - hardly a pretty boy - and this is rather jarring.

Basically, while I did expect the adaptation to cut a good deal of detail from the novel, part of being a good adaptation is knowing how to portray the same story in a different way. This adaptation would probably do better as a series of illustrations for the novel, and not so much a story on its own.


UPDATE: Alright, so 5 years later I came back and read it again. I've forgotten most of the novel by now, and the webtoon is actually better if you don't remember much of the novel. It's kind of like a more kids version of the novel; lots more emphasis on the comedy and the friends going on wacky adventures, and the art style suits that. The first 15 chapters are still super weird, because you don't really get an explanation for why the MC is doing all the slow grinding at the training halls, but once he starts getting his hidden class, the comedy kicks in and it's pretty funny from them on. I also appreciate how the side characters are much easier to recognize in the webtoon than they were in the novel.

... Last updated on February 6th, 2020, 9:56am