Manga Poll
Manga
is the Japanese equivalent of comics
with a unique style and following. Join the revolution! Read some manga today!
Join #baka-updates @irc.irchighway.net

RSS Feed


Hoshi no Samidare
Login to add items to your list, keep track of your progress, and rate series!
Description
The world is in mortal peril. Sir Noi Crezant, the Lizard Knight, has been sent to gain the aid of the great warrior Amamiya Yuuhi in hopes of finding the Princess Samidare and protecting the planet from the incredible 'Biscuit Hammer' poised to crack the Earth in two. Unfortunately Yuuhi wants no part of it, and the Princess doesn't prove to be the shining 'hero of justice' role model that Noi had hoped for.
Official English Translation
Type
Manga
Related Series
Associated Names
Lucifer and the Biscuit Hammer
Lúcifer e o Martelo (Brazilian Portuguese)
The Lucifer and Biscuit Hammer
Wakusei no Samidare
Люцифер и Бисквитный Молот
惑星のさみだれ

Groups Scanlating
Latest Release(s)
Status
in Country of Origin
10 Volumes (Complete)
Completely Scanlated?
Yes
Anime Start/End Chapter
Starts at Vol 1, Chap 1
Ends at Vol 10, Chap 65
User Reviews
Forum
User Rating
Average: 8.7
/ 10.0
(1923 votes)
Bayesian Average:
8.66
/ 10.0
Last Updated
June 2nd 2023, 5:46am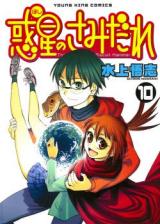 Genre
Categories
Category Recommendations
Recommendations
Author(s)
Artist(s)
Year
2005
Original Publisher
Serialized In (magazine)
Licensed (in English)
Yes
English Publisher
Activity Stats (vs. other series)
Weekly
Pos #
675

(-3)
Monthly
Pos #
991

(+378)
3 Month
Pos #
1716

(-22)
6 Month
Pos #
1776

(-191)
Year
Pos #
1278

(-220)
List Stats
On
2253
reading lists
On
1958
wish lists
On
4651
completed lists
On
181
unfinished lists
On
719
custom lists
Note: You must be logged in to update information on this page.



about 1 year ago
over 9 years ago
over 10 years ago
over 11 years ago
over 12 years ago
This is the most overrated manga.
WARNING: Extremely LONG "review" / (99.9% BAD) rants. SPOILERS.
When I read the first chapter, I already appalled by how boring it is. But as the review are mostly positive, so I pushed myself to finish this. And I should know already from my first instict that this manga is too OVERRATED! Is it because the mangaka famous for something so people praise this idiotic manga? Honestly, I even never heard any of his manga.
Too many unimportant dialogues, unfunny jokes (I just find only one funny joke: Noko wants to mark Yuuhi's room), idiotic reasoning, idiotic boring battle scenes, idiotic characters, unrelateable characters, idiotic plot, plot holes everywhere, ugly arts with perky sagging breasts, extremely IDIOTIC mc. Man, I despise Yuuhi, even his past is stupid just like him and the mangaka.
Spoiler (mouse over to view)
His grandpa abuses him with idiotic reasons and honestly, I don't see or even think with LOGIC what his grandpa did is OK. I mean, you tell your grandson not to make enemies or friends, then if he disobeys you, you chain him up and put him into a warehouse? How this is OK? And when the grandpa is too old and almost die, he accepts his own family and changes for only half month or so? So, he didn't accept it before or what? How an old fart changes his opinion so quick?? How is it OK not to make friends or enemies? You want him to die alone? And after 10 years of getting the abuse, Yuuhi wants to him to be cured (he wishes from Noi). So, I should feel bad for Yuuhi because he actually cares for his abusive grandpa? I don't.... HMMMMM!! I can't describe all this idiotic plot. There's no child service in Japan? How about his aunt? Nobody care for him? Should I even need to care about Yuuhi if he doesn't even care about anything? He's selfish conceited jack*ss who is weak, lame and whinny. AND A PEDO! And what is worse? Anima and Sami look at him like he's a hero. He's the one who doesn't go to fight the Animus when the knights are struggling. He just watching from the space. The hell…

If Yuuhi is a real person, he needs to be in jail for loving an underage teenage. Also, the mangaka should be in jail too for giving us many panties shot of the idiotic UNDERAGE princess. Yuuhi also opens the door naked and Sami looks at his junk. You think this is funny? Cheap idiotic unfunny joke! And was that supposed to be funny to see Nagumo's partner: Hiwatari to get a nose bleed when she sees a boy with shortpants? She even drooling over a boy photo. You are sick in mind, Mizukami Satoshi! I mean, lewd joke is funny, but this is not appropriate, this is like what? All age manga? The drawing is shitty enough to be called a decent manga, yet to input such lame pedophiliac joke, especially when 10th golem turned into Mari, the mage just lifts up her skirt to see the panty, do you think this is funny????? And when Yuuhi lift up Yaako's skirt when fight, are you even a man, Yuuhi?? No normal man will do such a thing to woman, especially when the woman has feelings for you!!

I read like 6 volumes but there's nothing happened except: New golem comes, defe
ated, taliking, new golem comes, defeated, more talking, then talking talking talking and talking. Oh, almost forgot to put the ironic unfunny jokes around and some idiotic excuses for miserable pasts so readers can "relate" to them.

After 20-ish chapters, they just have the logic to collect all the knight to defeat the golems and mage. I was thinking that you guys should do it in chapter 1 already. And poof! Just about 2 chapters, all knights gathered around. Oh God... At least, make some adventure of it, like searching for a knight but the knight is too stuborn or any bs so people can feel symphtize of them. Of all knight, I maybe kinda like Shea Moon and Yaako and Inatika Akitani and Zan Amaru only. Oh, and Ludo because he's a dog and funny, though he looks more like sewer rat because of how bad the mangaka's drawing is. Hmmm.... in fact, all the beasts are better than the humans. The beasts have more personalities than the shitty human characters, example: Lee, the Rooster is great, yelling like a rooster, that's what he is. Even the crow who never talk for like eternity has more personality than the humans. Also, do I need to feel sad or bad for them just because a guy who the readers know for about 4-5 chapters died in such idiotic way? Should I maybe, perhaps, cry with the other characters? I don't feel anything when that Hangetsu guy died. And there, people said he's extremely powerful, but died just like that? Oh, I do feel a little sad because LUDO, THE DOG died too (I love dogs), but it's because the dog, not the human. I never take any sad feeling or pity towards the knights who die in battle. Well, I do feel a SUPER EXTREMLY LITTLE sad at the sworfish knight. Why? Because I know what he's been through from his very young age. Though it's only 2 chapters, but at least, his past is not idiotic one like Yuuhi's. And why Master has that abililty? You need to explore it, lazy mangaka. Don't just give us "Well, they are Esper user, so they are immortal being" CRAP. Just like you did to Anima and Animus. Animus think he's THE God, because he has Esper power, the earth is too big and populated for you two to be the only Esper user, sweety. I know that you are stupid and immortal, but your stupidity is too idiotic. The sensei only say one thing and you make it to another thing. You know who is immortal and stupid but everybody still likes him? Sephiroth from FF7! Why people drooling over him? Because we know him! We see how he becomes a derange mofo and how he loathed the earth. We know how he's stupid thinking that Jenova is his mom, so he carries his "mom" desire with him. But with Animus? Huh???? I don't see anything except a plot trigger. You know who also a derange psychopath? Kefka. Honestly mangaka, play more RPG, you will know how to write a better villain.

Near the end, we learn about Anima and Animus' past for ONE chapter (chapter 54). Animus is a psychopath already. He killed a lot of people in space shuttle or something? Which no one can relatable. EVEN psychopaths themselves! What makes him a psychopath? Why they have this ESP power? Do their parents have it? Why does Anima need other people to help, but Animus doesn't? (Except for the sake that there will be human knights, so for the sake for this manga being created) Oh, btw, their ancestral thingy is messed up and it's one of the biggest plot holes in the manga. Another plot hole: Shouldn't there 4 mystical beasts? But why only 3 shown? Anima is a hypocrite too, "don't want to use humans as pawns", well, seems like you are the one who use them as pawns. Animus destroyed them in one hit, but Anima use them like pawns. Poor Hangetsu, Master and Tarou, they are pawns for the "good side".

BTW, time paradox is real. Use some logic, pedo mangaka, if you kill your ancestor in the past, you will never have been born. Who will create you inside her belly? You probably will be born as a dog if your ancestors died. You are too freaking lazy as an author. WTF is "you wouldn't understand even if I explained. That's just how fate flowed" BS you give us from Anima's mouth? Just say that you are too lazy to explain or maybe mangaka is too confuse by his own creation.

Originally, I want to give this manga 3/10, but I will reduce it to 1/10 stars because of what Sami wishes for. She wants to destroy the earth because of her illness. She loves the earth, but because of her sickness, she needs to destroy it. I was appalled by this cheap reason. Many people with health problem too, selfish dipshit brat! Some even crueler than yours, and they still keep fighting till the end. They don't desire the world to be destroyed, instead they pray so there's no one need to go through this circumstance. And what worse? Sami should wish for her health or a cure. Come on! She's a kid, but a kid should be smart too, mangaka.

To tell you the truth, I cry a little tiny bit when the beasts go home with Anima. I can relate to that, because I have pets (read: FAMILY). They've been with me for a long time, then suddenly they need to go to the rainbow bridge because of old ages. In other word, they say their farewell to me, same like the beasts and their knights. Only this is a redeeming point of this manga. Then, like someone who doesn't want his gold mine ended, mangaka make a veryyyyyyyy draggy ending. Jesus, just ends it already. It makes the ending where the beasts say their farewell seems nothing because of this dragging ending.

The mangaka wants to proof how knowledgeable he is but failed to prove to the audince that actually it is a "knowledge". Ten volumes for wishi-washi chat without doing nothing? Even the Mage aka the final boss is flying around here and there. How lazy you could it be? Oh yeah, naming an ultimate weapon a BISCUIT HAMMER is already lazy enough! Oh, btw, mangaka, which part is the Lucifer now? Lucifer is the princess? Do you really know who Lucifer is?
Mangaka should do comical animal mangas like Hamtaro, instead pretend to be serious about this bs manga. I like how Noi and the beasts react to each other, more than to see the humans doing unnecessary boring shits. Why even put beasts on them if the beasts themselves NEVER fight? Also, a terrible (unrelatable) past is NOT a way to make people sympathize the characters. Seeing them struggling while trying to achieve their goals are more relatable than bs past where they get abuse because of stupid reasons. And do you think making most of the characters with psychopath behavior is a good manga? Mangaka should learn from Death Note if he wants to make real psychopath. Like that Hanako, praying mantis knight, she wants a bad person die. If I have one wish, maybe I will wish for peace in mind for everyone in this word, instead wanting people die. You can't abolish badness with just killing one people, that's a psychopathic behavior.
I don't get it, why do people give so high ratings? I mean, it's not that bad, but it's not very good either. It's below BELOW so-so. Defend this all you want, I just find this boring, why I keep reading then? I don't want to judge something that I never read till the end. Besides, it's only 10 volumes.
If I want to nitpick every single chapters on this idiotic manga, it'll be like 100 pages of a report.
Overall:1/10
Problematic character development. Plot holes. Ugly Arts. Plot holes. Overrated bullcrap. Plot holes. Tons of unfunny jokes. Plot holes. Pedo's vibe. Plot holes. More plot holes. Ugly fanservices. Plot holes. Lazy explanations. Plot holes. Plot holes. Plot holes. Plot holes. Plot holes.
...
Last updated on September 22nd, 2020, 9:11am
Boring jokes that never hit home, stiff and unappealing art, ridiculous story, plot holes everywhere, twisted characters, shifting too much and quickly between drama/comedy while making no clear distictions, and idiotic motivations that can't possibly be the actions of remotely sane or intelligent humans...

Well, that's pretty much what this manga is made up of. I could understand why some people would like it, but I'm certainly not one of the people that can feel the charm and enjoy it. It feels like it's one of those manga where it's 50/50, you either love it or hate it, feeling that it's "okay" seems to not be an option. I guess you should give a few chapters a try and see what you feel about it. For me, it was a total miss even after a few volumes. Surely there is some charm here since it has such a high score(which I feel is overrating it far too much), appealing to certain kinds of people, but I see nothing worth reading this for.
It felt different from the first chapter. I fell in love with Mizukami's style here. He is extremely good at building a relationship between the reader and the characters. What I love most about Mizukami's work is that he starts writing a story with an ending in mind, and he doesn't drag it out. No half baked, unsatisfying endings. No 1000+ chapters of the characters doing pretty much the same thing over and over again. Read this, and if you like it, read Spirit Circle too. He does not disappoint. One of my favorites.
I went into this manga with high expectations especially since I had read spirit circle by the same author and loved it. Unfortunately, I just could not get into this manga. Everything that people mentioned as the strengths of the manga such as the slice of life and character development were actually points where I found problems. I thought characters were kind of just thrown in and then their backstory was almost forced upon you. There were definitely elements I liked such as the actual plot idea, however, the plot was not really the main focus at all.
The largest issue for me was the MCs backstories and how he overcame his trauma far too easily. I could accept his bizarre backstory and trauma but its resolution felt like it was just there for a mere plot point than actual character development. I would have liked to see the MC slowly overcome his trauma or even flashbacks to it since it occupied such a large part of his personality and life. Lastly, the relationship between the MC and female lead was not really well developed and was rather forced onto me.
Overall, I am not unhappy that I gave this manga a chance it just did not live up to my personal expectations. Usually, I am pretty open-minded and even if I am not fond of a particular manga I at least understand where other people are coming from. However, for this manga I truly do not understand the appeal despite it's amazing reviews.
This one was a very nice read, it's nothing epic and it uses the ever common save the world premise but unlike other stories it makes it work imo and it also makes fun of the "save the world" cliche in its way so I found it good nonetheless and that premise is were the unoriginal part of the series end too. It's also a romance story which was great too imo and some sad moments too, death of characters is very well used imo and as others say you might end wishing some chars didn't die. And on top of that drama its was a good comedy too, there are some very funny moments so I had some good laughs too.
The main thing in this one thou were the chars imo, I found them interesting and original with strange but understandable mindsets and motivations at times, but they all felt real, not to mention that both main lead chars development were great too. Also the dialogues were good too, some good reflections at most but it was fluid and with sense, something many series fail at.
Recommended for anyone really (maybe not to hardcore shoujo fans...).

Fundefined I think you didn't pay attention, what you question is explained (can't remember the volume thou), seeing it as viable or not might be up to you but each chars motivation and mainly the main male lead motivation is explicitly explained.
Although it (deliberately) starts out with a familiar situation involving animal-based power ups and a mission to save the world, this manga proves to be beyond the ordinary in terms of quality in its character and story. The characters, ranging from the leads to the side characters, are all given interesting backstories and personalities which help flesh out both them and the setting. It all leads from the pedestrian beginnings smoothly to the explosive ending filled with character resolutions and revelations which put all the pieces together.
It's a great and unique story. It has a solid plot and I love it from the start to the ending (I satisfieeedd with the ending!). I have no problem about the art, it's shonen-ish, yes, but still captivative.
Yuuhi and Samidare are not your everyday heroine, and their character developt very well. The humour are refreshing, though this manga is not that slow.
Spoiler (mouse over to view)
I cried when Tarou died, a lot
I'm not worry about unrealistic details, because it's fantasy manga, haha.
I really can't seem to understand why people say this manga lacks in plot and coherence. Once you've accepted the weird rules of this world, everything falls into place nicely, something I haven't seen in a manga (or any other media) much often.
After you've finished reading it, it's clear that the mangaka had the whole story in mind from the very beginning.

As with all the best works, the real strenght of the manga lies in the characters. Many characters, all very well developed, and almost none of them is bidimensional, with the only exception of background ones. And what a fantastic character development, for everyone in the story.

The art isn't the best, but it's very unique and it has its own style, also it improves during the story.

Only some minor details felt out of place, and for once I enjoyed a truly satisfying ending.
The bonus chapter made a huge difference for me in rating this manga (in a good way).

Overall, I strongly recommend this series.
Finished the manga and it is a very good read from start to finish. This is not your common story, its very unique and draws you in extremely. I recommend this to everyone, my only warning is for those watching this for the romance aspect be careful as the romance is subtle but definitely there
Spoiler (mouse over to view)
in the beginning and end.
...
Last updated on May 27th, 2014, 10:07pm
i've gone through the comments which were critical of this series, and i believe that most of the criticism comes from not seeing this work as what it was intended to be. for me, i think looking for plot coherence in a manga where the threat of destruction of the world comes in the form of a BISCUIT HAMMER hanging from the sky is even more insane and illogical.

This actually tries to tell a story of a few adolescent ppl in an outlandish setting, and every aspect of it, its powers and everything is well aware of the ridiculous-ness. in fact majority of the fun moments come from that angle, so if you don't catch on to it, or you expect this fighting stuff seriously by the writer, you are to be disappointed.

Similarly when it comes to telling the stories of each individual, the mangaka takes a very refreshing way of not trying to get into too much details, and still managing to produce touching moments most of the times when he tries to. same for the romance stuff, there is no elaborate sequel of occurrence leading to relationships, its just that the feelings, whatever they are, are developed as if they were meant to just happen, in very simple ways.

Instead the manga focuses on the themes and takes its time with them: adolescent insecurities, despairs, introversion. hope, looking up to adults and trying to become adults. Even there it doesn't overcomplicate stuff, like creating extraordinary life-circumstances (only the MC's backstory is a little exaggerated), or wordy preachings.

in a way, its sort of Kafka-ish, but with lots of hope and positivity in it. Which is exactly why i believe this is what shounens are essentially meant to be, light hearted, not too difficult, with positivity and some attractive plot gimmicks like powers and fights, but stopping from becoming naive, cliche and sugary with smart self awareness of ridiculousness of its own plotting, and by dispensing with being too wordy, and preachy with loads of 'unnecessary details' shounen mangakas in general seems to love.

if there is any criticism, its how it ends. it does get a little serious about the battle (but still not too much, i mean which self respecting manga would allow a later villain to be weaker than the previous one), and in that process misses the opportunity to expand on two characters who should've been much more interesting.