Manga Poll
Manga
is the Japanese equivalent of comics
with a unique style and following. Join the revolution! Read some manga today!
Join #baka-updates @irc.irchighway.net

RSS Feed


Vampire Sphere
Login to add items to your list, keep track of your progress, and rate series!
Description
The unforeseen destiny of cloned triplets. Zhaoyan, Xiyan, and Yuejian's lives take an unexpected turn after they are injected with a serum that controls demon bloodlines. And in this world of vampires and hunters, they must overcome every obstacle that comes their way. How will the serum change their fates? Can they rise up to the challenge?
Official English
Type
Manhua
Related Series
N/A
Associated Names
Huyết Tộc Cấm Vực
Xuezu Jin Vu
Xuèzú jìn yù
血族禁域

Groups Scanlating
Latest Release(s)
Status
in Country of Origin
34 Volumes (completed)
132 Chapters in 435 Parts (Canceled by author)
+ Authors written ending (complete)
Completely Scanlated?
Yes
Anime Start/End Chapter
N/A
User Reviews
N/A
Forum
User Rating
Average: 7
/ 10.0
(41 votes)
Bayesian Average:
6.78
/ 10.0
Last Updated
August 2nd 2022, 2:27am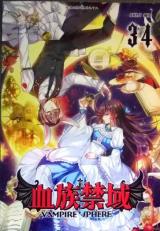 Genre
Categories
Category Recommendations
Recommendations
Author(s)
Artist(s)
Year
2012
Original Publisher
N/A
Serialized In (magazine)
Licensed (in English)
Yes
English Publisher
Activity Stats (vs. other series)
Weekly
Pos #
745

(+22)
Monthly
Pos #
1668

(+155)
3 Month
Pos #
3491
(No change)
6 Month
Pos #
4045

(+673)
Year
Pos #
5818

(+468)
List Stats
Note: You must be logged in to update information on this page.



First, be warned that there is no closure. This Manhua currently stands abandoned at the climax of its 2nd act out of what seems to be a three act story, reportedly due to health reasons. And if you cannot abide abusive relationships in your fiction then this is definitely not for you. The vampires here borrow inspiration from the World of Darkness varieties in a world building effort that is lazy when at its best, and insults your intelligence when at its worst. The overall plot and pacing is perhaps adequate but come with some glaring plot holes and room for trimming. If all that weren't enough, the storytelling gets increasingly infuriating towards the later chapters as the author develops this addiction to hijacking our POV in artless attempts at creating drama.

It's a small wonder therefore, that I found myself having read all available chapters of Vampire Sphere at the end of the past weekend and not regretting the experience, thanks to what I think are excellent constructions, interactions and deconstructions for the main characters, and this servers as the main driver of the narrative, seeing how they each compromise (or not) on their goals and beliefs while under distress and facing insurmountable odds. So in the end, despite the many flaws in its execution I have to commend the author for having a strong vision for their story and trying to realize it with conviction.

... Last updated on July 24th, 2019, 6:53pm
The art is the only positive.
All the male leads/romantic interests are abusive (mentally AND physically), r@pe-y a**holes, excluding one dude who conveniently disappeared. I suspect he might come back later on as a d**chebag too. I hate the message this manhua promotes regarding abusive relationships. It's offensive, misleading, & just plain disgusting. It's realistic in that it paints these abusive, horrible men as the victims. 'Look how much he's risking by keeping her locked in that room against her will after he killed all those people she cared for/threatened her! That's how he shows his love, okay? Soo romantic!!'
I've described in more detail how the male leads are terrible in the spoilers tag below.
Spoiler (mouse over to view)
EXAMPLE 1: throws a girl to his subordinates to be used/abused. Keeps her from thinking of betrayal or suicide by using a power to make her feel excruciating pain whenever she begins to do so. He's also dragged her to be thrown in a room w an inhuman beast for a while. At one pt he tells her she's wearing too much, rips her clothes off, & throws her into icy water. Then literally TORTURES her by keeping her in a magic circle that will alternate b/t unbearable heat & freezing iciness until she 'gets used to it'.

EXAMPLE 2: kidnaps another triplet bc she showed him some kindness once while he was undercover. He keeps her chained up & threatens her/kills people in front of her to hurt her. He even takes her for a 'walk' w a metal chain shackled to a collar around her neck. On top of that, he uses his powers to control her every now & then, & manipulates her mind/memory so he can see her cry in pain. He calls her bitter tears of shame/humiliation 'sweet'. He basically erases her memory then has her fall for him in illusionary situations created/controlled by him, then lets her remember the truth every now & then so she can stew in self hatred while kept chained up in his chambers.

EXAMPLE 3: Meanwhile, the main lead for the last triplet is ice cold, & never showed any signs of liking or caring for her until the author conveniently got rid of the one male character who seemed alright (though he had a scarred & "ugly" face). Somehow we're supposed to be believe him dragging her around & treating her like a blood bag is romantic & signs he likes her. Note: her blood is valuable bc of her powers & increases his own powers, tastes esp good, & he drinks from her w/o warning, w/o permission, & painfully/violently.

All these men are, of course, drawn as the prettiest of pretty boys. They're beautiful, which is supposed to further the lie that these relationships are romantic, as beautiful as the art. ...Please excuse me while I go regurgitate my last few meals.
And what makes it worse is how the author frames these trashy men as sympathetic/pitiful. Like their actions are ok not only because they're Hot, but because they had painful pasts. And yes, it's true that they did have pitiful pasts, but men like this should NEVER be seen as romantic interests, much less male leads. Just because you've been hurt doesn't give you the right to torture and twist the people around you - the people you claim to 'love'.
...
Last updated on November 1st, 2017, 12:19pm
Since 2012 the storyline has progressed fairly well and there is a lot alyyang123 has missed out.

For starters, the series is borrowing a lot of things fro World Of Darkness series Vampire: The Masquerade to the point it will click both the direction and many concepts the moment you know this. Be it, a lot of things have been streamlined to make the storyline work. So things like sex is at play, but you don't see it, often there is violence but you don't see all of it. VtM was never pornographic, but it was sexual quite heavily and you can expect any.

This is why Yi Tai and Fan Le Lao act the way they are, their members of the Sabbat and like their reference from VtM, their not good guys. hell, if you bother to read Chpater 77. Part 8, Fan Le Lao rapes Zhao Yan. There is nothing on screen but the storyline tells you he has done it and is the reason why she hates him.

The Camarilla are a little more "heroic" then they should be, but their still the closet thing to the good guys as per in Vampire the Masquerade.

All and all, the series itself is laying out like a typical campaign from VtM, in sorts.As I said, there is some streamlining going on so some stuff like "Clan Weaknesses" don't exist, but some elements like the Assamite's being assassins are at play.

If you know its based on VtM, you'll maybe like it for what its referencing, but hate it for what its leaving out. As WoD itself is a very complex universe, and VtM is one of the most complex. So for Vampire Sphere to lack some of it, is a shame.

Edit:
Since the review that proceeded me also doesn't get this series.

Look, the abuse that is shown by the character of Yi Tai/Yi Sai is actually spot on. The Tzimisce in Vampire: the Masquerade are actually just like him. In fact, this character is spot on. VtM is a franchise wherein there is no real good guys and even the Camarilla are Vampires at their core.

So in regards to people complaining about the abuse that Xi Yan receives or the way certain characters behave, remember that the series is based on a book RPG series wherein you play a bad guy and you are a monster. In that sense, what is going on even early on to Xi Yan is expected, the Tzimicse in the RPG discipline disobedient childe until they learn their place. In later chapters (103 onwards) Xi Yan even learns the process which in VtM leads to creating ghouls, which is another significant aspect of being one of their clan.

Zhoa Yan equally gets the same treatment candidates of the Lasombra often receive in that her life is tried and tested to see if she is fit. This is normal in VtM as it helps determined if the person is even worth embracing as a vampire. At this stage of the storyline, it was believed by Fan Le Lao that she would be a Lasombra vampire upon him biting her. Heck, if you want fine detail Fan Le Lao is even seen playing chess, a favourite pastime of their clan in VtM.

To sum it up, everyone who reads this comic needs to know something about VtM otherwise they won't get why certain characters act the way they do. Otherwise you'll end up think of it like alyyang123 or ohkimch, and you just won't get where this series is coming from. Once you understand, it becomes intriguing.

I must confess even as a player had it not been for that fact that I was familiar with the series, I would never have understood where the storyline is coming from. In knowing where the storyline is coming from, it puts great insight in the direction of the characters.

I was even surprised, as though its yet to be translated, the more obscure Cappadocian clan is brought into the scene in chapter 105. For those who don't know, these are a clan of vampires that even some VtM players don't acknowledge since they didn't make it into Modern Nights and are only found in the Dark Ages era books.

... Last updated on December 22nd, 2017, 1:11am
To be honest, I had high expectations in the manhua. The plot premise is quite interesting, with science fiction and fantasy components incorparated in the beginning; however, after the initial introduction, the entire series goes downhill.

My first problem is with how the author handles character development and dynamic characterization:
-In the beginning, Ji Yan's personality is inconsistent in the plot and constantly changes between a selfish, jealous girl who thinks only about herself, even going as far to permanently disfigure her sister to achieve her own means, to an insecure girl who feels constantly outshadowed by her sister's achievements. After she becomes oppressed by Wu Cheng, the author sets the second personality as default and completely erases any serious faults in her mindset.
-Zhao Yan is practically saintlike with her ultimate perfection. The author writes her character as a cool, intelligent beauty who is incapable of making mistakes, traits that are considered desirable for women in Chinese culture. Almost every misfortune that stumbles upon her path is a result of outside forces or her own kindness, and her personality rarely changes throughout the manhua.
-Yue Jian's personality after she falls in love with Jing Ren is painfully reminscent of another main character of a Chinese manhua directed towards teenage girls, Lin from Qishi Huanxiang Ye. Actually, did I mention only one manhua? I'm sorry, I meant to say almost. Every. Manhua. Protagonist. Ever.

My second complaint is with the love interests:
-Wu Cheng is scum. Complete (non)human trash. Not only does he regularly abuse and humiliate Ji Yan, he also allows his subordinates to have their way with her as well. Some examples of his treatment toeard her include forcing her to remain in ice cold baths or direct flames for long periods of time; using her to lure unsuspecting human men to abandoned areas and making her watch the resulting carnage; regularly drinking her blood despite her obvious discomfort at him doing so; forcing a bat in her bloodstream that causes her excruciating pain whenever she even thinks about commiting suicide or betraying him; and forcing her to present herself to insentient monsters that want only blood and flesh. There is only a sick and twisted sense of love present, if at all.
-Le Lao takes second place in the list of sociopathic lovers. He kidnaps Zhao Yan against her will, killing her father when she does not reciprocate his affections. He also takes control over her mind and forces her to betray her Yue Jian, and then forces her to forget her memories and manipulates her into falling in love with him.
-Xuan Chi dies conveniently.
-Jing Ren disappears conveniently.
-The only guy left who can compete for Yue Zhao's affections is the Student President, who remains unnamed but becomes suddenly relevant in the plot... conveniently.

The plot was generic and hard to follow at certain points; for example, the Mei Yue Min is considered important at the beginning of the story but is almost completely forgotten about until some of the later chapters. The author also depicts the notion of vampires differently depending on the context, treating the Student President's trivial consumption of human blood as morally okay but rogue vampires needing food for their survival as despicable and deserving to be killed.

All in all, the highest I would rate this is a five. It's not the best, but it made somewhat sense and did not feel like a complete waste of my time.

... Last updated on March 5th, 2016, 11:04pm