Manga Poll
Manga
is the Japanese equivalent of comics
with a unique style and following. Join the revolution! Read some manga today!
Join #baka-updates @irc.irchighway.net

RSS Feed


Spiral - Suiri no Kizuna
Login to add items to your list, keep track of your progress, and rate series!
Description
From
Yen Press
:
World-class detective Kiyotaka Narumi's last words prior to his sudden disappearance continue to haunt his younger brother, Ayumu. The cheeky 10th-grader becomes equally embroiled in the mystery of the doomed "Blade Children" when he is mistakenly named the prime suspect in a murder at his school. Led by Ayumu's sister-in-law, Kiyotaka's wife and fellow detective, Madoka, the investigation into the murder gives Ayumu a chance to clear his name. But in doing so, he not only uncovers ties to the Blade Children but also more questions than answers about who and what they are...
More...
Type
Manga
Related Series
Associated Names
Spiral: The Bonds of Reasoning
Thám tử kì tài
スパイラル ~推理の絆~
推理之绊

Groups Scanlating
Latest Release(s)
Status
in Country of Origin
15 Volumes (Complete)
Completely Scanlated?
Yes
Anime Start/End Chapter
Starts at Vol 1, Chap 1
Ends at Vol 6, Chap 28
User Reviews
N/A
Forum
User Rating
Average: 8
/ 10.0
(462 votes)
Bayesian Average:
7.91
/ 10.0
Last Updated
April 8th 2020, 8:44am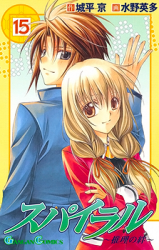 Genre
Categories
Category Recommendations
Recommendations
Author(s)
Artist(s)
Year
2000
Original Publisher
Serialized In (magazine)
Licensed (in English)
Yes
English Publisher
Activity Stats (vs. other series)
Weekly
Pos #
716

(+33)
Monthly
Pos #
1728
(No change)
3 Month
Pos #
3105

(+327)
6 Month
Pos #
3731

(+891)
Year
Pos #
5779

(-737)
List Stats
On
915
reading lists
On
1039
wish lists
On
962
completed lists
On
119
unfinished lists
On
362
custom lists
Note: You must be logged in to update information on this page.



over 2 years ago
over 11 years ago
Okay reading the commentary of the author for volume 15, I realised the author made up the character design for the main characters brother, since one of the plot point had mentioned
Spoiler (mouse over to view)
The two brothers being clones.
Also the series is logic but the final battle is horrible especially how
Spoiler (mouse over to view)
how kiyotaka can't kill himself but ayumu potentially can doesn't make sense, they are clones identical same structure same taste etc. so the fact he can't kill himself means ayumu can't kill him, if they want along with this logic, I would have accepted.
. The series is so poorly written in some areas, as some parts are enjoyable admittedly.
I thought the ending was not that good, but could have been a lot worst, they resolved the tough plot points in a very convenient and easy way, the readers would not be impressed as it is difficult to give a satisfying plot points.. I was confused when readers mention romance, as i thought the dynamic between the two has always been the same, showing they don't change and still think each other as friend or a rival feel to it as they show some form of disrepect to each other, but respect at the same time.
My problem was how hiyono is a mary sue, She can collect information so fast, cut herself without writing in pain, motivate the main character very easily, it bothered me how some of the characters haven't been punished been such leniency I mean they
Spoiler (mouse over to view)
commited a lot of crimes and murder, sure they have excuses, but it still feels insincere for them to give them freedom, as they kill they should pay for the consequence
Maundy thursday had a repentant character but still pay for his crimes. Shonen manga can be well written look at ashita no joe and akumetsu, there is some realism to not. Most series isn't 100% realistic, but at least make it feel beliveable enough for readers to feel immerse and allowing them to suspend their disbelief.
Also the side characters were very neglected, as the author acknowledge this flaw. Now for those that mention pseudoscience they are partly correct. As there is still science fiction that felt scientific, but when they mention the power of fate that is already pseudoscience and not science fiction anymore.
I like the final message sort of in terms of concept, despite fate being absolute in some certain parts you shouldn't give up living, as living life to the fullest rather than accepting destiny is depressing. Better to be happy than be depressed no many what life gives you. Instant bullet conveyed this concept way better.
Still the series contradict itself sometimes, how the main character is always lonely which I disagree, he had friends no matter how many times he says he doesn't as hiyono gives a lot of emotional support others not as much but they still provide support. Overall this series was a mess that the author couldn't keep up with the story anymore and was really struggling with some parts of the story. Also the final battle felt way TOO easy and the concept of
Spoiler (mouse over to view)
, savers, watchers and hunters were neglected very quickly
Also to repeat, I believe this series had no romance teased or hinted whatsoever and
Spoiler (mouse over to view)
the plot twist with hiyono was really stupid, no foreshadowing and just made me indifferent as it is not convincing and didn't add much to the story
, plus the female aren't portrayed well as most are temperamental, violent for no good reason , especially ryouko . Overall one of my least favourite series of all times next to zetsuen no tempest.
...
Last updated on January 18th, 2018, 11:50pm
well, you will be bring to main focus on all in very first volume, the blade children, what are they and who are they

there's action in this manga but not full body contact like popular shounen nowadays
more like escaping from game of death and so
i really hope they will expose all blade children, but then it focus on very few of them
it not enough for me though

about romance...
there is no "love you" word here, just a little promise near the end
well if you want to categorize it as romance...?

overall, i agree with this is most likely rushed to get the end
with many blade children left they not exploring each all of them
but then booom, the main villain?? is come out and greet the MC
you know where this will be brought over

but it is still one of my mangas that read over and over

try to read it to finish because the manga itself change the point of focus every new char introduced
While I'm not one to hate on shounen (I enjoy all four demographics), there's no arguing the fact that the tropes typical to the demographic greatly limit originality and opportunities for character development. Shirodaira Kyou, however, has managed to utilise the typical themes of willpower, hard work and friendship to create a fairly intricate plot which, while extremely infeasible from a real-life standpoint, is intriguing both philosophically and logically. While certainly not a masterpiece, and despite leaving several minor loose ends at its conclusion, Spiral - Suiri no Kizuna is one of the better manga in the psychological + mystery genre, with a fairly likeable cast and mind games that are complicated enough to hold your attention while not venturing into "ridiculously convoluted" territory.

That said, there are numerous complaints about this series, some of which I'll address here for the benefit of future readers:

nakie08 : Characters are nonchalant about death -- A strange comment considering the entirety of the plot hinges on Ayumu trying to find a way to circumvent fate and avoid killing the Blade Children, and how at the conclusion, most significant characters are shown going on journeys specifically to atone for the lives they've destroyed. Admittedly, many of the murders that do occur aren't met with lamentation on the part of the survivors, but considering their biological makeup and upbringing, that's hardly surprising. Which this commenter would have known if he'd bothered to read past the first few volumes. (And really, using Majin Tantei Nougami Neuro, which is chock-full of black humour, as an example of a manga that treats life more respectfully than Spiral? Bizarre)

songofthewaves : Pseudoscientific, religious hogwash -- Sci-fi is, in fact, one of the genres; and since the "science" in practically every work of science fiction ever created is pseudoscience, the first part of this complaint can be resolved simply by looking at the genre and category tags before reading to make sure you aren't taking on anything you don't like. There is a religious element to the plot, but, as is explicitly stated in the manga itself: whether God and the Devil exist or not doesn't matter; what matters is whether people believe in it and act according to what they think is "God's plan" or "the Devil's will." While atheism has been the in-thing these past couple of decades, the power of religious faith - in the sense that if you believe in something strongly enough it can have a profound effect on your actions and lifestyle choices - is undeniable, and that's what Spiral attempts to deal with. As even most seinen mangaka would be unable to tackle this topic successfully, Shirodaira Kyou obviously doesn't do a stellar job of it, but it's still much better than what I'd have expected.

Jooles : Too complicated, too many speech bubbles -- Yes, this is a very chatty manga, as evidenced by the drama, psychological and mystery genre tags. Not all shounen manga have to be brainless action + harem ecchi, though Spiral does have a (plot-mandated) action component.

MarineHaddock : Forced/rushed romantic development; SCKing88, Revelmonk : Not enough romance -- Actually, a strong romantic focus would have been unsuited to the themes and mood of the story. This would probably have got better ratings if Ayumu had conveniently fallen for one of the Blade Children, thus giving him a more "realistic" reason to desire their salvation, but in my opinion that would have been detrimental both to Ayumu's role as a (rather atypical) hero, and to Hiyono's function in the plot and Ayumu's life. (I'm always appreciative of an author who creates love interests who have a reason to exist other than to be the protagonist's prime motivation in everything he does) And the romantic development being postponed to the last volume has several valid reasons, mostly linked to Ayumu's continued sense of inferiority and the resulting inability to break free of his childhood crush prior to events in the latter volumes.


Tl; dr : If you like the sound of "a dramatic psychological mystery shounen with sci-fi elements, a romantic subplot, and tragic undertones," and are not set on the "a truly strong protagonist should just kill everyone who gets in his way" mindset, Spiral - Suiri no Kizuna is well worth a read.

... Last updated on February 10th, 2015, 1:51pm
I generally liked it, I liked the story and the characters. It's a good mystery and it's a good read for the most part. However, the romance between Hiyono and Ayumu felt forced and the entire last volume felt completely out of character. I personally didn't care about Hiyono and Ayumu's potential love life and the final volume tried to make me be more interested, however it actually gave me reasons to dislike the idea of them dating more. It's still a good manga though, but I have recommended skipping volume 15 in the past.
This is probably one of the worst manga I have ever read. There are no geniuses and no strategic minds in this story. This is not a mystery. Nothing that happens in this manga is a surprise. The mangaka should have picked a different genre because she did not possess the mental faculties necessary to make this one convincing or interesting.

... Last updated on November 21st, 2018, 2:08am
when i read a detective/mystery manga, i try to pay attention to everything so when the great revelation comes i'll be blown. so i noticed something about this manga and it just continued to bug me. it bothers me that everyone in this manga seems to be so nonchalant about death. granted i'm only in the third volume but still. characters like that makes it hard for me to continue reading. here's what happens in the very first chapter.
Spoiler (mouse over to view)
the mc walks up to the rooftop and saw someone fall off the railings. he peers down and saw the girl unconcious with her brain matter(well, more like blood) splattered on the pavement below. a girl saw him up there and accused him of pushing the victim off. you'd think he'd be just a little bothered by the death. but no. he's like 'why is this happening to me?' like someone accused him of stealing some underwear. then the police came and this lecherous policeman just started drooling over the id picture of the dead girl, and he's literally in front of the corpse. necrophilia? a few days later everyone is busy accusing the mc, who's wondering about the trick the killer used. everyone just seemed forget that a schoolmate of theirs actually died. no mourning, not even just a single tear shed whatsoever. is it just me who's bothered by all this?
i know an mc having the stomach for that kind of thing may show courage or maturity or he may just used to it, but he's just a high school student. it just borders on psychopathy. and what bothers me most is that the story and the tricks which i assumed would be the ones the author focused on, is just average if not lame. I may be a little harsh but having read titles like FMA or TOG i may be a little touchy when reading new manga.
this series is just too emotionally devoid for me for a series that features murder solving so i wouldn't recommend reading this. if you like murder mysteries
Tantei Gakuen Q
or
Majin Tantei Nougami Neuro
may be better for you. if you like complex puzzles i recommend
Liar Game
. but if you like a genius main character who likes to show off and a little psychopathic then go ahead and read it. 3/10 for the art
...
Last updated on August 7th, 2013, 7:21pm
Okay, first things first, if you think you're interested in this manga, please read the genres it's in first. Yes it's in tragedy. Yes it's in psychological. Yes it's in drama. I have seen several reviews of this series that have problems with things that are simply tropes of the genres the series is in, which doesn't seem like a fair judgement call. Please pay attention to your own tastes and realize that it may not be the series for you. It's in drama--it's going to have melodrama. It's not in Romance--so whatever it might have will be only the slightest glimmering hints.

Anyways, on to the review. First, the anime. If you're looking for a teaser trailer for the manga, the anime works. But if you're looking for depth, it barely scrapes the surface of where the manga goes. Whether that place is confusing, enlightening or cool or whatever, I leave up to you to decide. That and the anime has a gecko ending--a rush tie-up of loose ends kind of finish that has nothing to do with the manga because the manga hadn't been finished yet.

Now, the manga itself. The biggest problem is the scanslations. To be clear, I'm not going to bag on the translators. I admire and respect them for what they do. I just think that the subjects they were trying to tackle were difficult to translate to English. If you've read all of Spiral, you know this--it's not learning your ABC's in kindergarten. The subjects the characters discuss can get very abstract very fast. So naturally, that doesn't make for the best amateur translations. If you're seriously interested in the manga, you should be supporting the author anyway, so go out or go online and try to buy a copy of a volume--that's what I did.

As for the review of the story, I think the drama was proper--without giving anything away, I believe that they didn't blow anything out of proportion. What with the situations the characters were dealing with, any drama and angsting I believe was quite justified. It is a psychological manga, so this isn't some bishounen school frolic. The issues are all quite serious, and the drama is justified.

The mystery is a bit convoluted after you get through a few volumes, so if you don't like that sort of thing, steer clear. I'm not the sharpest crayon in the pack, so a few things did go over my head, but I still found it a fascinating story.

No. There's not romance. There are itty-bitty, microscopic moments, but don't go looking for anything fulfilling in that department.

It will make you think. And if you appreciate manga like that, I think you'll like this. But don't expect things out of it that it doesn't have.

... Last updated on June 16th, 2013, 8:25pm
The story was well prepared before the drawing and it had every emotion. It made me happy, feel sad, pity someone.
The idea was amazing even though I hate his mother for with she did. How could a mother to her own son?!
All in all just amazing!!!
It started off pretty nice, with a Det. Conan-ish vibe, but it had a habit of changing tone and never seemed to know just what genre it belonged to. Continuing on with more focus on strategic minds, it held its ground and was a nice read until the beginning of the third act/part - the last five~ volumes.

At times it felt like I was reading a book. Pages were littered with text, and bubbles simply isn't a good medium for long-winded talks (more or less the only reason why I stay away from western comics), and when it was a topic like that... My mind just shut off after a while and I speed-read (only affects my long-term memory and immersion, not my comprehension) the volumes from then on. Which I'm glad for; nothing in those last five volumes sparked my interest. The final arc felt pointless, there were big questions I felt needed answers which got none, and the ending... Barf. (Did like the very last few pages of the epilogue, though)

I wouldn't actually recommend Spiral because of its last arc. I've read totally bland, generic stuff that didn't give me the taste of drawn-out agony like this did.
Many many moons ago, a friend of mine lent me the Japanese raws. I didn't understand much of it, but I loved the art, and Hiyono + Ayumu became my favorite fangirl couple (during that time). Afterwards, I found the scanlations and found the story to be...well, like what mysteries are.
I thought it was a bit wordy and confusing at times, but I guess it was the cute art that kept me going...and the occasional angst and melodrama.
So anyway, I think I only read up to volumes 2 or 3, but seeing the last chapter released, I came and read through the last 2 chapters (76 and 77). It was surprising to find the development in all those volumes I've missed. By that, I mean...
Spoiler (highlight to view)
Hiyono wasn't "Hiyono".
But I'm not going to read all 15 volumes to see how that came to be, because THIS kind of mystery really isn't my genre. Maybe because it's not written too well and focuses too much on the character's genius...? And mighty emo-tionally violent kids?
But nonetheless, cute art. 7/10