Manga Poll
Manga
is the Japanese equivalent of comics
with a unique style and following. Join the revolution! Read some manga today!
Join #baka-updates @irc.irchighway.net

RSS Feed


Mahou Sensei Negima!
Login to add items to your list, keep track of your progress, and rate series!
Description
Ten-year-old prodigy Negi Springfield, has just graduated from magic academy, and in order to become a master mage he is sent to Japan to teach English at an all-girls middle school. But Negi has a bigger dream than just becoming a master mage. He wants to find his missing father, "The Thousand Master", the strongest mage that has ever lived. And he soon finds that searching for his father wont be as easy as he first hoped. In fact, it pushes him and his students into life-or-death battles that decides the fate of millions.
Official Translation:
•English:
Kodansha
,
INKR
,
Azuki
Type
Manga
Related Series
Associated Names
Magical Teacher Negima!
Magister Magi Negi
Negima
Negima! Le Maître magicien
Negima! Magister Negi Magi
Negima! Čarobnjak učitelj
Учитель-чародей Нэгима
คุณครูจอมเวท เนกิมะ!
魔法先生ネギま!
魔法老师
마법선생 네기마!

Groups Scanlating
Latest Release(s)
Status
in Country of Origin
38 Volumes (Complete)
19 Volumes (Shinsouban)
Completely Scanlated?
Yes
Anime Start/End Chapter
Starts at Vol. 1, Ch. 1 (EP01) (-05 Series + Intro OVA) | Vol. 19, Ch. 176 (OAD)
Ends at Vol. 3, Ch. 25 (EP21) (-05 Series + Intro OVA) | Vol. 23 Ch. 213 (OAD)
User Reviews
Forum
User Rating
Average: 8.3
/ 10.0
(2036 votes)
Bayesian Average:
8.27
/ 10.0
Last Updated
December 10th 2022, 10:19pm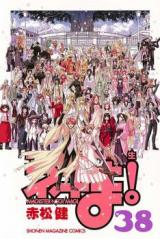 Genre
Categories
Category Recommendations
Recommendations
Author(s)
Artist(s)
Year
2003
Original Publisher
Serialized In (magazine)
Licensed (in English)
Yes
English Publisher
Activity Stats (vs. other series)
Weekly
Pos #
581

(+136)
Monthly
Pos #
1214

(+77)
3 Month
Pos #
1498

(-44)
6 Month
Pos #
1557

(+63)
Year
Pos #
1685

(+139)
List Stats
On
4515
reading lists
On
1189
wish lists
On
3403
completed lists
On
429
unfinished lists
On
586
custom lists
Note: You must be logged in to update information on this page.



over 2 years ago
over 5 years ago
over 10 years ago
over 10 years ago
over 10 years ago
For starters I don't like how the author had most of the main female characters fall in love or literally put them in romantic situations with the mc who is LITERALLY TEN YEARS OLD, I honesty would have preferred if they were written as "big sister" or "just friends" type characters which is what some of the girls in the main cast are but in my opinion ALL of the girls in Class 3-A should have been that way from the start rather than having romantic feelings of their underaged teacher. I honestly wouldn't have a problem with this if the author just made Negi thirteen so the age gap would not have been too big between him and the girls that liked him.
Another problem I have with Negima is the slice of life/rom-com part of the manga which I felt went on way longer than it should have, and let me tell you it was a CHORE to get through mainly because most of it was really cringy. If it were not for the shounen/action focused arcs that happen later on, I would have dropped this manga an never looked back.
Last but not least the final issue I have with Negima is that there are too many serious moments that are ruined because of pointless comedy and ecchi scenes that just come out of nowhere and destroy the overall tone of the moment your supposed to take seriously. For example in chapter 128 page 14
Spoiler (mouse over to view)
after Nodoka calms Yue down and tells her that it is okay to like Negi and that it won't interfere with their friendship,
suddenly Haruna runs up to Yue and kicks her square on the left side of her face sending Yue flying a couple of feet away from Nodoka (this whole scene is drawn comedically minus the first half)
.
...
Last updated on March 22nd, 2022, 8:59am
This manga is fairly old, so it isn't as popular as it's used to, to top it off the anime adaption does not do the manga justice as a lot of plot/character development were completely cut from the anime. Instead, UQ Holder, the direct sequel to this manga is more popular to the general public these days. I had been following this manga since chapter 10-11? I am always surprised to look back and see how much the story and plot had changed as time goes on. Most people who doesn't have the patience or dismiss the "romcom" element in the earlier part of the manga are honestly missing out on a great series, as really, it went from 0 to 100 action-wise around near the middle to the later part. The author had only managed to publish the manga by fooling everyone that it was, in fact, a harem romcom, and then completely do a 180 when he gain his traction. As such, UQ Holder have more action and plot since the beginning due to the huge amount of traction that he had managed to gain with this amazing work. It isn't an exaggeration to say this manga walked so UQ Holder can run. If you are looking for an amazing series to read, I would definitely recommend this manga. Be warned though, if you were expecting action right off the bat, it won't be there until later on (not too long, as even the "Romcom" chapter serve as a form of characterization for future character development and oh boy, what a character development they went through. You would get what I mean if you read UQ Holder first and recognize some of the characters in that work). The people that said it's "time-wasting" most likely gave up after the first 20-30 chapters. My only advice is to be patience, if you plan to read this.

... Last updated on December 12th, 2019, 2:44am
Bad stories with bad characters. Time wasting manga.
Mahou Sensei Negima is a reminder to us all that you never make a sequel to a good manga unless you know for sure the sequel will be better. Negima starts out slow but quickly pick up the pace as the story goes on. The manga itself doesn't differ much from any other Shounen manga. What is different though is the main character. Instead of the funky lazy personality, you have a reserve yet kind protagonist with a lot if insecurities and determination. Put it together with a good delivery and you have yourself a good manga.

Seriously, the only reason why I'm forcing myself to read UQ Holder is because I want to know who Negi choose to be his wife. The moment I know, I'm dropping UQ Holder like it's hot!
This was a wonderful manga series. I am not one of the people, that if they find flaws in a manga/anime they give it less than 10. I say that mostly for people that will read the review and wonder why the heck I gave it a 10. The main reason is simple; it satisfied me all the way to the end.

I started this manga back when it started, or more like when it first reached me in 2004. I followed it over the years, but at volume 22 I just reached the point of my life, that I lost absolutely every bit of patience on waiting new chapters (I always waited large gaps of time anyway before picking up stuff). Finally 13 years after I first started it, I finally finished it.

But to get into why I loved it, it is because it offered me exactly what I always thought it would! Lighthearted, nonsensical, at times tear-jerking (if this kind of "story" can move you), funny and totally disconnected from realism, this manga gave me a lot of joy as I was reading it from the first page to the last. It did not make sense (much) a lot of times and it made fun of itself quite a bit (although this can be seen as bad at times), but either way it was fun for me.

The genre seems to jump around a bit, but I do not think that is bad. It is after all 36 volumes they had to keep going and entertain the audience, keep them interested and of course what moves the real world; make money. It is obvious that since this was making money, the creator released more of his imagination, trying to keep the story going and honestly it was really nice.

After a point the manga feels like it is trying to create and hammer in a lot of ideas and eventually as it reaches the climax, which in my opinion came at volume 36, everything feels like it is going faster and faster, as if they know they do not have much more leeway and they have to wrap it up. The only time it feels very strong though or at least it felt to me, was the last couple of chapters of volume 36.

In the next two volumes there are actual 2 afterstories. One usual that you see in manga/anime, which shows what happened right after and one that moves a bit to the future, showing what happened even after. I have to admit that actually these did not really feel rushed to me. They were more or less closure. I loved the first after story, but the second one was a bit of "ehh". Not because it is bad or anything, but because at a point it actually gives a sum of what happened with everyone. For some reason it reminded me of Breath of Fire 3 ending that says what happened to each of the characters. It was ok, but I do not know why it made me feel that "ehh".

So with all that said, I thought the ending was.. well ok. Not ok as in good ok, but neither a bad one. Things are more or less wrapped up and actually I was expecting an even more open ending. Considering that the manga was going all cliche (anyone who read the manga, will know that me saying that is not something offending, but funny) the ending was enjoyably quite a cliche, where everyone ends up happy (sorry people that love more drama, I prefer this).

For the people that like stories that are light hearted and do not know how to be serious, this is perfect. If you are looking for a serious love/drama/fighting story, better look elsewhere.

So to wrap it up, got fast in volume 36 and maybe a couple of volumes before that. Totally unrealistic and it strives to give happy endings all the time.

Watch the anime after you read up to volume 6. Seeing how crappy the anime is will DEFINITELY make you appreciate the manga 100 times more.. then again I regret wasting my time with the anime.. but it did make me appreciate the manga more!

PS: While reading the stories of the girls at the end, I suggest playing some nice Jazz. I enjoyed reading them, listening Hyadain no Kakakata Kataomoi-C Jazz with Vocals (not it's pop version).

... Last updated on November 25th, 2016, 9:16pm
This is my first manga collection in my life. It reminds me when i need to get out of stock volumes (12, 14 and 16) that i found either on bookstore's floor or barely empty-return-list book where i had to ask the information center to find it and wait (by going here there to look it out). It is all collected with dramatic feelings, granted prayers, and luck efforts. T_T

So it is always red with meaningful mind, heart, soul, and spirit. What a fulfilling dreams, that mahou sensei negima really is.

Update June-2020:
This series has been released again in a newly-fresh edition, ongoing 19 shinsouban volumes since December 2016. That is four (4) years since the final 38th volume on May17th 2012 (in its origin, Japan's digital records).

... Last updated on June 17th, 2020, 5:31pm
One of the best fighting manga I've ever read, there's some hole early like Evangeline was weak but later she actually really good even when he still sealed. But inconsistency was gone after around 10 volume power level was managed really well so no more surprise or inconsistency.

I never really expect love story, and when presented I don't really care for the harem because unlike other character this one was 10 years old boy so even if he confused, not noticing, cant reply back I can understand(what you expect guys... seriously love story gimme a break). Honestly the most bad score anyone can give was 6, giving less than that mean you just a hater. There's character progression some are weak but still better than other harem fighting manga.

As for the ending also I can understand why author make it that way after all Negima ending was an anchor for UQ Holder! which btw much2 more awesome than Negima, I just hope it can answer all my question at the end, but even when not I still will give both manga solid 9 and 10.

... Last updated on October 17th, 2015, 12:21pm
I bought this manga because there were many possibilities for funny and sweet relationships between the ostensibly smart main character and the kids. What it turned into, though, is mostly magic fighting. I don't like magic because as far as I know no-one except some marginal folks have believed in it for several hundred years. And I don't like fighting, manga variety, because it's all just nothing—people jumping around in the air and waving things at each other, and NO ONE EVER ACTUALLY GETS HURT.

What a waste of thousands of hours of drawing work and a few hours of my time 'til I figured out what it was and trashed it!
good read for fun. Don't appreciate loose ends or so many short cuts(end felt quite rushed and rapid all things considered) but there's a sequel so perhaps some things will eventually be settled, you know the whole WHO THE HELL HE ENDS UP WITH. haven't started reading UQ yet looks interesting read about the main and who hes related to but that's just made me even more confused........
Spoiler (mouse over to view)
negi the sperm donor helping out his yuri friends?
.
I read the manga back in the day where i forced myself to keep up with "popular" series and have to get this off my chest after years of silence. I dislike Akamatsu(only the first half of Love Hina is ok in my book) and this manga really pissed me off. The world rules and random development made no sense.
How often did Negi change his age, how often did the genre shift on a whim and how little time did pass ?
Then the vast harem elements which make up 50% of the story in form of filler and the ending are a joke(one point deduction). I read that he fought the publisher(but still works for them ?) or something and the readers lost i guess.
It least i could jump off. The ecchi elements were downright unreadable to me(loli rape jokes really ?) and are especially problematic if you know that the author does lolicon porn in his free time. Which is of the yuri variety so why he messed up so badly here i don´t even know. It´ like Sailor Moon never happened.
The art is technically well done but the designs are all to similar and bland to be remembered. I read 3 random chapters of the "sequel" for reference and expect no review for that one because i found it a money grabbing joke and stopped reading garbage thank to manga´s like Negima. Akamatsu may be a friend of Miura but he and i will probably never meet again. Read
Ran to Haiiro no Sekai
for a magical manga instead.
...
Last updated on December 31st, 2014, 2:27pm